Books
I have authored and edited two books, Data Integrity and The Data Fuelled Business, with corporate support from Britain's most influential data owners, Royal Mail and Experian.
I have currently 2 books on commission and development under working titles: Run: Twenty 2020, a travelogue and endurance running book and Experiential Culture – about how brands build relevance in the real world with real participants.
Currently I write for and edit Field Marketing and Brand Experience Magazine a title if have guided from conception in November 2002. It covers event retail, store sampling, shopping centre brand events and brand sponsorship activation at events. This magazine, together with the awards I stared in 2004 in the same name have made me the go to editorial and business consultant for brand events.
Previously I have been editor of:
Travel IQ – 10 years – for emerging travel markets, specialising in Central and Eastern Europe, Russia, Central Asia and the Middle East.
Sold – magazine for professional salespeople. Overseeing interviews with some of the best known names in sales including Alan Sugar (now Lord Sugar), David Lloyd, Tim Waterstone, Tony Greener, Sir Terrence Conran etc
A broad travel writing portfolio has also included CNN Traveller, Business Traveller, New Markets Monthly, EL Gazette and various property travel and airline magazines.
A side spin of my travel writing with a camera, saw me presented after 10 years of travel photography in a weeklong exhibition at The Gallery, Mayfair with 40 pictures called Unpopular Culture. The event was supported and promoted by Metro Newspaper. Photographs taken from horseback on equine safari in the Masai Mara also featured in this exhibition.
Google's Touring Bird. I have recently been engaged as a launch project tips writer for Google's astonishing Area 51 funded project Touring Bird, where I have brought my expertise to bear in writing traveller insights on two island destinations, Rhodes and Zanzibar.
Academia
My Master's dissertation 'Vorticist and Cubist Sentences' was written for the department of Literature, Culture and Modernity and is held at Queen Mary Westfield College library, University of London.
Event Scripting
I have often scripted presentation and event opening speeches.
I have written speeches for a number of well-known celebrities, notably: Alexander Armstrong, Brian Blessed, Warwick Davis, Rich Hall, Russell Kane, Craig Charles, Rufus Hound, Christopher Biggins, Bob Mills.
"Dame Christopher Biggins, Russell Kane and Warwick Davis"
Presenting
Radio and Voice
I had a lucky break when asked to contribute a weekly slot for LBC's emerging rolling news service in the mid-nineties as a book reviewer and interviewing authors, a section dubbed 'Frank on Books'. The outstanding highlight of this experience was an hour-long interview with Buzz Aldrin after publication of his science fiction novel Encounter with Tiber.
As 'voice' I have often introduced live performers, panel discussions, and MC'd at local events including Chippenham Half Marathon.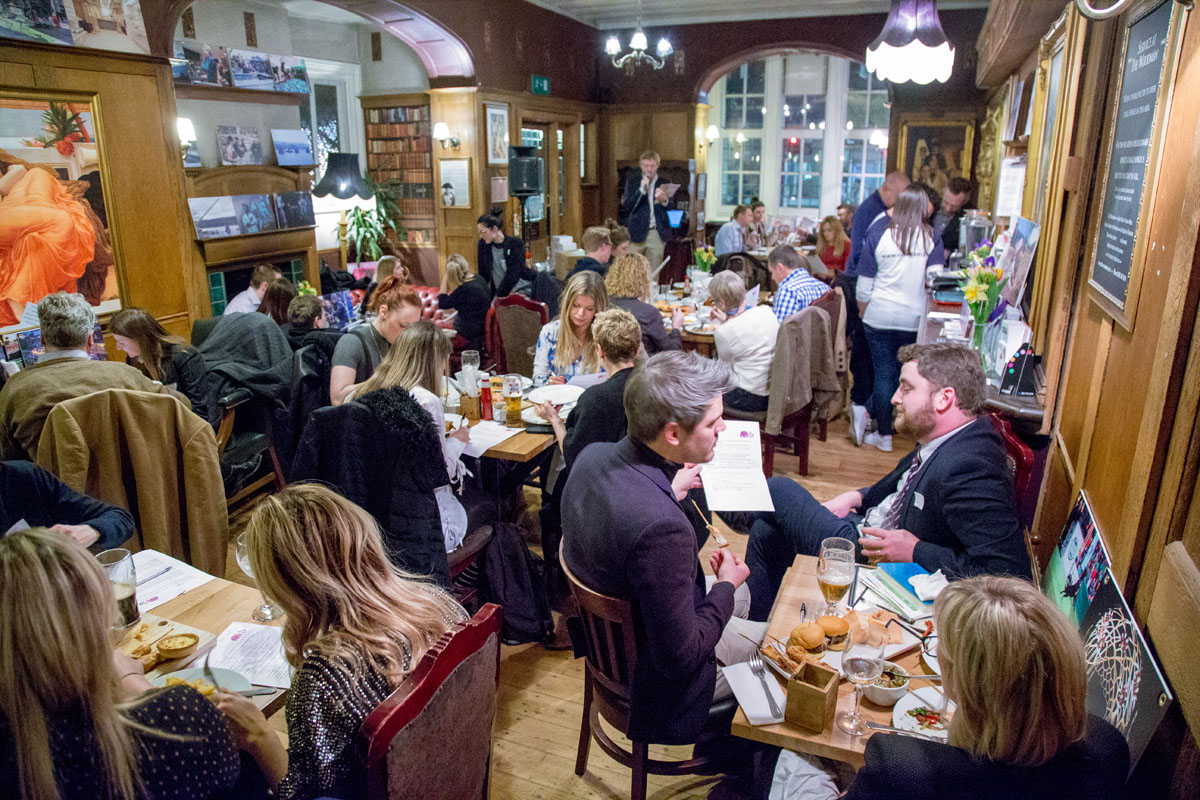 Quiz presenting for BE Connected at The Woodman, Highgate
I have presented on stages and at conferences and exhibitions at Olympia, London ExCeL and Earl's Court, the Oxo Tower, Tobacco Dock.
In addition to chairing the judging for my own FMBE Awards for 13 years.
I have been a judge at the Institute of Promotional Marketing Awards and the British Council of Shopping Centre (now REVO) awards, IDMF New Product Awards and Royal Mail's Through the Mailbox. Stranger editorial assignments have seen me judging at the Miss Kazakhstan beauty pageant in Almaty and the International Barmanov, drinks service contest in Lake Bled, Slovenia.
My FMBE Awards started in 2004 and are ongoing. A national and global success that attract the largest global brands to participate and attract 600 people annually to a prestigious ceremony. It has been hosted in venues including the Marriott Mayfair and Troxy.
Other notable events and locations – The Brand Ambassador's Reception (Oxo 2) The FMBE Symposium, Tobacco Dock, The BE Connected Gallery, Oxo 2, The Pop-Up Boardroom (outside Canary Wharf station).
I frequently attend brand events and festivals as participant, reporter, mystery shopper, consultant, photographer and reviewer.
I have helped both my own events and other people's events to find and secure sponsorship support, often from leading brands including: Evian, Badoit, Jägermeister, Courvoisier, Weetabix, Ricola, Red Bull, Molson Coors, Network Rail, Europcar. My FMBE Awards have enjoyed the support of a number of these, and in addition a collective 30 years of support from three major FTSE 100 businesses in property and shopping centres, Hammerson, intu properties and Land Securities.
Running
This is a much more recent 'me'. Starting off the couch in 2017 I have transformed into a competent endurance runner. My most notable runs in the time have seen me complete the mighty Transgrancanaria 128K (80mile) mountain race and also run a trail marathon as a blind guide.