My time, my legacy
A lifetime of writing and adventure + an extreme midlife running crisis. How can I put that to good use?
In July and August 2024, I will combine my abilities, running 2000 miles, linking every one of England's 42 cathedral cities whilst telling the story of modern and historical England with a daily postcard blog.
The result of this will be a powerful legacy in words and deeds to help inspire the next generation.
If you've got 5 minutes, there's a video of me explaining who I am and why I am capable of doing this at the bottom of this page.
The Route
32 miles/52km per day for 62 consecutive days
Every Cathedral City – from Newcastle to Canterbury, Truro to Carlisle
The run takes in:
Sustrans cycle routes – to promote urban-country exercise and wellbeing
5 National Trails
6 National Parks
Numerous Areas of Outstanding Natural Beauty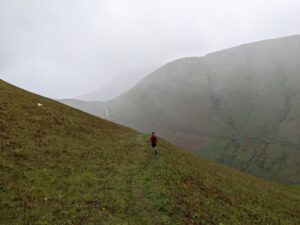 Passing a vast collection of tourism highlights of England, from natural wonders to historical monuments to cultural celebrations and museums.
The Story Telling
Journey journal: Where I have been that day and what I found noteworthy
'Where I live' – interview snapshots with the people I meet about where they live and what they love
Food – Local cuisine from cheese in Cheddar to Balti in Birmingham.
Drink – From tea tasting to local apple juice, I'll also answer that crucial question, what's the best pint in England?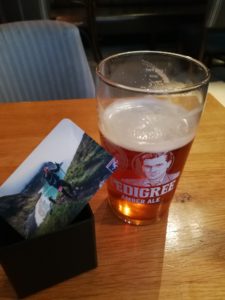 A nation of shopkeepers? – Intriguing independent shops, local products, best pub in town, I'll stop and shop at any that grab my attention.
The Natural World – I'll pick out the flora and fauna of the day, celebrating life in urban gardens, parkland, farms and wilderness
Friends old and new – I'll be connecting with friends all the way around the route, to meet, help, support and run with me, and also making new friends using the power of the Internet connecting with fans of my running and writing.
Club Scene – I'll note any notable sports and outdoors clubs I come across, especially running, cycling, triathlon and long-distance walking and inviting club members to join me on each leg of the journey. This company will be helpful in terms of motivation, useful in terms of local knowledge, practical in terms of lifts and logistics.
Heroes and Villains – Famous folk and Cultural Icons – from William Shakespeare to Stephen Hawking, from Emmeline Pankhurst to Judy Dench, I'll note the notables.
Dog of the day – a daily chat with a dog walker.
Photo of the day – from village green cricket to summer carnivals, there will be a photo of the day selected from the daily album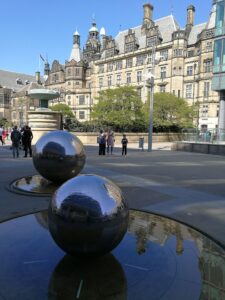 Inspiration – What inspired me most that day. This will link to the charity programme.
The Charity Programme
I've selected 2 charities that fit with the Tour of England's ethos, and which encourage and support the connection between urban life and outdoor wellbeing, with a leaning towards youth and youth development. They are also charities that you can get directly involved with through volunteering – which enables an ongoing legacy of support.
Youth Adventure Trust
Using outdoor adventure to inspire young lives
Brathay Trust
Inspiring young people to make positive changes (The Trust also organises the ASICS Windermere Marathon and the Brathay 10in10 fundraising events).
The Schedule
Saturday 29th June
Pre Event day 1 – Drive to Buckinghamdshire and Bedfordshire ahead of tour. Bucks and Beds are the only two English counties that my running tour doesn't set foot in.
9am -Higginson Parkrun, Marlow followed by Thames Path walk then lunch at Tom Kerrdige's Hand and Flowers Michelin 2* pub. Afternoon drive to Woburn Abbey and Gardens, Beds, for a short visit.
Sunday 30th June
Pre Events Day 2: Tourism day in Northumberland, including Holy Island and Bamburgh Castle and a walking tour of Newcastle.
Monday 1st July
9am Newcastle Cathedral (1) to Darlington via The Angel of the North and Durham Cathedral (2).
Newcastle – Chester Le Street – Angel of the North – Durham Cathedral – Croxdale Hall – Newton Aycliffe – Darlington. 32 miles
Tuesday 2nd July
Darlington Centre 6am to Ripon Cathedral (3) 34 Miles.
Time Permitting:  Visit to Fountains Abbey, World Heritage Site, 3.5 miles from Ripon, last entry 16.30.
Wednesday 3rd July
7am Ripon Cathedral to York Minster (4) (29 mile point)
Via Beningborough Hall (& newly refurbished Art Gallery), York City Walls and The Shambles, then to the village of Copmanthorpe, via York Racecourse. The village is on the Roman Road, has Knight's Templar history and is the location where the 57 Squadron was formed.  Total – 33 miles
Thursday 4th July
7am Copmanthorpe to Bradford Cathedral (5) via Tadcaster Town (incl. John Smith's Brewery) and Leeds City Centre.  The Route passes Gascoigne Almshouses and The Triumphal Arch, a surprising celebration of American Independence. With John Smith's and Tetley (Leeds) en route, this day will need end with a couple of pints (34 miles)
[Time Permitting – if the schedule allows an extra 3 miles, I'll take an alternative route exiting Leeds via Headingly stadium, home of Leeds Rhinos as Kirkstall Abbey, a ruin]
Friday 5th July
7am Bradford Cathedral to Locke Park, Barnsley via Wakefield Cathedral (6) (20 miles) via Wakefield Bridge & Chantry Chapel and Newmillerdam Country Park (total 30 miles)
[Time Permitting – drive to sunset in the Peak District, Edale Rocks]
Saturday 6th July
9am Barnsley Parkrun – Locke Park – 5km – 3 miles
10am Barnsley to Worksop via Sheffield Cathedral (7) and Rother Valley Country Park – 35 miles
Sunday 7th July
8am Worksop to Lincoln Cathedral (8) (using some of Dukeries cycle route), via Clumber Park (Sherwood Forest) and Fledborough Viaduct – 31 miles
Evening walking tour of Lincoln's historic city centre including Steep Hill, Roman Gate, Medieval wall, Lincoln Imp and the International Bomber Command Centre.
Monday 8th July
9am Lincoln Cathedral to Southwell Cathedral (9) via Fosse Way and Newark Castle, 27 miles +2.5 miles on towards Derby finishing at Halloughton village (total 29.5 miles)
Tuesday 9th July
9am Halloughton to Derby Cathedral (10) via Gedling Country Park, Nottingham City Centre and Wollaton Hall – 33 miles
Wednesday 10th July
7am Derby Cathedral to Leicester Cathedral (11) via Loughborough using CCR 10 route. 31 miles.
[Time Permitting: Visit to Richard III visitor centre by 3pm]
Thursday 11th July
9am Leicester Cathedral to King's Cliffe village near Corby/Oundle (33.5 miles)
Friday 12th July
King's Cliffe to Peterborough Cathedral (12) via Nene Valley Railway (steam rail) then to Chatteris – the 'last refuge of Boudica' (34 miles)
Saturday 13th July
9am Start the day in March (town) for March parkrun, 3 miles
10am Chatteris to Ely Cathedral (13) (12.2miles) via A142 — Ely Cathedral to St Botolphs Church, Cambridge 17.4 miles (Total 30 miles)
Evening Tour of University colleges
Sunday 14th July
8am St Botolph's Church, Cambridge to St Edmundsbury Cathedral (14), Bury St Edmunds via Newmarket and Ickworth Park (34.5 miles)
Monday 15th July
8am St Edmundsbury Cathedral to Wymondham Abbey using CCR (35 Miles)
Tuesday 16th July
6am Wymondham Abbey to Norwich Cathedral (15) (8.5 miles), walking tour of Norwich to include Elm Hill and medieval highlights, then southwards to Diss (Google Maps route, 21.6 miles) (Total 32 miles)
Time Permitting in Diss – visit to Bressingham Steam and Gardens, including Dad's Army. Closes 5pm
Evening visit to Knetishall Heath, site of Suffolk Backyard Ultra
Wednesday 17th July
8am Diss to Sudbury (Google Maps Route, 35 miles)
Evening walk on Stour Valley Path, that inspired Gainsborough and Constable landscapes, and in Sudbury, The Talbot Trail with its statues depicting the town's history.
Thursday 18th July
8am Sudbury to Chelmsford Cathedral (16), via Braintree (Google Maps route, 27 miles)
Chelmsford is home to the Wilderness Foundation, and the route comes in via Chatham Green home to their 6 week Out There programme.
Time Permitting, evening visit to Hylands Park.
Friday 19th July
8am Chelmsford Cathedral to Welwyn Garden City (via Google Maps) 34 miles
A night at Barn Theatre, Welwyn
Saturday 20th July
9am Panshanger Parkrun
10am Welwyn Garden City to St Albans Cathedral (17) and Abbey – lunch walking tour of St Albans then St Albans to St Paul's Cathedral (18) (32 miles)
Flash mob arrival with political and royal characters
Evening river walk – Fleet Street – Temple Church – Somerset House – Blackfriars Bridge – National Theatre – South Bank – St Thomas' Hospital – Big Ben – Whitehall – The Mall – Buckingham Palace – St James Palace – The Ritz – Trafalgar Square – Leicester Square – Chinatown – The Royal Opera House
Sunday 21st July
7am St Paul's Cathedral to Tower Bridge to Southwark Cathedral (19), I mile, then to Greenwich [London Marathon route] 5.7 miles – then to Eltham Palace – 4.4 miles – then to Rochester Cathedral (20) 22.2 miles (total 34 miles)
City centre visit to Rochester Castle
Monday 22nd July
7am Rochester Cathedral to Canterbury Cathedral (21) via Gillingham, Sittingbourne and Faversham, using CCR 20 (30 miles)
Pilgrimage character/ Chaucerian character company of runners to join on any of the route into Canterbury
Tuesday 23rd July
8am Canterbury Cathedral to Linton Village via Leeds castle (34 miles)
Wednesday 24th July
7am Linton Village to Oxted via Ightham Mote and also Chartwell House – family home of Winston Churchill (30 miles)
Evening – Titsey Place or Barn Theatre
Thursday 25th July
9am Oxted to Guildford Cathedral (22) – All on North Downs Way – 32 miles
Friday 26th July
7am Guildford Cathedral to Chichester Cathedral (23) via Midhurst and Goodwood – 33.5 miles (Google Maps)
Time Permitting, Harbour Walk
Evening – Festival Theatre
Saturday 27th July
9am Chichester Parkrun (3 miles)
9.30am Chichester Cathedral to Portsmouth Cathedral (24) via South Parade Pier, Southsea then The Heroes, Waterlooville
Evening: At The Heroes pub, named after the Heroes of Waterloo, hence Waterlooville
Sunday 28th July
7.30am Waterlooville to Old Winchester Hill 10.9 miles then Old Winchester Hill to Winchester Cathedral (25) using South Downs Way, 15.5 miles (total 26 miles)
Walking tour of Winchester
Time Permitting – 430pm last entry – The Great Hall, King Arthur's Round Table
Monday 29th July
8am Winchester Cathedral to Salisbury Cathedral (26) following the famous Clarendon marathon route (in reverse) – 30.5 miles
Tuesday 30th July
8am Salisbury Cathedral to Bryanston village near Blandford Forum – 30 miles
Wednesday 31st July
9am Bryanston to North Poorton village via Milton Abbas, Milton Abbey, Dewlish, The Piddle Valley and Sydling St Nicholas – 32 miles
Thursday 1st August
9am North Poorton to Sidmouth joining the South West Coastal Path at West Bay to follow the dramatic Jurassic Coast – route via Bridport, West Bay, Lyme Regis, Seaton, Beer Head to Sidmouth – 32 miles
Friday 2nd August
9am Sidmouth to Exeter Cathedral (27) – 21 miles then to Dunsford village– just before Dartmoor – 31 total.
Saturday 3rd August
9am Haldon Forest Parkrun (3 miles)
10.30 Dunsford to Shaugh Prior (near Plymouth) via Dartmoor, 30 miles
Sunday 4th August
Shaugh Prior through Plymouth (ferry) then South West Costal Path to Looe, via Tregantle Fort, 30 miles
(Cremyll Ferry from Stonehouse to Cremyll on Rame Peninsula, 15 and 45 mins past the hour)
Monday 5th August
7am Looe to Truro Cathedral (28) via Fowey and Charlestown – 35 miles
(Polruan Ferry to Fowey)
Tuesday 6th August
8am Truro to Lostwithiel – 31 miles
Wednesday 7th August
8am Lostwithiel to Lamerton (north of Tavistock) – 31.5miles
Thursday 8th August
8am Lamerton to Colebrooke (just before Crediton) – 34 miles
Friday 9th August
7am Colebrooke to Wellington – 38 miles
Saturday 10th August
7am Wellington to Wells Cathedral (29) via Glastonbury – 38 miles
Sunday 11th August
7am – Wells Cathedral to Bristol Cathedral (30) on CCR 29 – 20 miles – lunchtime tour of Bristol including Clifton Suspension Bridge, Banksy Mural, Street Art, Harbour, then to Bath Abbey, 15 miles, total 35 miles
Walking tour of Bath, including Roman and Jane Austen connections.
[Time Permitting – Bath Komedia]
Monday 12th August
7am Bath Abbey to Avebury Standing Circle via Corsham, Chippenham and Cherhill – 30 miles
Tuesday 13th August
7am Avebury to Goring via The Ridgeway (Google Maps) 38 miles
Wednesday 14th August
7am Goring to Oxford Cathedral (31) via Wallingford then Oxford to Witney – 34 miles
Afternoon walking tour of Oxford and Oxford University
Thursday 15th August
7am Witney to Cheltenham – on CCR 32 through Cotswolds (Burford to Cheltenham)
Time Permitting – Evening visit to the classic Cotswold village of Painswick (10 miles south of Cheltenham)
Friday 16th August
7am Cheltenham to Gloucester Cathedral (32) on CCR 32 – 9.3 miles then to Hereford Cathedral (33) on CCR 33, 29 miles, 38.3 total
Time Permitting – Blackfriars Rose Gardens, closes 5pm
Saturday 17th August
7am Hereford Cathedral to Worcester Cathedral (34) via Malvern Hills, Worcestershire Beacon and Malvern, home to Elgar – 36 miles
Sunday 18th August
7am Worcester Cathedral to Stratford Upon Avon to Holy Trinity Church (Shakespeare's Tombstone) – 29 miles
Afternoon: Guided tour of the theatre with Royal Shakespeare Company
Monday 19th August
7am Stratford to Meriden. Meriden is the Centre of England and is the start point of notorious madcap ultramarathon, Escape from Meriden.
The route has some significant vias:
Via Warwick Castle and Town Centre, Kenilworth Castle, Coventry Cathedral (35) and Coventry Motor Museum.
(total 31 miles)
Tuesday 20th August
8am Meriden – to St Philip's Cathedral Birmingham (36) and then Lichfield Cathedral (37) via Grand Union Canal, The Bullring and Sutton Coldfield Park – 33 miles
Wednesday 21st August
8am Lichfield Cathedral to Wharf Tavern, Shropshire Union Canal via Cannock Chase AONB and Stafford – 34 miles
Time Permitting at Stafford – Tour of Ancient High House – tudor wooden framed town house.
Thursday 22nd August
8am Wharf Tavern, Shropshire Union Canal to Rowton (Chester suburb village), via Market Drayton, Nantwich and Dorfold Hall – 34 miles
Friday 23rd August
8am Rowton to Chester Cathedral (38), Roman Gardens Chester and Chester Castle, then St James Cathedral Liverpool (39) – then to Croxteth Hall – 33 miles
Includes a 'Ferry Cross the Mersey'
Walking tour of Liverpool
Evening at the Cavern Club
Saturday 24th August
9am Croxteth Hall Parkrun – 3 miles
Depart as group from Croxteth Parkrun 'You'll never walk alone'
10am Croxteth Hall to Manchester Cathedral (40) – 31 miles
Evening walk to Chinatown, Old Trafford and Salford Quay
Sunday 25th August
10am Manchester Cathedral to Blackburn Cathedral (41) via Bolton and Darwen Tower, Darwen – 28 miles
Monday 26th August
9am Blackburn Cathedral to Wray village – 31 miles
Evening visit to Wray Castle
Tuesday 27th August
7am Wray village to Bowness on Windermere – 32 miles
[Time Permitting – Visit World of Beatrix Potter]
Wednesday 28th August
Bowness on Windermere to Keswick via Rydall Cave and Catbells – 30 miles
Midroute swim stop at Rydall Cave a film location for The Witcher.
Celebration of the author and fellwalker Alfred Wainwright with a pint of Wainwright's at the Wainwright pub
Evening hike to Castlerigg Stone Circle
Thursday 29th August
Keswick to Carlisle Cathedral (42) – 29 miles
Visit to Carlisle Castle
Friday 30st August
6.30am Hadrian's Wall Path to Chester's Roman Fort, Wall near Hexham, via Vindolanda and also Housesteads Roman Fort, 40 Miles
Walk to Hexham Abbey and Hexham Old Gaol
[Time Permitting – Museum of Classic Sci-Fi in Allendale, by special arrangement]
Saturday 31st August
Tyne Green Parkrun (3 miles)
Wall to Wallsend then to Newcastle Cathedral (32 miles)
A night on the Brown Ale
TOE Highlights
42 Cathedrals, Cathedral Cities
Newcastle – Durham – Ripon – York – Bradford – Wakefield – Sheffield – Lincoln – Southwell – Derby – Leicester – Peterborough – Ely – St Edmondsbury – Norwich – Chelmsford – St Albans – St Pauls – Southwark – Rochester – Canterbury – Guildford – Chichester – Portsmouth – Winchester – Salisbury – Exeter – Truro – Wells – Bristol – Oxford – Gloucester – Hereford – Worcester – Coventry – Birmingham – Lichfield – Chester – Liverpool – Manchester – Balckburn – Carlisle
National Trails –
North Downs Way
South Downs Way
South West Coastal Path
The Ridgeway
Hadrian's Wall Path
National Parks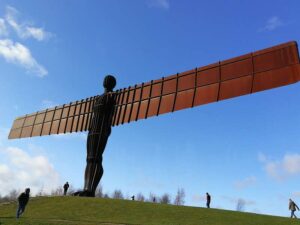 Northumberland
North Yorks Moors
The Peak District
South Downs
Dartmoor
The Lake District
About Me (also on video below)
This project is my chance to make sense of a lifetime of energy, experience and wordy worldliness. I've created Frank's Big TOE, my Tour Of England, to be completed in two months, July and August 2024.
Being locked into England in 2020 gave me a new appreciation of what England is. I travelled around it whenever allowed, running and making new friends, finding inspiration every step of the way.
The challenge I have come up with covers 2000 miles mapped around all 42 of our cathedral cities.
Newcastle – Canterbury – Truro and Carlisle are the four corners of an adventure that will take me just about everywhere to snapshot England in 2024.
There is a British Cycling route that does something similar, showing the town and country links. This is my runner/hiker take on it, using all types of terrain to show how accessible and extraordinary – England is and to use its incredible landscape to evoke its history and culture – both ancient and modern.
But why me? Why am I the one doing this?
I describe myself as an experiences writer – living life through experiences, events and travel. I have edited and published event, business experience and travel magazines and written for numerous publications. I have been a public speaker at events and hosted my own radio show.
Travel writing commissions and projects have seen me with many exciting visits – to judge the inaugural Miss Kazakhstan competition, to ride horseback amongst hunting lions in Kenya and to follow a general election around the Ukraine, from Kyiv to Lviv.
I'm entrepreneurial, with previous success in making things happen.  I set up my own magazines business in 1999 by writing a book sponsored by Royal Mail and Experian called Data Integrity.  I created the Field Marketing and Brand Experience Awards in 2003, which I still host annually.
As an adventurous entrepreneur, I also once transformed a defunct lung hospital in the Auvergne back into a chateau, successfully running horse riding holidays there, simultaneously with the publishing and writing business. These days the lovely Chateau de Chazelles hosts weddings.
Stamina & Charity  
2000 miles is a huge ask, but I do have what it takes – both as an athlete and as a money raiser.
I raced Devizes to Westminster Canoe Race as a child, 125 miles in 3 days as part of the winning team.
In my 20s I raised 1000s of £s when running London Marathon.
I was a part of Howards Way Walk, long distance charity walking group for 5 years -a group which raised £400,000 for charity.
I started running seriously as recently as 2018, aged 48, with my first ultra, the 100KM Race to the Stones in the middle of that year.  My second ultra was a 125KM volcano ascent and island crossing in Gran Canaria, with 7000 metres of elevation. I have since completed a further 80 ultras and marathons including epics such as Beacon's Way, 110 miles, and the Kerry Way, 120 miles, both across extreme terrain.
I have qualified for and competed in the World Series Final, Ultra Trail de Mont Blanc (105 miles, 10,000m elevation) and even won one especially brutal ultra, the Linkenholt Backyard Ultra where competitors complete the same very hilly 4 mile loop over and over until only one runner is left standing.
I'm adding to my multiday running experience this year but I have a good track record so far.  I was the quickest participant in the 2022 Mongol 100 – a four marathons, 4 day crossing of a frozen lake in Outer Mongolia. I won the seniors prize for the Lake Tahoe triple in California and Nevada, a 3 day circuit of the lake. In 2021 I completed Ring of Fire, a 3 day circuit of the Anglesey coast – 135 miles.
Through all of this I have always championed youth and the great outdoors. I'm very positive about the next generation. Given the right opportunities, they are destined to be better than us.
This is my chance to make sense of my life, to drive these experiences, their collective energies and the many connections I have made into a substantial legacy.
Using your support, your donations, your spreading of the word, your skills and your kindness I will run and write this unique project, epic in terms of its visceral energy, eloquent, entertaining and evocative in terms of its delivery.
The money raised and the message we put out these will be used to build a lasting legacy – young people growing up to make the best of the country we live in, and then to go on to make it even better.