"The concept is simple, you start on the hour every hour and have to run and complete a 4.167 mile trail route in that time.
You must run the loop and be back ready to start the next loop or you are out, the race continues until there is only one person who can complete a solo loop within the hour. 
They are the then Winner of the Suffolk Back Yard Ultra
This format is hugely successful all over the world and originated in the USA.
 This race is a golden ticket/coin race for the 2021 Bigs Back Yard event in the USA, If you win the 2021 race and travel to Bigs we will contribute £250 to your airfare and cover your entry fee" 
Challenge Running Website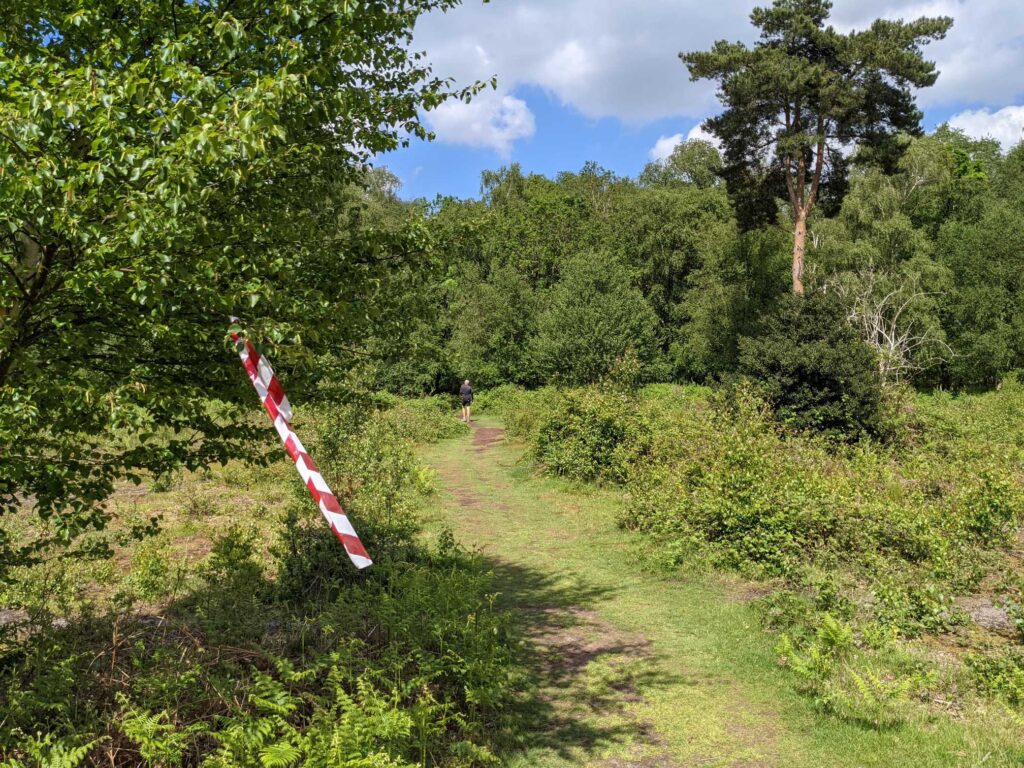 Suffolk Back Yard Ultra 2021 was a slow burning epic that will become a folkloric event in my sport. I played a small part in it, a role that took me 29 hours. 116 miles for 13th place (DNF).
Let's get the headline bit out of the way, just for anyone who doesn't already know. At this event, after 37 hours, Andy Day and Chris Spurling finally broke for equal third leaving physical trainer John Stocker and carpenter Matthew Blackburn as the last duelling pair. Both British Spartathletes (representatives for Britain in the classic 153 mile ultra in Greece), they had been first and fourth at this same event last year, held in a rainy October. John's win took 41 laps (aka yards) and Matthew broke at 35. In my event preview I reached down to 3rd place in 2020 when profiling a list of 15 2021 contenders. That proved quite an omission.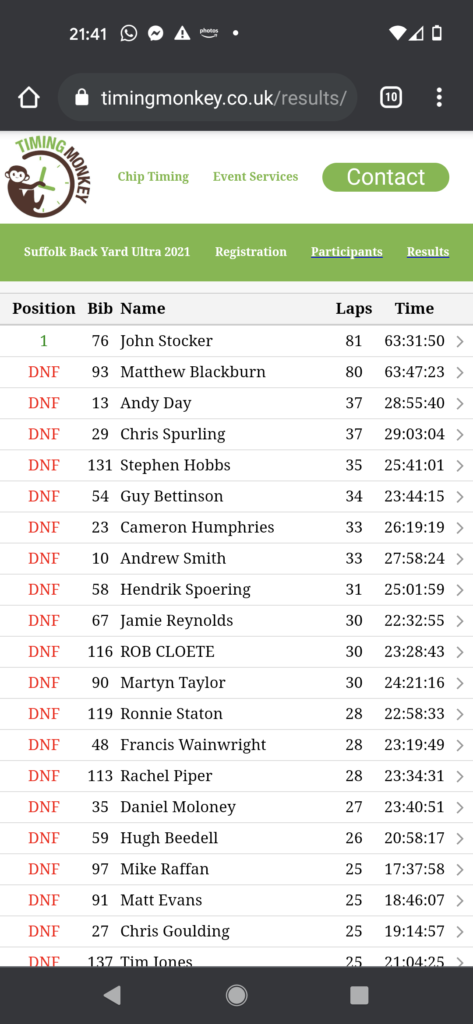 John's stamp of confidence ahead of the event was seen when he rolled through the Grand Union Canal Race of 145 miles, just a week before, taking 32 hours and sixth place. That's quite a taper run. If that was meant to intimidate a quality field perhaps it succeeded. Only Matthew didn't break at the point when the others did, eventually keeping John company until all Backyard records were smashed. He dropped out after 80 laps, leaving John to complete victory on 81. Matthew Blackburn – DNF.
In so failing, Matthew joined me and the rest of the field as a group gallant failures. We had all banged the pan of shitness or rung the bell of DNF. Backyard is a beguilingly maudlin format, even the winner misses out on one goal. Poor John Stocker will never know his breaking point that day(s).
So, after this awesome achievement of a race here are my top eight reflections:
1 – The World Record thing. It makes me uncomfortable because I would hate the format to become one where science and course designs takeover. Backyard is s lovely rustic sport with runners slumped in campsite chairs between laps. Undulating Knettishall Heath is as perfect a setting for this kind of low key event. The basic campsite is a great leveller, where elite athletes rub shoulders with runners who are having a go. Nevertheless, I love the fact that John and Matt have barged through the barriers of human endurance. So, I am conflicted. It was a total honour to share so much time racing with them.
2 –  Don't be intimidated. Just don't. On lap 28 everyone bar 1, set off quicker than me and I was soon on my own. On many previous laps I was a bit behind, but visibly in touch. Had I slowed right down? My legs felt twice as heavy. I began to sink. But several other runners were at breaking point too. I just didn't see it with clarity. My lap time was not much slower than the one before. Perhaps I could have found another, and then, during it, found a fourth wind.
3 – Slow burning events are a great watch and the format is very compelling beyond the sport of ultrarunning. I think many of us need an antidote to short attention span stuff. I am very lucky to be part of a hugely supportive running community and have a lot of well-wishers. Two full days after my event ended, John and Matt had inherited masses of fans from Chippenham, fans who would rather hit refresh on Timing Monkey once an hour and chat about it in-between than watch some poorly scripted entertainment on TV, or, for that matter, pay attention in work meetings. The format for Backyard is near to perfect, so easy to understand, so brutal. The only issue it has is that if these events just keep lasting longer it will stretch the event hosts. The original, Big's is best equipped to cope with this, as it is home hosted by Lazarus Lake himself.
4 – In chief organiser Lindley Chambers, Suffolk has the perfect anglofoil to Laz, being remarkably similar, but different. Lindley just loves the competition, whilst having the same casual figure of authority that Laz brings. He is all charm and delight whist making absolutely sure the rulebook is tightly adhered to. Having now met both I can easily imagine the wry humour and passion for human endeavour that they shared when meeting in order to get Suffolk set up. And, of course, they both have exceptional trademark beards.
5 – Go with a crew. This is the big one for me and my performance. I've never really needed a crew before, always had enough time in point to point races to sort myself out or borrow a crew from another runner. But at the Backyard all crews are busy at the same time, and every moment is crucial. If you have run a 52-minute loop and spend 3 minutes looking for something, or don't have time to get the kettle on, or take a toilet break, then you will leave the start-finish weaker and less comfortable. My race looked inevitably over when I had not been able to eat enough between laps for several laps in succession until I became light-headed. I was fine on my own for the first 16 hours or so. With a crew after this, I could have staved this off my DNF longer, maybe a lot longer.
6 – An oddity of this race is the inevitability of preparing for miles you will not run. I had shoes, shirts and food lined up for miles I would not run, because you have to, just in case.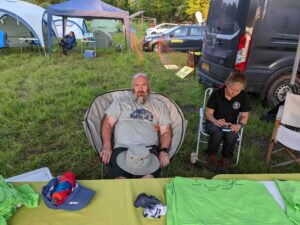 7 – Experience is a real advantage. I had a fairly good strategy worked out but it is clear that returners fare better than first timers. Experience of the format is a big help. I now know I will not ever be likely to fancy a potato on a Backyard as the breaks are too short for me to digest them comfortably. Potatoes work well for me on a long point to point ultra where I can have a 15 minute refuel break rather than 3 x 5 minutes.
8 – Get some chatting done early rounds. Lap 2, I met an amazing Paralympian called Terry, as accomplished in his own sport – biathlon – as our winners proved to be at ultrarunning. This sport attracts some amazing strong characters.
There's are probably more follow up thoughts yet to filter through my brain, but enough for now. Very many thanks to Lindley and Challenge Running for supreme hosting. A massive cheer for all who toed the start line, endless respect to all those who had the audacity to beat me and gratitude to the indefatigable duo for making my decision to stop when I did look like the very sensible decision for a man outclassed, yet proud of his DNF.