Two weekends, two contrasting endurance races…
06/02/19
Chester has been on my marathon wish list for a while, a big-small road marathon, very popular amongst runners. I entered impetuously after The Great Welsh Marathon in Spring had left me with unfinished business in terms of getting a time. At the Great Welsh I set my PB in high coastal winds – 3hrs27mins – and finished strongly.  I know I can do better.
There's no need to blow-by-blow this event. Chester itself was fine, a welcoming city, and a good atmosphere for a marathon, a nice blend of big city vibe and little country lanes, a high-profile sponsor in MBNA, yet still the friendly volunteers that smaller events are renowned for.
My race story in brief – I went with the 3hr15 pacer, stayed on schedule, felt good in heart and leg, but my stomach said no and twisted over itself at mile 11. There was no taxi available so I ran, walked, and groaned my way home to finish in 3hr50, and will now make nutritional adjustments next time.
Finishing, even with doubled up gut wrenches, proved to be worth it on two counts, the rather good finisher long sleeve top, and an amazing photobomb on the finish line. Poor Jennifer and Steve (who I can name via the tagging) were coming to the end of a very lovable hand-in-hand marathon and slowing to absorb that whole 'we did it' finish line moment. I was charging to that same end, all whirling arms and legs,  recording my quickest mile of all 26, as I raced for any seemly refuge away from risk of very public embarrassment, and in so doing overtook in the last stride, and completely obliterated Steve from their picture. Sorry guys…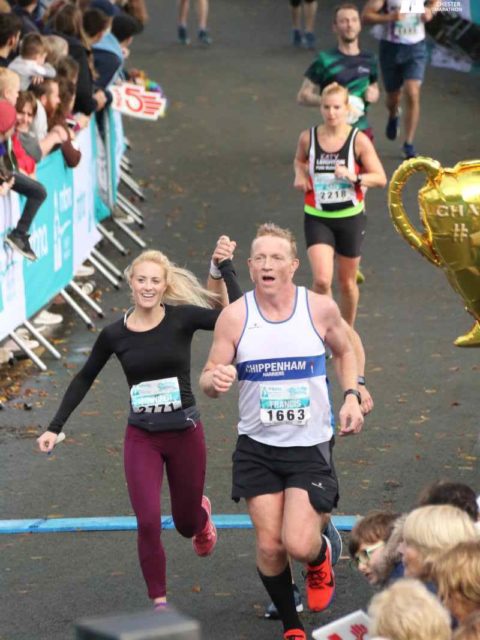 Summary. Chester was OK. I'm sure I would have loved it a little more with a successful PB mission, though the undulating suburb near the end was a bit more gruelling than the fast-flat course promised. The photographer was amazing as evidenced above (AwolAdventure). The event organisation coped well with the heavy rain beforehand, although a casualty was the post-event bag collect and its rather massive queues.  I won't be going back to Chester myself, but I can see the appeal. Very nice city.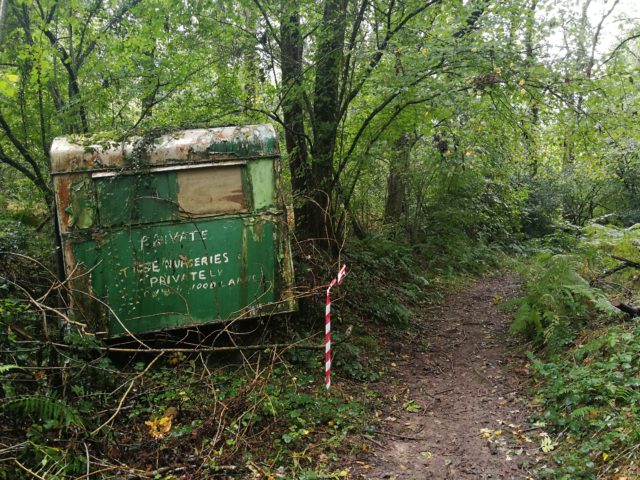 12/10/19
A Run with no Witty Name was always intended as a cheerful day out courtesy of one of Wiltshire's finest event organisers, Neil Turnbull of Crooked Tracks, a local policeman whose homespun events belie a brilliantly primed and organised team with more heart and soul than anyone can reasonably expect.
Witty is a 32mile ultra marathon and would have been muddy enough without the weeks of deluge we have recently endured. I travelled to it with an amazing gang of Chippenham Harriers, who were all dealt an unusually large dose of the indomitable gene. Let's hear it for you Alwyn (4th), Baggy, Jason, Gillian, Catherine and Sarah! We were all smashing.
Witty is a true trail running event, hardly any hard surface beneath the feet at any stage, fallen trees across the route, hoodlum stubby nettles spitting with end of season anger, bedraggled volunteers convincingly making out life just couldn't be jollier whilst handing out nibbles like Tom and Barbara Good hosting a party. There were daft looking dogs pulling faces, and a hobbly horde of fellow participants all seeming pretty pleased with their choice of a day out in the puddles and slurry.
There were a few glimpses of Wiltshire at its finest, and when they came along, they were very satisfying. Crumbling bridges and misty castles slid wetly by, but the abiding memory was harvested stubbly fields, appropriately crooked tracks and quagmired tractor byways.
So, is RWNWN a must do event? Well for the course alone, possibly not. There are certainly more dramatic coastline trails and outstanding views for the elementally inclined runner. But for authenticity, there's nothing to touch this. This is the sort of day out where strangers unashamedly embrace, and someone you hadn't met before goes and gets you a coffee, and then says 'oh, nothing, they're free' when they carefully place your coffee into your discarded trainer, now cupholder. This is the sort of day when cake is the real winner.
The Return to the Carpark Hill Stagger Challenge that follows Witty was a comedy all of its own and also offered a chance to cheer on the more dogged finishers.
In fairness to Chester, the walk back to my car through the beguiling Tudor centre was rewarding too – with returning runners being congratulated by the city's appreciative Sunday set but Wiltshire's wondrous Witty wins this one.
Verdict:
Witty 8 – Chester 4
(though I suspect that a PB at Chester would have put on the rose-tinteds and closed the gap to 8-6)