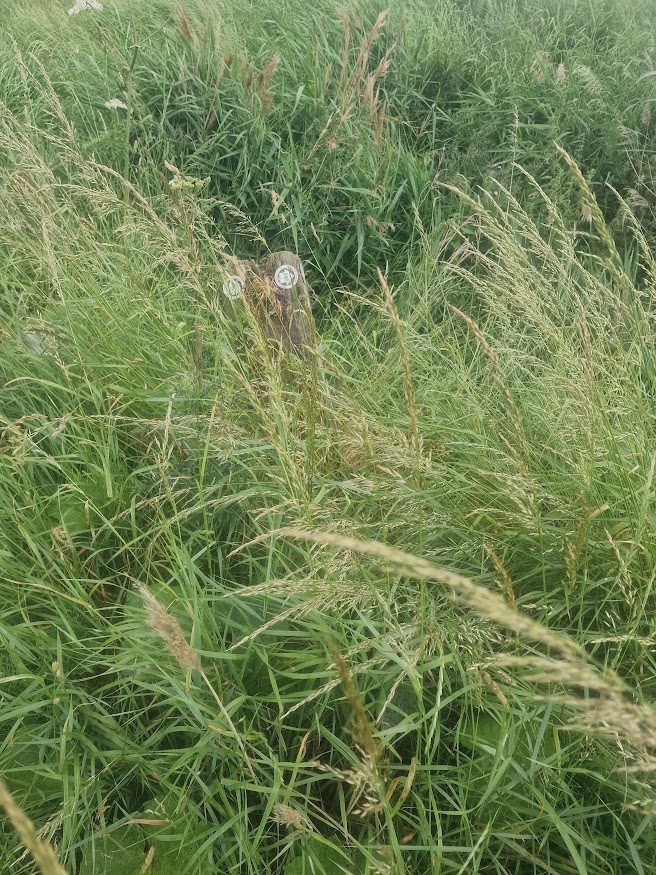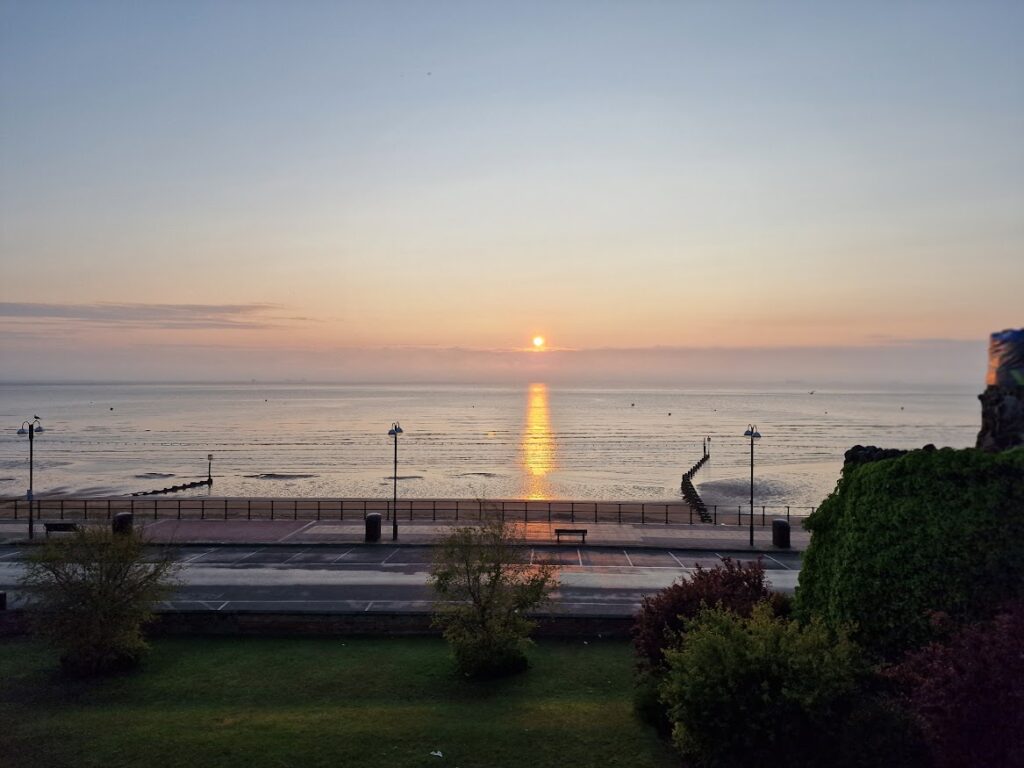 What an adventure! The Line 300 was immensely deceptive, so much more in reality than it seemed when I signed up for it.
Here's the TLDR bit for anyone either with just a passing intertest or a short attention span.
I attempted The Line 300 by Cockbain Events, a 328-mile journey, self-supported, carrying a pack, to journey from Sand Le Mere in South Yorkshire/ Humberside to Peacehaven, near Brighton on the Sussex South Coast. The Line stipulates sleeping rough outdoors, shopping for food, drink, medical and kit supplies en route. The route includes every terrain –  roads, trails including several displeasing battles through heavily nettled scrub land. It is fairly flat, until the last 60 miles. I pulled out of the race when I saw a beautiful looking pub at Guyhirn, the 150 mile point. I estimate I will have done about 10 miles more than this to get there(the Tracker and Garmin said 164 miles). It took me 75 hours. When I dropped I was in a credible 7th place as the 7th last survivor.
The event saw 5 exceptional finishers, with only first finisher Stephen Brown making it with a comfortable 15 hours to spare. The other four, Kev Gay, Adrian Martin. David Betteridge and Kendra Wedgewood arrived in Peacehaven on Saturday morning, just ahead of the noon time limit.
I got a DNF, but one I accept with a wry smile. I did not train with a large pack and my back was raw where it took the skin off almost all of my lumber. It was still bleeding occasionally after 10 days.
My feet hated the first day mix of roads, bumpy trail and flash downpours.  I did well to keep them going for as long as I did, flattening the blisters. I'd  jumped in at the deep end here. Extreme distance adventure footracing certainly rewards experience.
If you are intereseted sore foot and back recovery photos you can click here to see them. 
But whilst I am not overjoyed, I am at least satisfied. This was an event where finishing would be glorious but where the rewards of participation are huge. I have had an exceptional experience, mostly of my own making.
On the journey I have found out that I can manage kit and resources well, that I can sort some basic medical issues out on the hoof, that I can run through an incoming thunderstorm whilst eating pizza from a takeaway box and that sleeping rough in graveyards rather suits me. I was off to the land of graveyard nod about a minute after my head hit my bag of smelly clothes.
Here endeth the TLDR.  
The Full Story
The Route
Though self-navigating we were at least armed with a pre-loaded GPX for the route. That route follows the Greenwich Meridian Line North-South from coast to coast. After the Humber Bridge detour we travelled due South from Cleethorpes, through Lincolnshire, to Boston then onwards to Cambridgeshire. The half I didn't see went from Cambridgeshire to London through Greenwich then onto Oxted, East Grinstead and Lewes to the coast.
Before the Event
Getting prepared for The Line required a fair bit of research and I was helped on my way with a share of event participant Chris Sayles' excellent spreadsheet, that matched my basic pace plan. That plan was to aim for 5mph for 38 miles to get over the Humber Bridge before it closed to foot passengers, then drop to 3mph all the way to the end. Like Chris I had scheduled 4 x 4 hour sleep stops, though mine were 12-4am, his 10am – 2am. To that spreadsheet I added further pubs, shops, café's, garages, pharmacies and their opening times alongside those that Chris had pre-populated it with.
The plan would have got me into Peacehaven about 20 hours ahead of the cut off, which would convert to extra sleep time that I knew I would likely need, but wasn't sure when I would need it.
Typically, you might use previous participant's experiences to help with an event like this, but this was a first edition for The Line.
From my research I noticed that East England isn't all population clogged. It was clear that miles 60 – 117, with one notable town at Louth, would be especially challenging from a food and drink perspective with very few shops and next to nothing available overnight.
My kit list (including worn)
The top 3 items listed in italics are the ones – with hindsight – I would not repeat on any similar venture.
Ultimate Direction 25L pack
Topo Ultrafly 4 trainers
Armaskin anti blister under socks, Drymax x 1 and knee high compression x 1 socks
Mobile phone, cash cards, cash
Outdoor Research bivy bag
Evadict (Decathlon) ¾ length mini air mattress
Hand size wicking cool cloth
Gore waterproof jacket
Helly Hanson base layer set, two tops one tights
2 running tshirts
Multi storage Decathlon running belt
Sweat wicking Runderwear x2
Shorts
Collapsible cup
Cap
Sunglasses
Mini suncream
Toothbrush and mini paste
4 half litre soft flasks
2 buffs
First aid kit and foil blanket
Compass
Led Lenser Headtorch, spare battery, back up lightweight headtorch
Red back light
Hi viz
2 large Anker power banks, cables for phone, headtorch, tracker and watch and a small front pocket charger
Disposable wooden t-spoon and fork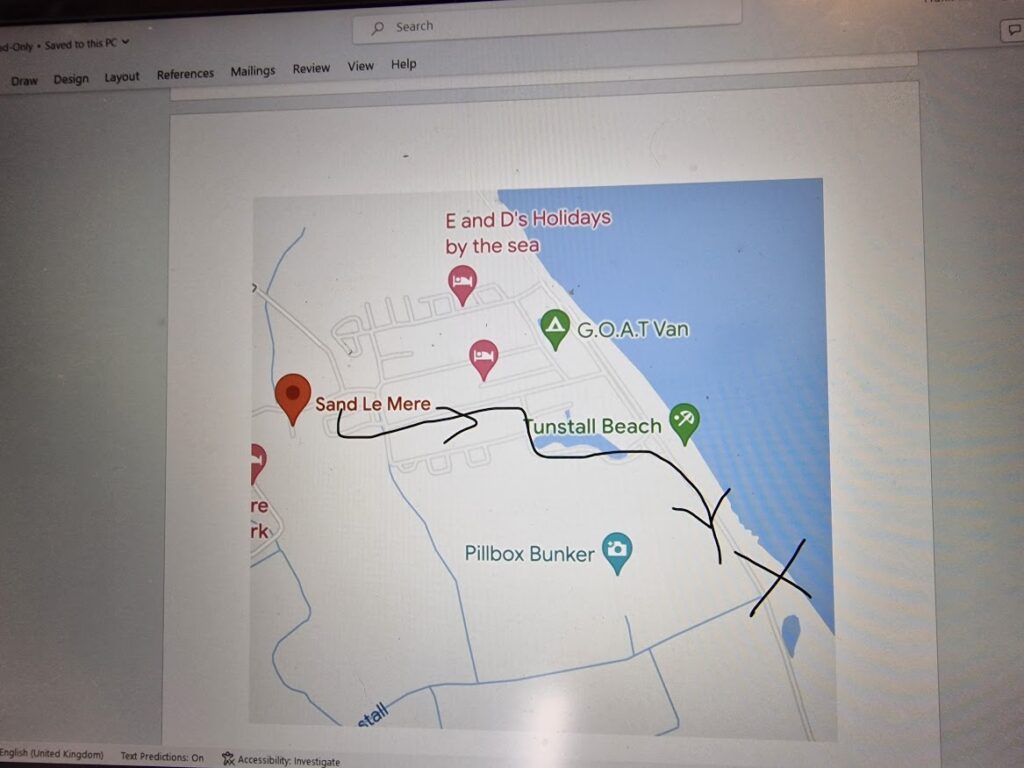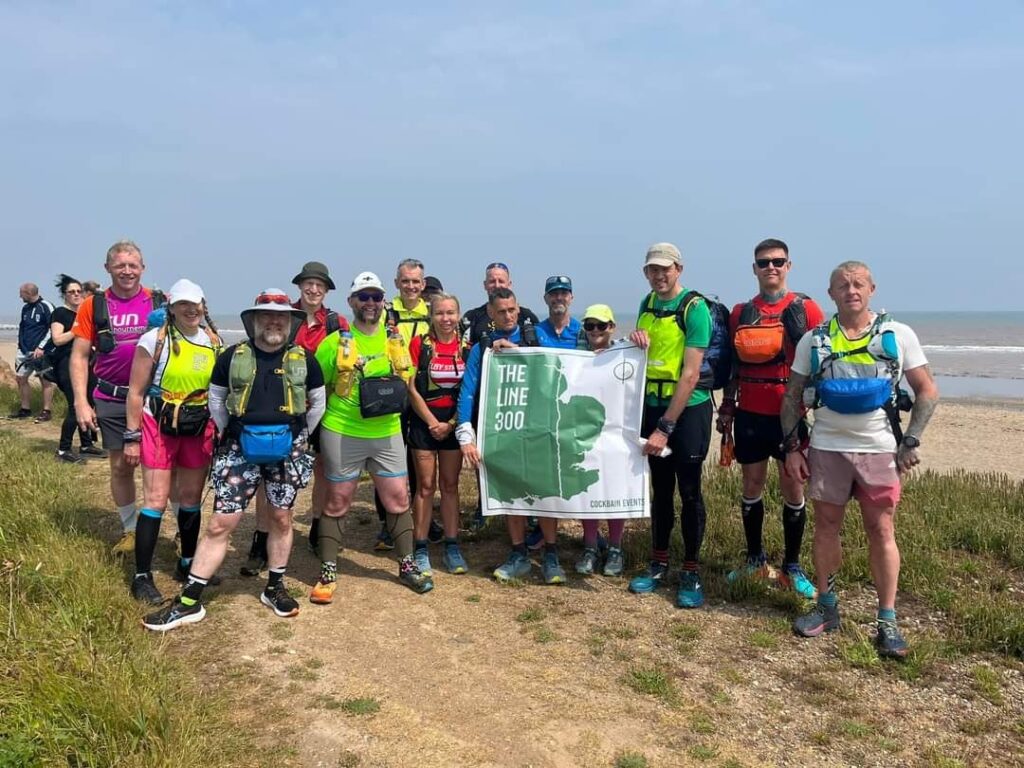 Arriving at the Start
The 'to the start' instructions set us a little test of subterfuge and initiative. The start was inaccessible unless you snuck around a caravan park 'discreetly' before following a map to the buried treasure that turned out to be Mark Cockbain lurking in a ravine with numbers, pens and safety pins to hand. We found him, but only as discreetly as hiking with a pack on through a holiday pool area can be.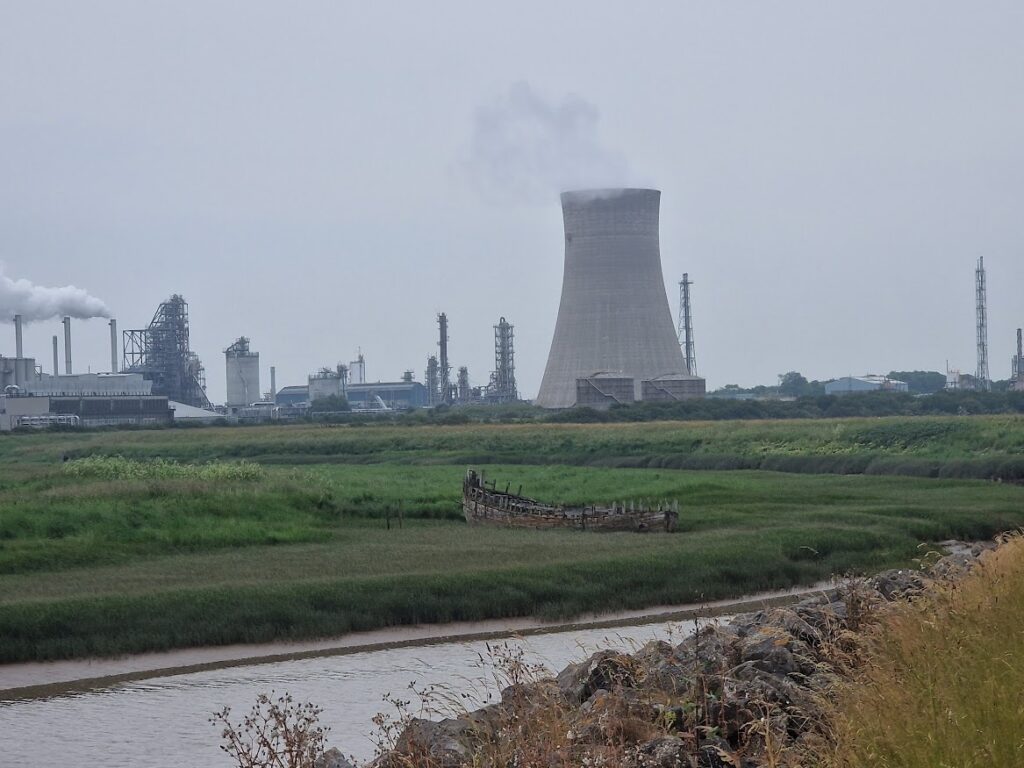 Pace Plan
Aim for 5mph to the Humber Bridge, 3mph thereafter, bar sleep. The quicker start was at first dictated by the 9pm closure of the Bridge. Only when we got to the start did Mark reveal a number for ringing ahead to allow latecomers a crossing. Nevertheless, this could not be guaranteed, so we kept a buzz going for the first 38 miles.
My plan was then to drop to 3mph on average including food and drink stops. I allowed for a further 16 hours of sleep.  This left a backstop of about 20 hours for the inevitable eventualities.
Learning how to walk
The start was full of energised hope and promise. I had seen comments about how much some were looking forwards to a week away on holiday and I understood that feeling. I was looking forward to this, but I also knew that this 'The Hard Stuff' adventure would break most of the field. It was a quality field too, full of Spine Racers, Lon Las Cymru and Hardmoors 200 completionists, Tunnel 200 succeeders, 100-mile ultra winners…
I caught up with two of these, Kendra Wedgwood and David Betteridge, after about 30 miles, in Hull City.  They had just been turned away from a small closed footbridge. David and Kendra had both done this bit of the route before. Rain made map rerouting via phone much more tricky. Staying with them for as long as possible seemed more than sensible.  David and Kendra's previous running on this route had been the Hardmoors 200, a 200 mile race with a 60 hour time limit. They had both completed that (in separate years) which marked them as legends in my eyes. Travelling with them I began to realise how they did it, fast walking at 4mph, Kendra's jaunty stride matching David's languid longshanks for pace and consistency. I was outclassed by this, breaking into a trot to catch up. Later in the night I got better at keeping stride with them, but I was never as good. My run-trots are effective, but I suspect they may make me more blister prone and certainly jogging adds pack movement for bruising and back bashing.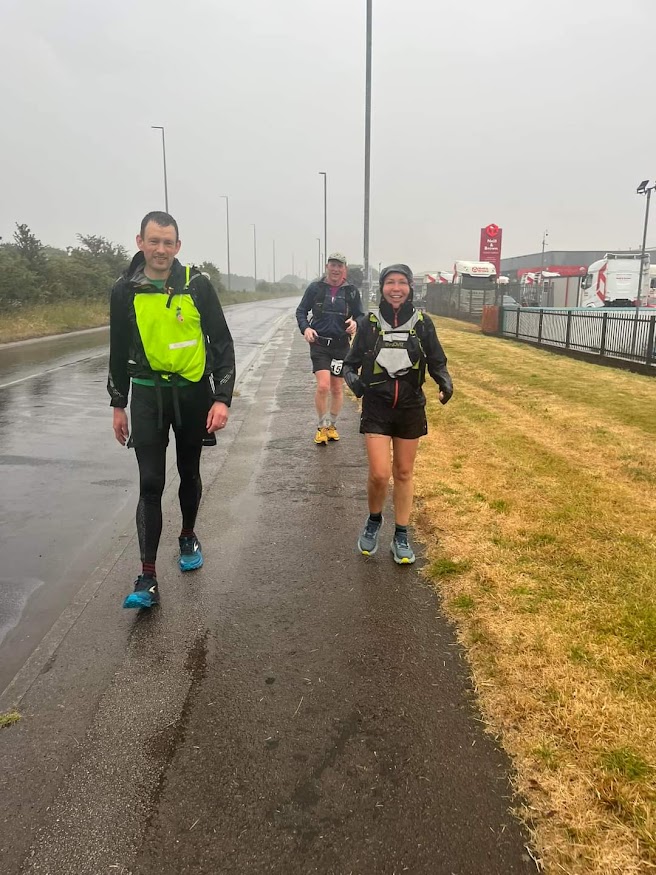 Getting to the Humber Bridge
The rhumba to the Humber was a bit of a slower dance than I expected. That pack was slowing me down more than anticipated. The journey, in a mix of blazing sun and moderate rain was a challenge that ruined several pairs of feet. Some participants dropped out in Hull. The damage to my feet and back probably started before this point but the kit I had chosen could not just be replaced with more cushioned versions. 38 miles into a proposed 328 and I was elated but I didn't feel I had done 10 hours at an easy pace – I felt I had put in more –  and I was already feeling sore hot spots.  The 'masterclass' event winner Stephen Brown might have had a foot cooling sock change at this point, I didn't. I know better now.
Dealing with unexpected terrain
I already  knew that the Greenwich Meridian Trail was unpopular and overgrown in places and only a few miles in we battled across a field of waist high greasy pods – some kind of animal feed lentils or bio fuel product?
Throughout my journey my pace targets were suddenly thrown by massively overgrown sections of trail full of stingers and brambles. Charging through these as quick as poss, is my norm, but you simply can't be so foolhardy with so many miles ahead. Picking around these gingerly slowed the sections enormously, which also had a knock-on effect of not making it to an essential pub, café or shop.  And yet I was still stung and stung and scratched and bitten and stung. Sometimes there were 20 miles of trail between villages, meaning missing a drink's shop stop was far more than a disappointment. Long distance supported ultras leave the mind breaking the event down into aid station breaks. Arriving at a village on The Line to find the 'aid station' closed and then set off again with empty flasks simply leaves you with more problems to solve.
There were unexpected blessings. The Humber Tavern, before Hull,  was the first amazing bonus as it wasn't on my plan. The gnarly terrain to get there slowed all of us, as did the 28C. I drank my two pints of orange and lemonade at the bar in the time it took them to fill up my water bottles.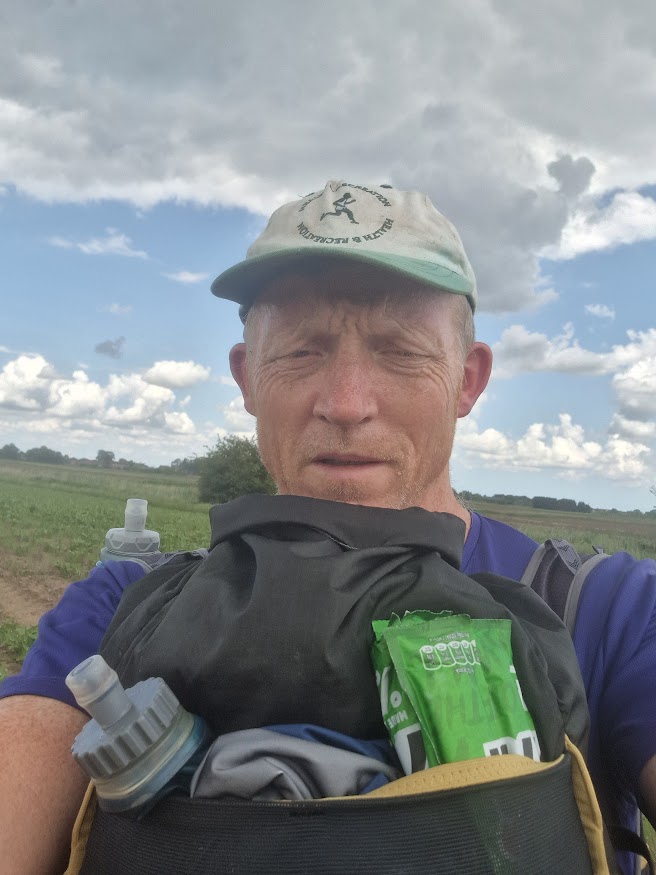 Dealing with a pack
I didn't train with my pack full, and I'm not sure how I could have done with any meaning as it didn't hurt for 30 miles.
My pack had positives but also significant negatives. For positives it was very logical in terms of storage with the right balance of easy access and secure zipped bits.
I'm also happy with what I packed in it. I used nearly everything I had taken, and nothing I had taken proved easy to just buy en route. The heaviest items were the essential charger packs, and I had used exactly half of my power reserves at the 150-mile mark.
My pack management was really good. A tired mistake getting dry clothes wet or misplacing a credit card would be a huge error.
However, the big seams on the corner and edges of my UD pack were a disaster. I bought a pair of toweling socks in Boston, and taped them around these raised seams. It helped but that was a gesture too little too late. My lower back was already rubbed raw. I technique I learnt from watching participant and mountains expert Richard Simpson, holding the pack with arms behind the back whilst walking, was a help.
At one point, with the pack still hurting, I blamed it on the socks I had taped on for padding and tore them off in a huff. I put the pack back on only to realise how much they were helping and backtracked to the bin to retrieve them!
The less sturdy softer materials Solomon uses for its packs, would have, on hindsight, proven a much better choice. Chris Sayles chose the same UD pack as me. His cut into his shoulders and was the probable end of his adventure.
I had thought that decent upper body strength would be in my favour vs others on the Line, but I would say all of The Line's front runners were either obviously or deceptively strong in shoulders and core.
If you are intereseted sore foot and back recovery photos you can click here to see them.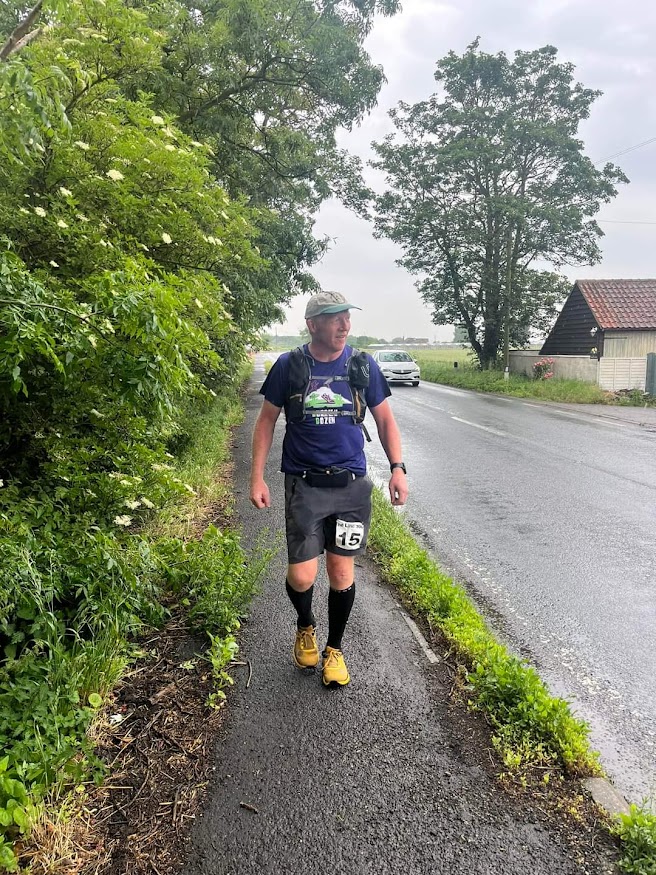 Dealing with foot issues
This event needed a cushioned trail trainer like a Hoka Challenger (although I might have split or broken them). The Topos I went with were too light and didn't offer enough protection between myself and the road. My messed-up feet were my biggest slow down, you really need to be able to pick up the speed on the road sections and it is very hard to do this when trying to get the endorphins going to mask out the pain. Of those that completed The Line I would say that some managed their feet better than me, and some were simply better at marching through the pain.
The Topos tested well, and they review well for ultra road running. They also had the required extra toe width when my feet inflamed. But they are not up to the challenge of my weight plus the extra pack weight pounding into the road.
In Boston, 117 miles, I bought Sudocrem for both back and feet which helped. I also made quite a good job of treating my own blisters. But the bruising and throbbing combined with the broken skin to make it challenging to start again after any rest or break.
My feet were pretty good after the treacherously muddy Thames Path 100 recently, and have been good for many long ultras now, so to get foot problems was a big setback physically and gnawed at me mentally.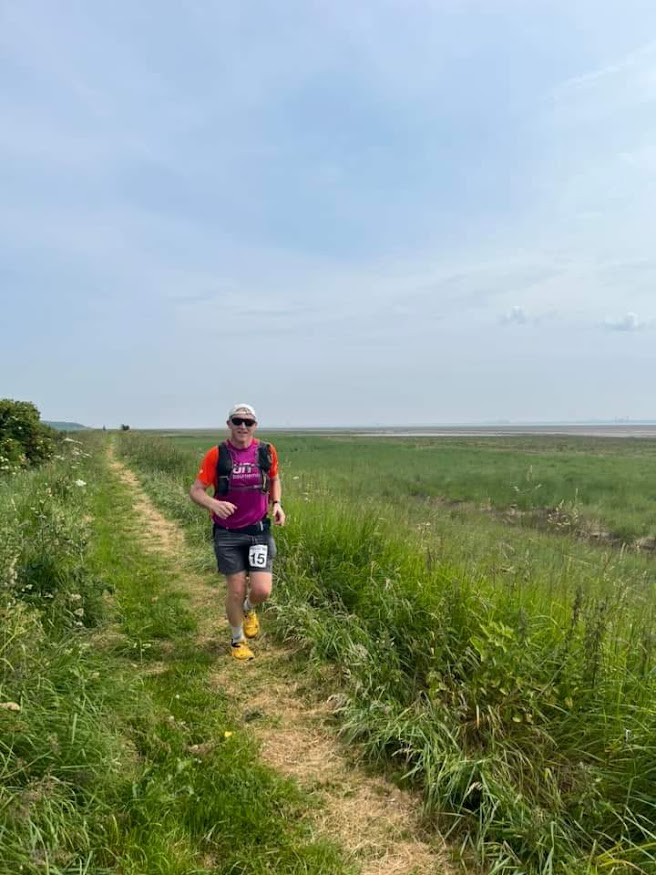 Dealing with weather
The forecast was sunshine and showers and that's pretty much want we got, but the sun was hotter than predicted and the rain on the first night was persistent with storms always threatening.
There was one crucial point where the weather caused what was a debatable decision fail. On the first night, coming into Cleethorpes aside David and Kendra David kindly counselled me to stop at the same time as them and sleep for 2 hours. It was drizzling and thinking of wet kit and lying down sleepless, I opted to carry on. It was especially kind of him as I think we all knew I was the one out of the 3 of us marginally off pace and my company might slow them down. Carrying on meant I was ahead of them until I lay down from dizziness in the heat of the next day and had my two hours. They passed me as I did so, and I was always off the pace thereafter.
I could lay a big dnf excuse on the weather but hot summers are the norm now and the compensation for hot days were warm nights. I'm not sure if I would have found cooler days and cold rainy nights much easier in spite of a top quality waterproof bin bag to sleep in. The farms of Lincolnshire a vast and unwelcoming, not the ones with regular haybarns like the South West where I live.
Dealing with powerbanks
Something I did well. They were wrapped in a waterproof bag in the middle of my kit and I charged everything I needed to whilst asleep. A phone is the number one essential for this event, communications, photos, route and shop finding, moral support vs loneliness, progress checker, music and radio device and above all an emergency contact device.
Dealing with Nutrition
Capering out of Humber with a box a pizza was new to me. I could never have wolfed that on the run before, but David and Kendra did, so I managed to as well.
My stomach was untroubled throughout this adventure. Pork scratchings became a go to snack, the most calories and salt I could get in whilst making forwards progress.
The extra challenge of self-support though is carrying enough drink and energy between villages, made worse when you miss your open shop destination either through timing or navigational error.
Sometimes I had to manage my fluids very carefully and that meant – slowing down.
I used slow sodium tablets every morning. On the day that I forgot to take one until 11am I got hand cramps.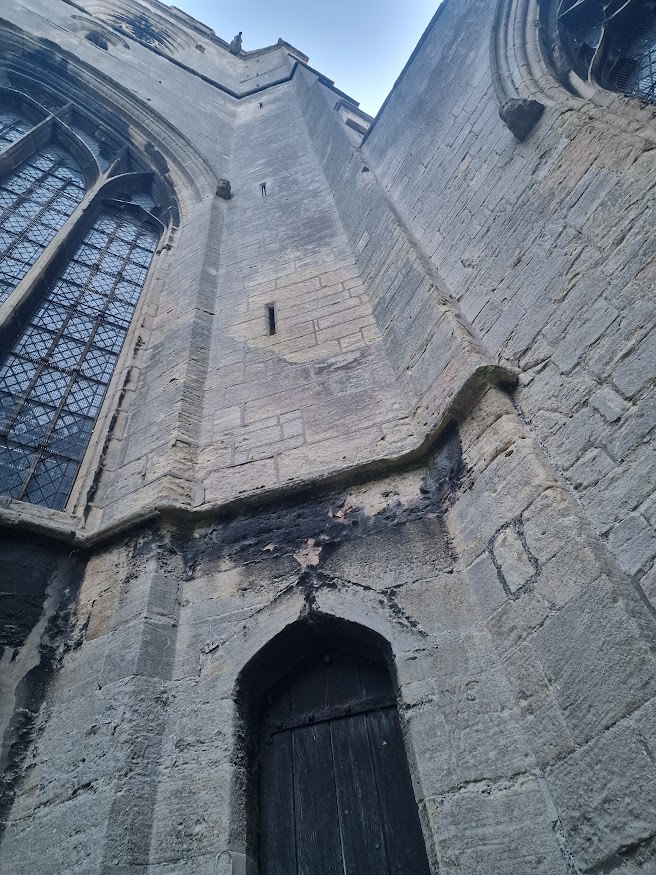 Dealing with Sleep
My misjudgment dilemma on night one was, as Mark Cockbain told me, an expected part of his challenge. The 12 noon start time messes with you  as the night comes early, he told me. So, sleep or no sleep on night one is a dilemma. Most of us did run through it, as Mark said he would have done. My mistake was probably to doubt that decision when dizzying in the sun the next day. I should have steadied myself, taken on fluids and energy and carried on.
The next two nights I bivvied really well, using church graveyards. These gardens for the dead are great for sleeping rough, tranquil and undisturbed after midnight, neatly mown and not overrun with biting insects.
My mini airbed was perfect, inflated in about 10 puffs and sturdy enough to keep my heavy bones off the earth. It had negligible weight and packed down to fist size.
I put everything essential in the bivy with me, keeping wet things outside.
I overslept a bit, so I can't say that I am champion of sleep depravation and management, but I did like being woken at dawn and my body did its best to get some repairs done whilst I was unconscious. I was able to move a bit quicker in the mornings, after sleep and before the sun got at me.
Waking up at All Saints Holbeach to the clarion carrion call of cawing corvids was a little sinister! The photo above was my open-eyes morning view there.
The Q/A booklet
From before the days of online mapping I think it was something of a tradition of adventure racing to set treasure hunt tasks on the route like a kind of honesty and alertness box. The Line had a booklet in this tradition though I think they were mostly to give the organizer something to do!
The Kindness of Strangers
I had a few of these moments. In Louth I looked for some wash space to undress and address my sores and asked in the Physio and Sports Injuries clinic. I was a muddy mess, having just found a rare hippo's wallow to accidentally dive into. They waved me through to their disabled toilet, which I trashed. I've sent the cleaner a thank you.
Outside Boston a closed (forever) pub let me use toilets and had a cup of tea ready for me when I came out. I talked about endurance with the owner, Steve who had twice rowed the Atlantic. He made sure I took his details to let him know how far I got.
In Parson Drove a friend of participant Karl Baxter (who was unfortunately out), still following the tracker came and chatted to see how I was whilst I ate some lunch.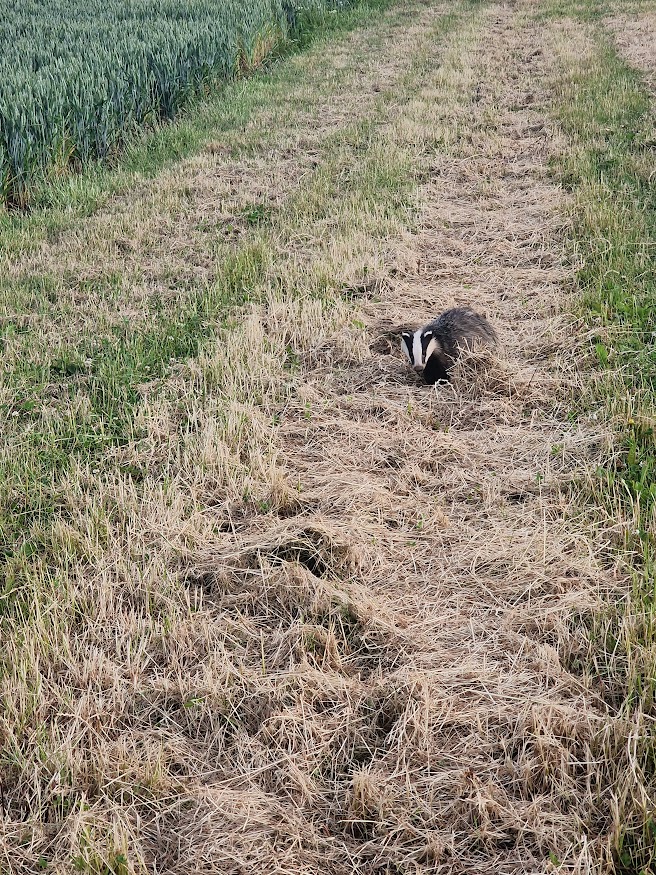 Special Moments
So many hares in Lincolnshire – and just so much more brazen than the timid ones of Wiltshire. A busy badger also allowed me to admire its work close up.
A fist fight in Boston. OK, that's not exactly a heartwarming moment, but it was special in its own way. It took place right in front of me whilst I was on a bench eating a sandwich, right in the city centre. These lads had such a classic 'giving it all that' hopping around sort of scuffle. The folk of Boston baited them and got their phones out. I was too tired to move or intervene so I carried on just eating my sandwich. I did give a statement to the police before I hobbled off. Whilst I hadn't seen much, nobody else had seen anything at all. That's Boston for you!
Sleeping at the churchyard of St Peter and Paul, Old Bolingbroke. The grass was spongy and soft, and the dawn chorus magnificent.
Seeing the Chequers at Guyhirn just as I had determined to check out.
End of The Line – what made me finally dnf?
I simply ground to a halt. The last bit of trail I felt every blade of grass as a blade. My feet were vile. My pack was on my front to save the skin on my back which already resembled bacon. I was behind the required mileage needed per day. I did really want to go further and had not bored of the experience, but I felt like I was nearly at the antibiotics required stage, and although that was 'felt' rather than definitely the reality, I was in my own echo chamber, and I do have a bit of previous for going on too far with bad feet and needing a hospital afterwards.
If you are intereseted sore foot and back recovery photos you can click here to see them. 
Was it worth £200?
I've been asked this a few times. As The Line is a self-supported event you get very little that's obvious for your money, and you get even less if you don't make the finisher's club for a medal and a t-shirt.
You do get a GPX file, a cunningly devised and researched project, and event booklet, a number and a start line… and the Track Trail tracker is the best in the business. You can get so much detail out of it.
Yes, it was worth the money. I see the entry fee as a subscription to a unique club.
I think that there's no group whose company I enjoy more collectively than ultrarunners. The challenge setting genius Mark Cockbain has created a club atmosphere around the hard challenges he creates and he attracts the very best humans. The group would not be there without Mark and his inspiration.
You can make friends for life on these adventures and be rewarded with a sense of accomplishment like nothing else.
When we started The Line, we nearly all thought we could do it yet we knew that statistically Cockbain Events are finely balanced so that most won't get to the end.
As we drove to the start I asked not would I dnf,  but what might cause my downfall? I didn't know the answer. Now I do.
What I also know is that the finishers of The Line are made of some special stuff. Hopefully enough of that has brushed off on the trail for me to pick up and take benefit from.
You would spend a lot more than £200 on limp life lessons from some bullshit business guru. The Line gives you real lessons on life and smashes all the bullshit away.
After half a Line I am bolder, stronger, more resourceful, more knowledgeable, more self-reliant, more invigorated and have some inspirational new friends.
The end of my Line was vivid and bright after a few days of living life in a self-survival flight.