August 2019
I have just finished a tour of some of the best places in live in Europe. I'd like to call it an EU tour, but though I travelled seamlessly through it, I did go via Switzerland. Still, we started and finished in the EU.
Setting out as a group of four, each leg of the journey I shed some company until I ended up on my own in a crowd of comrades, in Britain's newly (and sympathetically) named best place to live, Salisbury.
The journey: Gatwick – Venice – Milan – Como – Lausanne – Aix-les-Bains – Lyon – Birmingham – Salisbury. Duration 10 days. 2 flights, 5 water buses, 3 buses, 2 taxis, 7 trains, 2 drives, 3 runs. This culinary, lakes, arts, swimming, hiking, culturing and boozing trip saw me at my most indulgent. I fuelled my inquisitive wonder with a whirlwind blend of Prosecco, ham, ice cream, pizza, pasta, beer, pastries, nuts, crisps, chocolate, rosé, cheese and croissants and I finally ended up totally subsided underneath a slickly oiled and ketchuppy sausage and chips carton in the shade of a travelling wagon.  Pole-axed, I was looking very much the red-faced victim of a Russian spy, as I 'repaired' the body laid waste by a engorging holiday that ended by following the trails of Salisbury's beguiling 54321 marathon race.
Venice
Lily, Charis, Vicki and I set off for Venice and Venice was indeed Venice. It was notably better than I remembered from when I last went there as a teenager. In fact, it was surprising and distracting and as utterly brilliant as it is in all of its endless touristy folklore. And having an Airbnb in the thick of it all made all of the living history feel so intensely life enhancing. That's my tip for Venice, use Airbnb. The girls went on a sofa bed in the living room, making things much more affordable and, well, just better. Oh, and another tip – get a queue jump ticket for St Marks from the tourist office at the far end of the square. It was a couple of Euros and gave us about half a day of our lives back.
Milan
For Milan, we didn't plan. So, we didn't get to go to The Last Supper. Book 3 months ahead Jesus/Da Vinci fans. But we did meet friends, unplanned who we saw were in town via Facebook. Something real-social actually sprung out of my social media faceplanting into my phone… who knew?
Como
Because we didn't queue up for The Last Supper touts we spent the day taking a train to Como on the lake. The town was cool, the Lido at Villa Olmo cooler – but you will need a hat to swim in the pool bit, even if you are bald. What a great place Como is though. We took the funicular railway to get a better view of it. There was a long hot queue for this and the shuffling, sweaty, and slightly sunburny proceedings involved the most languid and lackadaisical herding of patient passengers I have ever seen.
But in the end… it wasn't worth it. The best views from the top were largely reserved for restaurants and bars we didn't desire. We said never again to the not-so-fun-icular, but then again we wouldn't have returned even if it had been brilliant. My advice, don't do it once.
Lausanne
It rained in Lausanne, with quite a crackling light show from the gods over Lake Geneva. Smoke on the Water played in my head. I still managed a weedy swim in the choppy waters after the storm.
On arrival in Lausanne had a very funny meal in a restaurant where they didn't want us in because it was past 2pm but then they did because they had seafood salad leftovers to palm off.  Sighing, they ushered us in. And then they slowly removed all the other things from the menu with a sad shake of the head at each request until we duly ordered the seafood salad, which was, it turned out, a good choice. Intriguingly, my plate had an octopus minutely lost in the lettuce. It was so weeny it could have been laid on a plate in a Lausanne model village. Miniscule octopi aside the salad was actually plentiful. It was certainly satisfying, and just as well at 16 Swiss Francs per plate, trading at £16 per plate thanks to Boris and co downgrading the pound to tie its value to Euro, or something like that.
In Lausanne I completed the first of my holiday runs, a 10K that took me past the forthcoming World Triathlon Championship flags and straight up the hill past the Olympic museum, where I posed in my special 'Grizzly Trails of the Unexpected' scarlet running shirt on the sprint track for some bored American tourists who has so little to look at that they amused themselves photographing my lunges. There were, in fact, some great statues of different sports in the garden, including one of a gymnast that had such a tiny athlete on the beam that it brought to mind some of the tawdry and unsavoury stories of that sport.
Aix-les-Bains
Whilst Vicki and Charis flew back from Geneva for pressing engagements at home, Lily and I trundled on, surprisingly ducking into the Swiss stairs to platform 10 in Geneva station and emerging on the platform in France. We had shengened. We could now see Switzerland all around us whilst we waited for our French train to arrive.
Aix-les-Bains has two things to witness, Lac du Bourget, which is verdant, splashy, dramatic and joyful and Le Revard which is a great view. I discovered the latter when I inadvertently ran up there on our last morning, the Saturday. If you are keeping count, this beautiful 1200m climb was my second run. It started out as a jog around the Ibis hotel, but I got carried away, and Lily didn't care as she was in bed plugged into Instagram. Our occasional travelling compromise – I do the outdoor hiking about bit first  and she does the vicarious bit, indoors, later.
Lyon
Lily and I split in Lyon so she could do a summer holiday with her mum who lives near there, whilst I flew back, playing the double jeopardy card of both flying with Flybe, and flying to Birmingham. Both worked out fine, though Flybe's check in procedure was distinctly rustic and involved a lot of guesswork as to where to stand and wait by its uncomplaining band of weary travellers. We were all risktakers, qualified as such because we had booked Flybe in the first place, so everyone looked slightly quizzical yet sanguine until we actually took off, and the relieved when it all worked out, only half an hour late. Fortunately, there are excellent craft beers in Lyon airport's luxury produce gift shop and I have a travelling bottle opener.
Birmingham
Vicki collected me at 11pm from Birmingham airport and I spent a few hours in transit at home in Chippenham before setting off for the last day of this break…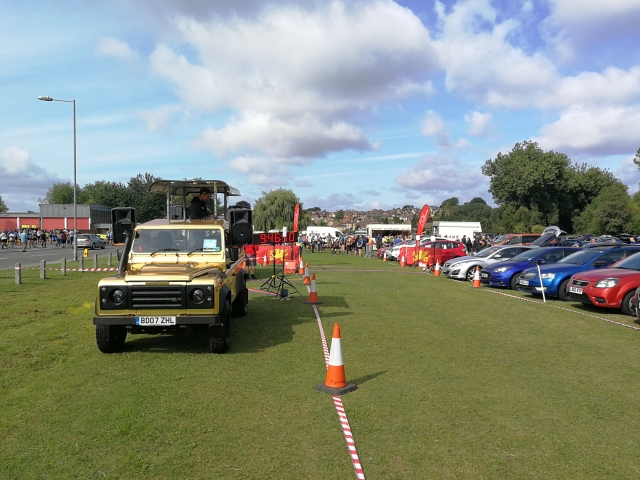 Salisbury
I arrived in Salisbury at 8am. The 54321 event brings thousands of walkers and runners out in support of the fire service. Each number is a race, 50K, 42K (marathon), 33K, 21K (half marathon) and 10K. The route takes in Longford Castle, seat of the Earl of Radnor (for it is he), which is not open to the general public. The route also follows through a glorious ancient yew woodland, passes the much sought view of the cathedral spire from very many exhausting angles, loops past the race course and bumbles along the banks of the Avon. My goodness, it is a cracking route, bar a few idiosyncratic pelican crossings, expertly and militarily marshalled by our camouflage adorned heroes who were thankfully easy to spot in Salisbury's suburban jungle.
This, of course, was a run with a purpose for me, answering this question. Could I stay marathon fit, after a week of obscene epicurean gluttony? Answer – bar one mini rosé-return at a drinks station, where I sunk some orange squash a little hastily – was a resounding 'probably'. 27.2 miles, so a cheeky mile too far, 4hrs 8 mins, in wind and sun, on trails and over stiles and with +600m elevation. I was pleased with that. And I even kept that sausage and chips down on the drive home.