The Beacon's Way… tldr – I have just completed my first 100 mile+ ultra, the self-navigating and trail and off-trail route through the Brecon Beacons and Black Mountains, with 22,000ft of elevation. I finished in 37hrs and 15 minutes in 16th place in a race which some 66% did not finish and am now the proud owner of the Gold standard buckle awarded by GB Ultras.
The Longer Version
I have zoned into endurance running on a steep learning curve, taking, as the next step, always the hardest thing I could think of doing with a chance of finishing. Exactly a year ago I was completing my first Ultra distance (any distance longer than a marathon) when trotting through the 60-mile Race to The Stones along the ancient Ridgeway. Its Wiltshire finish, at Avebury's stone circle, made it almost a run home. Family awaited me there for some 13+ hours of 27° sunshiny exertion.
This distance I ran at Race to the Stones qualified me to enter a real biggie, and a global classic too, the 80-mile volcano run, Transgrancanaria. With 25,000ft of elevation and a 25° Saharan dust cloud paying the island a visit, I was definitely out of my comfort zone, but 26 hours after I started I broke the finish line tape. I had actually finished quite strongly…
60 miles…80… it had to be 100 next and I chose a cool one, across the Lofoten Islands in Arctic Norway. How nice not to be too hot and yet have so much daylight. But, when cool became cold and cold became bloody freezing, I rather missed that good ol'dust cloud. Underprepared for the Arctic ice cloud, gales and snow, and petrifying waterfall traverses, I had taken a step too far, too ill-equipped, flogged and frozen, over and out at 40 miles.
Nevertheless, the DNF annoyed me. I still had energy, and like all the other entrants bar the 12 who finished, I had just been too cold, not too fatigued. I still had legs.
So, I now needed, ASAP, ideally in July, a 100+ mile race with fearsome elevation that would ideally not be too hot and had space for a late entry. I wanted to prove I could do the mileage and I wanted those 6 ITRA points that I had stupidly left behind in the Arctic. And out of the wispy Welsh mists, the blessed Brecon Beacons beckoned.
Thank goodness for GB Ultras and their willingness to establish a new race that was the whim of valiant Welshman Allan Davies who felt the route was overlooked and who fancied a long run home to his native Llangadog for his first 100 miler. Being new, this race was not yet full. It will be in 2020, for two reasons. 1. Allan was right, the route is unfairly overlooked. 2. GB Ultras is a very appealing club-style organiser who got this event underway with the passion and desire to get it right.
Being absolutely honest, GB Ultra's bold and brash Union Jack branding doesn't feel very me. I had seen it before and shied away. But after travelling through a weekend with them I have come to understand that pride behind the team represented by the red white and blue colours, and their sheer expertise and passion for creating exacting challenges that stretch mind and body. Above all though, kindness and consideration is stand out for this lovable gang.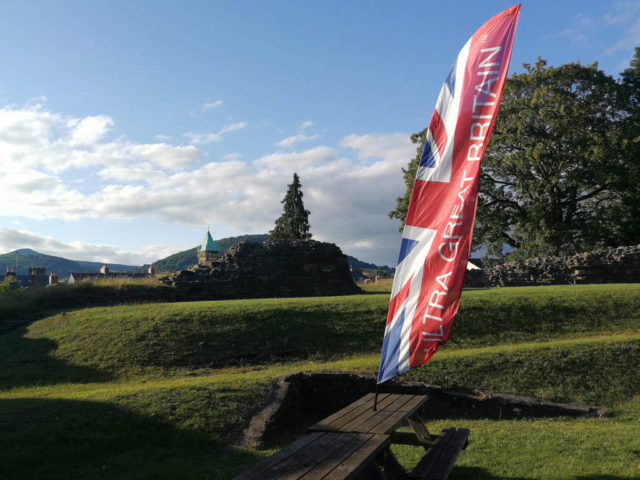 So, I entered the event with a few weeks to prepare, boldly declaring that I could indeed self-navigate, when I had no experience of it, and had not been around for the free recce sessions that the GB Ultras team had organised in the proceeding months. I mean, how hard could it be, right? I bought myself a watch with nav and used it to walk and jog around a 4 miles route in Chippenham. I only went wrong 6 times, but I ended up back at home, not the mazy Chippenham estates, so job done.
Fast forward a couple of weeks and I decided to at least hike-recce stage one of the race, the first 7 miles. It was the Wednesday before the actual race. I set about guiding myself with the event GPX file on watch and phone and even checking the paper OS map a couple of times. I began to understand what I was looking at, which was just as well. The lack of waymarking or signage on this this relatively tame stage out of Abergavenny was evident enough. The reward for finding the right route was evident too, as I had my first big view from the top of a Beacon, the stunning terrain that I would become at one with in a couple of day's time.
And so, to the start, waiting for the 6am off at Abergavenny Castle with 75 other entrants and a chat with Ben Bridewell who is an Ambassador for GB Ultras and local to me in Wiltshire, a familiar face who settled my mind down a bit. I felt fit, prepared, and only had a slight technical issue about whether to use my running poles or not. I had done last time out. Around the start area, about half had them, half not. I packed mine away into my finish line bag, deciding keep my hands free for navigation, optimistically hoping that I would catch up with them and the finish line eventually.
And then the briefing from GB's tireless, committed and delightful Wayne Drinkwater. During his words of wisdom, I checked my watch and phone. The navigation files were opened and loaded. All was well – and breathe – until my thumb hit close on the screen as I put the phone back in my belt. Nervously I hit the rapid reopen graphic, hoping to get it to readable quickly. Or did I? Are you sure? It asked. I hit yes. The file duly deleted, the map was cleared. The screen proudly told me that I had saved 114MB following my fast delete. Now, I had no GPX on my phone. I gulped in panic. A rousing countdown to the start began, I wanted to shout out stop, wait, I need Wi-Fi! But off we went. I bundled my phone into my belt and reminded myself of the spirit of Ultra – 'don't let it throw you.' I determined to get on, enjoy the atmosphere and trot across the local golf course with my new comrades, laughing at my own stupidity and fragility… It took me 30 miles before a worm in my brain said there must be a backup file somewhere on my phone and in the meantime I had done fine with the small scale nav on my watch.
And so, the route, hilly and hard in the first 45 miles with some sweeping runable downs. I made progress quite well, only one bad error when I missed the route to the checkpoint in Crickhowell and had to turn back for it. 1-2 miles added, but no crushing disasters. My gear was holding up well and the GB Ultras' salted potatoes were helping to give me the slower burning carbs that my large body needs. I was pacing comfortably too, low heart rate, and I had found several tiny tracks and unmarked missable turnings all on my own.  The weather was cooler than forecast, a tad muggy, but this was very forgiving for a July day. The countryside was stunning, I felt incredibly lucky.
At 45 miles, trotting in to the glorious checkpoint at Talybont reservoir I reached my drop bag and had Vicki and Lily there in support. Hurray! The big mountains were next and nightfall soon after. You can never feel perfect after 45 miles, but I was far better than expected. The climbs that immediately followed were long and hard, and felt very slow, and we were all very spread out at that stage, but I was making good progress vs the field and the landscape was bewilderingly magical. Eventually, much noodling about on the hills led to summitting Pen Y Fan, and there was Wayne ready for my social media moment in the gloaming.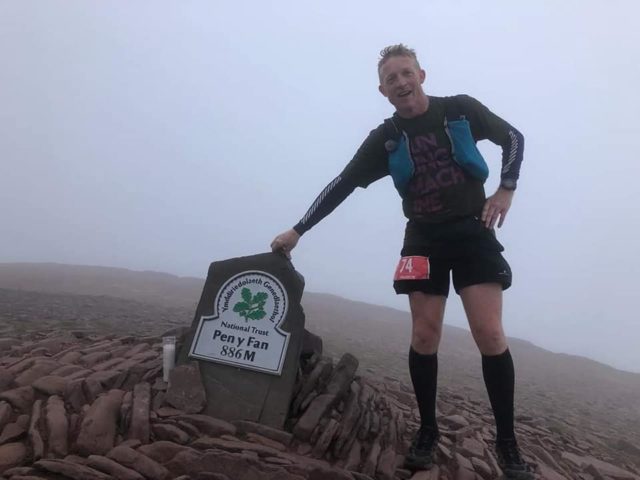 On the way down, a moment of horror, I lost the precious satellite signal, so my watch glitched and froze, but I could see where I was heading to the checkpoint in the valley and it soon came back into action. I ate, revived, put the headtorch on, and set off only for the satellite to fail again as I headed off on what I now know to be a notorious section. Miraculously, Allan Davies set off on the climb just behind me after a shorter checkpoint stop – the man who loves Beacons – and I became his disciple. His phone was flat and charging, but he was confident – and he needed to be. Suddenly there was no path to follow, not landmarks to see and sheep's eyes on the horizon reflecting our headtorches back. We veered wrong, through tussock, bog and stream before Allan's instinct clicked in and he led us back to the ridge. It was quite a scramble to get there. Suddenly, for the fist time in a hour or so my watch bounced back to life and confirmed we were exactly on the right route. I was astonished. Allan then declared himself determined to pace the night steadily and I happily joined him.
On reflection we were lucky. The route finding mishap faceslapped me, but at least we had a dry night. Just the arrival of the dewy morning made me shiver and shudder after 22 hours on the go. Lashing wind and rain would have transformed that lost-on-a-mountain-top hour into something rather more apocryphal. I breakfasted on more salted potatoes and coke at CP8, Glyntawe, where Allan and I were joined by Rob Smith.  The following climb recovered my body heat, and I have never seen the sunrise before in such a beautiful place as on that mountain. It was glorious, and Allan, now 'in his country' was practically skipping with glee. His joy was infectious.
There were still 34 miles to go, but my spirits were high and remained so to the end of the race even though, surprisingly with the steepest mountain highlights behind us, the most arduous terrain was yet to come.
If the mountains had been tough to climb and the night route had been disorientating, the section after CP9 was the surprising killer, the slowest going 9 miles of any race I have stumbled through. Two quickish road miles soften you up, then there is quite a nice steady and long climb, and then… a grim field of lumpen rocks. We clattered, scraped, stumbled and wobbled over them pushing on all the blister points… and then these passed and the route, finally, takes you in directions where none one can go. The official Beacon's Way, at this point, is just an expression of your right to cross the land, not a path that helps you follow others in their endeavour to uphold that right. The actual route crosses dense undergrowth, traverses about sharp hill peaks, crosses through deep bogs. My 25 mins per mile through here was actually impressive, bizarrely I was catching people up, though not Allan who disappeared ahead on his homeward bound high, and not Rob, who, when the going got really tricky, seemed to love life all the more and scurried off to the far horizon. Only afterwards did I discover that my new friend competes for the Central Beacons Mountain Rescue Team. Whilst I was woozily veering off a cliff, Rob was traversing with accomplished expertise.
This section – and the equally exacting first 2 miles after the final CP – set me back from a predicted 35-hour finish to 37. Those behind me went from 37 to nearly 41. The 40-hour cut was revised to 40.45 to accommodate but still several runners met the end of their race in the bid to reach CP10, timed out after 87 miles. It was alarming how time ate away at this stage when tired and faced with an intense navigational conundrum. Several times I went downhill when up the ridge was the better option, then I hacked my way up to try and find the route when down would have nicely avoided the entire spur.
It was, of course, deeply frustrating and there were anxious moments, but I kept a level head and kept moving. 'Always keep moving forwards', Wayne had said to me, at Friday's registration. He was right.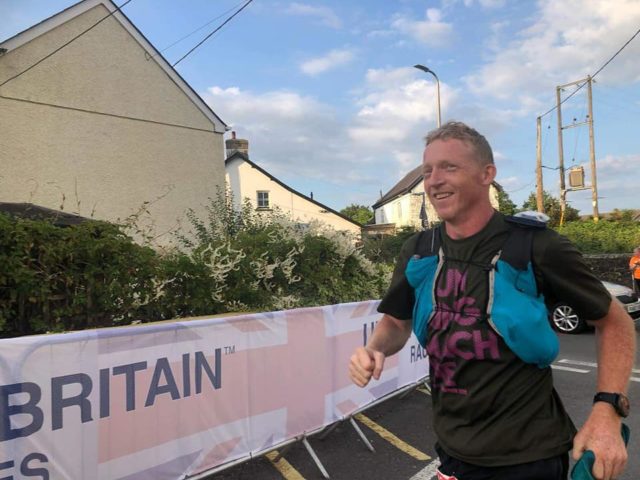 The last section was long, 15 miles, sun out and blazing, and although the last 10 miles had an actual route to follow, by now I always questioned it, especially as some of the farm gates were rusting and mangled looking like they had not swung open for a lifetime. So, it was run, stumble, walk, check the nav, run again, repeat until the end. Anymore wrong routes could set me back a crucial hour or more. Using this zombieish 'method', I somehow gained a couple of places including passing Rob Smith who went off track somewhere just before the end. The last 15 miles had not seemed so daunting on paper but after the 92 before and in searing sunshine, I arrived in Llangadog on vapours, having wrung my water bottles out like spent flannels. I was on the point of door knocking for water when the final mile hoved into view and I arrived in Llangadog, after a cheeky extra spiral or two of nettly horeshitty trail thrown in as bonus in by the GB Ultras team. I arrived desperately dehydrated but with the deep satisfaction that is only reached by digging deep into your soul. My feet were certainly complaining, but the tap water was marvellously reviving in the way that tap water never is unless you have been running for days. Oddly enough, I was soon good to go, hurrying off for a pint with Rob before the Goose and Cuckoo bar closed and thinking about what to do tomorrow now that simply moving forward somewhere glorious wasn't on the agenda. Recovery be damned, I'd like some more of this.  Thanks GB Ultras. Time for the next gambol.