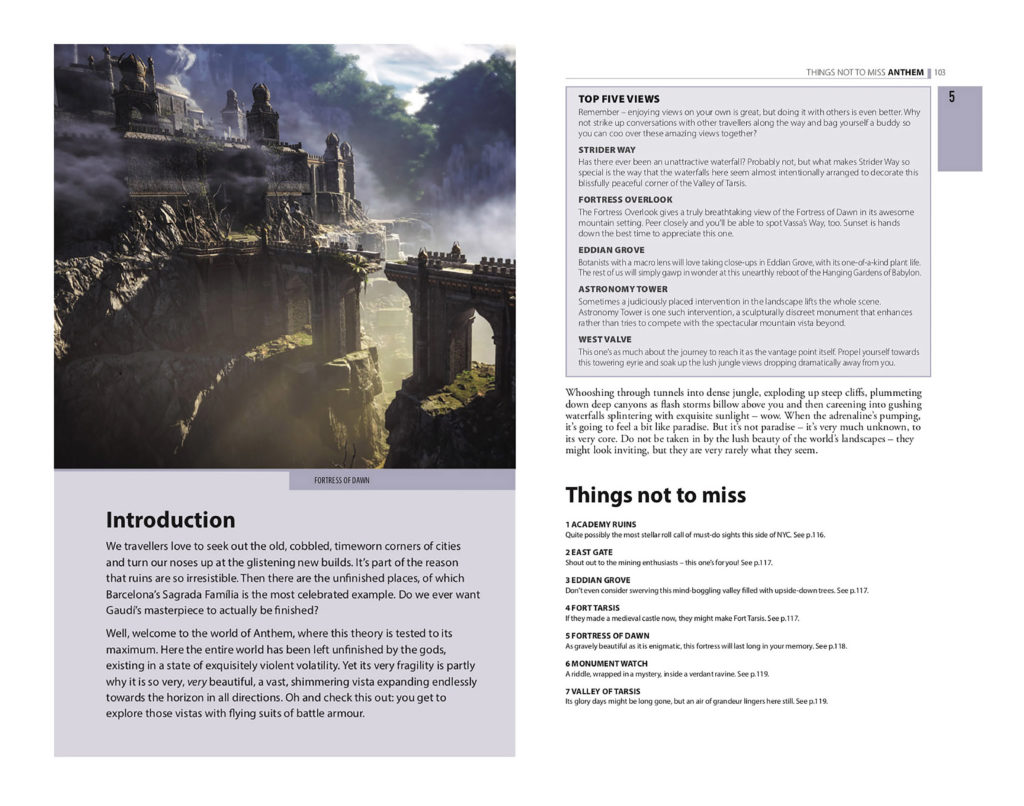 Xbox and McCann London are proud to announce the launch of "The Rough Guide to Xbox" on January 30. Created in partnership with Rough Guides, one of the world's leading travel guide publishers, the book is Rough Guides' first-ever edition dedicated to virtual worlds, and works as a fully-functioning travel guide, exploring the stunning beauty of games beyond traditional gameplay.
Featuring top travel tips and photos shot by a professional in-game photographer, "The Rough Guide to Xbox" is intended, like other Rough Guides books, to be a valuable travel companion, except that every place from cover to cover can only be visited virtually in Xbox games – which have become vast, hugely detailed, and jaw-droppingly beautiful. It's designed to encourage occasionally wandering off-piste away from the gameplay action to explore games for their sights to see.
The book features worlds from games such as Halo 5: Guardians, Metro Exodus and Forza Horizon 4, all of which are available on Xbox Game Pass.
The graphical detail of Xbox One X Enhanced games has made a new kind of travel possible, one where people can experience beautiful architecture, meet locals and make memories without having to leave home.
The official launch takes place on 30 January at London Olympia's "Destinations: The Holiday & Travel Show", the UK's biggest holiday and travel event. There, attendees can not only hear from Xbox and Rough Guides but also stop by at a dedicated "Visit Xbox" stand aimed at showcasing the travel potential of Xbox's worlds, just as other tourist board exhibitors do for their real-world locations. There, visitors can get hands on with travelling to a few gaming destinations and hear a few audio excerpts from the book.
"The Rough Guide to Xbox" will be available to purchase from the Online Microsoft Store from the 5th February 2020 and, at a later date, in an e-book format at https://www.roughguides.com/visit-xbox/. All proceeds will go to UK charity SpecialEffect.
"In-game exploration has become an immersive experience for millions worldwide. In this spirit of adventure Rough Guides is proud to have worked with Xbox to create The Rough Guide to Xbox. The guide shows off spectacular in-game photography alongside our signature 'tell it like it is' approach. So to discover things not to miss, how to get around and even shopping tips, don't forget your Rough Guide!" says Joe Legate, Head of Marketing, from Rough Guides
"Working with Rough Guides has been a real first for Xbox. We have explored the notion of 'Digital Tourism' through the worlds of our Xbox One X Enhanced Games, showcased expertly through beautifully crafted Rough Guides editorial. We are especially proud to be able to support the incredible work carried out by the Special Effects Charity, who work hard to make gaming accessible for everyone." says Michael Flatt, Xbox Global Integrated Marketing & EMEA Partnerships Lead, from Xbox
"Some of the ancient ruins, national monuments and natural wonders in Xbox games are every bit as goosebump-y, bucket list-y, and worth seeking out as those in the real world. So it's only fitting that there's now a Rough Guide to Xbox, a vital tool to help people plan their trips to game worlds just as they would to any other destination." says Sanjiv Mistry / Jamie Mietz, Executive Creative Directors, from McCann London.
"SpecialEffect is delighted to have been selected as the beneficiary charity of the Rough Guide to Xbox! In our work with some of the most severely physically disabled people in the world, we hear time and time again that having access to video games gives them the opportunity to travel and explore new places in a way that simply would not be possible in real life. Thanks to the money raised through sales of this ground-breaking book, our team will be able to help more gamers with disabilities to enjoy these fantastically immersive digital environments and the joy and escapism this brings." Says Dr Mick Donegan, CEO and Founder of SpecialEffect.