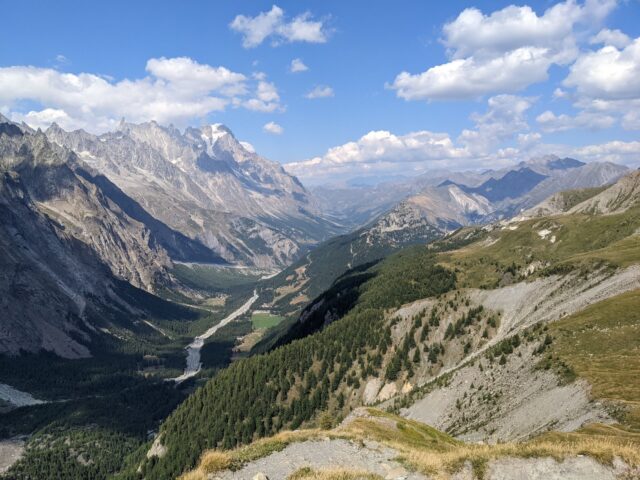 It's been a year with injury management and physical breakdown a constant threat, but nevertheless 27 marathons and ultras were completed in it and some of the most epic experiences in life, let alone in running.
1 Greenham Common
A looped marathon. A looped marathon is a great way to test a sore leg. If you are sensible and listen to your body then you can stop at any time. After weeks of rest trying to get my leg right, I needed to check the engine was working ahead of Mongol 100…
Fortunately Liz Laird ran with me on this one and we chatted our way around 26 miles whilst reliving the our own memories alongside those of this famous protest camp.
It was a moving occasion, with a tour of the famous watchtower at the end. We ran with ex protesters and guards.
The sight of Chris Rhinoboy Green on the charge at this event felt especially post-modern, his Save the Rhino awareness adding a new layer of committed cause to the rain spotted collage of causes that were previously drawn on the canvas of the Common
2 Mongol 100
As if by magic, Mongolia suddenly decided that Covid could eff off and, in February, dropped the quarantine regs. The end of Feb, Mongol 100 was back on.
It's a story I will be repeating forever, those magical days of camaraderie in the wilderness. Magically for me, my leg, that left me in tightening shrill pain on hills, seemed to be fine on the flat. And what could be flatter than ice path to the endless unchanging horizon of frozen Lake Khovsgul.
Nevertheless, I got my excuses in early, anticipating so much walking.  I was only looking at the maximum time available and hoping to trudge to the end.
As it turned out, the colds and the conditions suited me. I was fastest across the ice by some hours, in particular when embracing an elongated day 3. It was a day when brutality and belligerence brought out the best in me.
3 Endurance Life Sussex
My place in UTMB had been announced at the lottery draw in January and the event would necessarily become the focus of the main part my year from the end of Mongol 100 to the finish line at the end of August.
This therefore became the first of many hilly runs designed to awaken the muscles for climbing.
It was a great enjoyable marathon, run a 3/4 pace. Setting out from Eastbourne across the Seven Sisters and back via a mix of the cliffs and the South Downs Way, my right knee hurt a bit but held up.
The form I'd need for UTMB seemed a way off though, so far that I was keeping a low profile about getting into that faraway date in the Alps.
DNF at Alanya
It took a DNF at the crazy mountain ultra in Alanya for me to realise that this wasn't entirely the wrong year for UTMB to come up. My Dad had died a few days before and I celebrated his memory as I staggered up the mountain in 27C, frequently stopping to lean on my sticks and draw breath. It was quite the contrast, +57C compared to Mongolia at its coldest.
I was timed out by ther cut at halfway, 25 miles, by a few minutes.
But the climbing at Alanya is even steeper than UTMB and the cutoff is more exacting. If I narrowly missed the cut here, feeling flabby and injured, in mourning and without any previous sun on my back, then I should be OK by August. It was hard to imagine running worse than I had here and my worst had nearly been good enough. Improvement was inevitable.
4 Cowshed Backyard Ultra – 50 miles
Pre-UTMB draw, the hilly Cowshed had been a target event for me, one where I intended to push for significant mileage.
Now I added the insult of COVID the week before to the injury of my right knee and travelled up to Durham with a view to enjoying it for as many laps as possible with a mileage target of 50.
It went well. Backyard is a good formula for nutrition tests and adjustments. I was using a knee brace to help with confidence but also found that minor adjustments in where I was landing my foot helped quiet the knee once it started to hurt.
This helped me to build load on the knee as I progressed with each lap of the backyard – which was also what my physio wanted.
Stopping at 50 seemed a bit of a disappointment but getting drawn into the keen end of the contest would have been exhaustion for no gain. I wasn't in good enough shape to add open ended miles. I followed with envy as Paul Wilson and Sarah Perry took this one deep, with Sarah's win delivered with a calm ease. 32 hours of hill loops was probably not brutal enough for her.
5 Bluebell Challenge
Another loopy hilly trail, this time in Nuneaton. More slow miles for me. Marathon distance completed. Lovely bluebells, as promised.
6 May the Fourth Marathon
Two half marathon loops of the Shropshire Hills, a fabulous and enjoyable run, feeling stronger.
7 Heart Of Wales Ultra Marathon
I'd wanted to do a Pegasus event for a while as the races are organised by an ultrarunning inspiration, Rhys Jenkins.
This event, 3 days after the previous marathon was one I took really carefully, and stopped at midway to fully refuel, working my way through a massive drop bag picnic. This slow picnic dropped me back through the field so I was able to enjoy pacing past slower runners in the final 10 miles.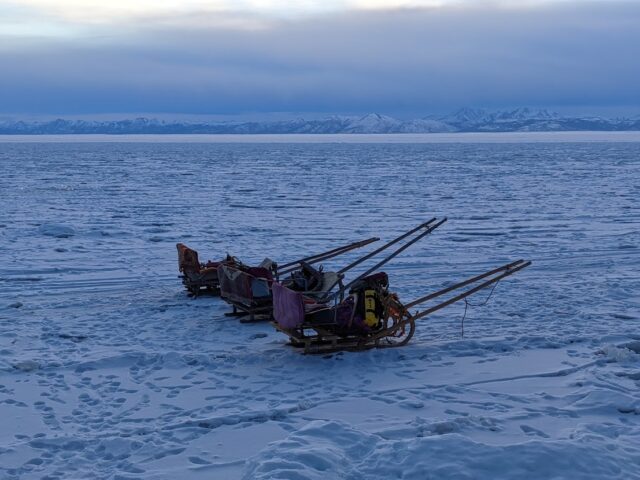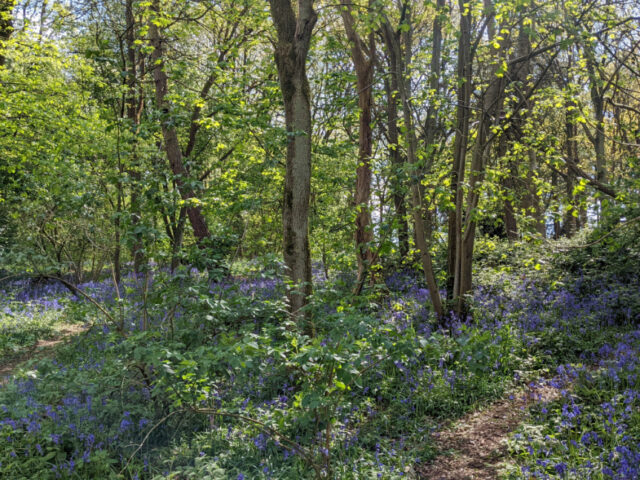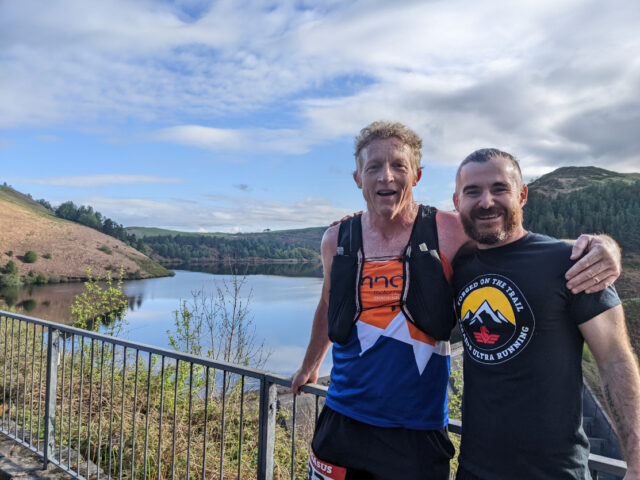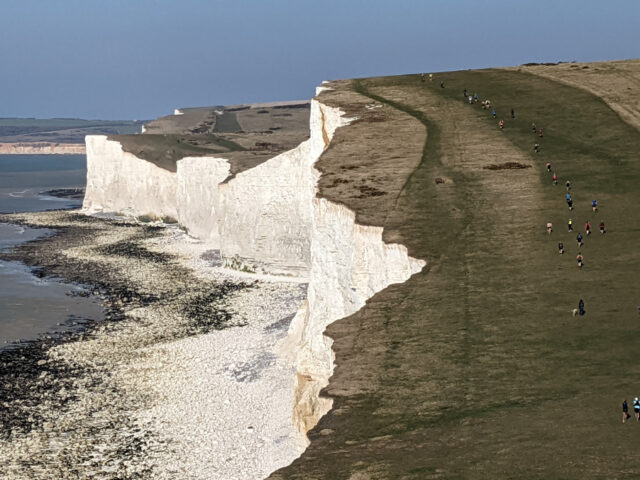 8 Ohrid Ultra Trail
After Mongolia, this was the second true epic of the year. A classic mountain trail in the Balkan mountains of North Macedonia and it featured alarming race reroutes, first to avoid prowling mountain lynxes, then just moments before the race the news that our GPX maps would be partially wrong as the route had changed to avoid an incoming mountain top storm.
There were some anxious moments in this one, but it was an event I worked with experience. A good fast finish showed that the leg soreness was a further diminished issue.
In the small hours, I had a moment to treasure as a weather window cleared and the fullish yellow moon bounced its light off the rippling silent lake way below, creating a cosmic array of bouncing golden light, the impression of a northern aurora.
 9 Keswick Mountain Festival Ultra
Another strong mountain run, this time 50K in the lakes that felt a lot longer! The Festival was a great weekend. I also ran a 'vertical' race from Kewsick to the summit of Rab Skiddaw, a race which showed that even in May the mountain top could be unpredictably brutal. We could barely stand in the gale.
10 Uganda Marathon
The entire week was eye-popping, exciting, emotional, overwhelming. As to the running, daily runs with the Masaka running club were great training and the hilly marathon in equatorial heat gave me a confident performance.
I ran the marathon with kids at my heels, chanting and singing.
11 Salisbury Plain Marathon
A time on legs affair with good friends at Andover Trail Events, the event stood out for being rerouted as we ran! The army unexpectedly closed part of the trail for a shooting exercise. And rather than let them pick us off one by one Andover drove ahead of the runners, replacing route markers.
12 Giant's Head Marathon
A long-awaited chance to win the famous whirly cock medal. This was the first event of the year where I felt sustained strength. I paced the event well and finished high up in the field.
13 Maverick Chiltern Ultra 50K
A 'bonus' event. This sprang from Uganda friendship as Suji really wanted company to help him complete his first ultra. We duly did so, on a baking hot but companionable day that proved a good training run for me.
14 Sagarmatha
24 hours, one hill. And what a hill it was. Asking the effervescent Andy Dunn to enter the pairs event with me for this, was a very sensible move.  Itr was a pure climbing ultra with nothing else. Could anyone achieve Sagarmatha, 29,000ft of elevation and in attaining that complete 100K of hill trudging.
Well, we didn't plan on 37C.
I was overwhelmed by that heat, leaving Andy to soldier on through the hardest of hard yards. I earnt some cred back overnight with a better stint, but our 50:50 shared effort plan ended 60:40.
We won the pairs contest, but the real win would be in those climbing legs. It gave me strength that I tapped into time and again at UTMB.
15 Peak District 50
I drew huge encouragement from my ten hours completing this fairly hilly fifty, always watching the heart rate, making sure these were fitness miles, not stress miles with UTMB next.
It was the best I had run all year and felt like I might just be 'peaking' at the right time.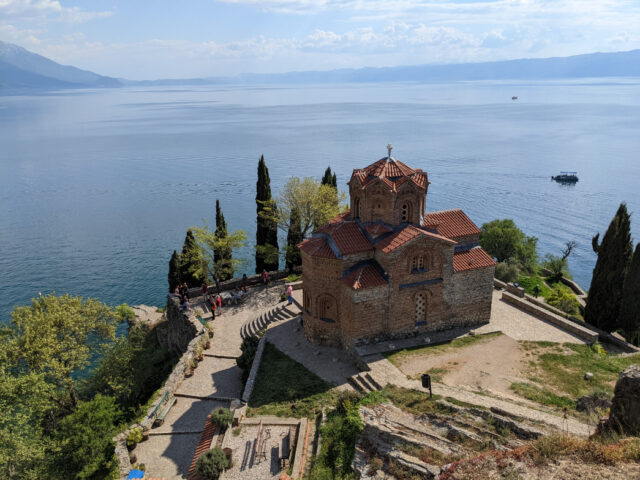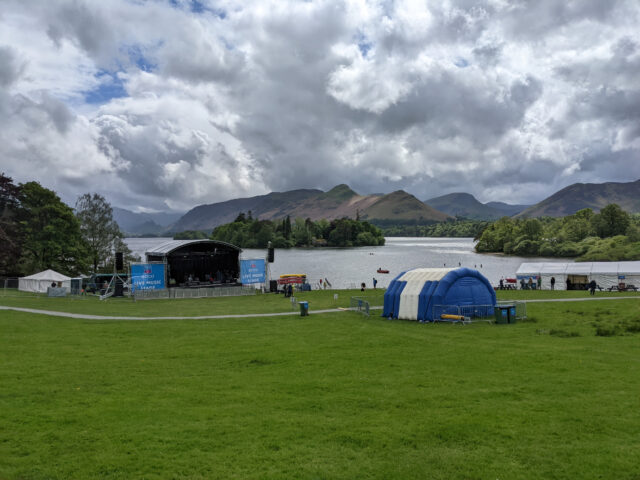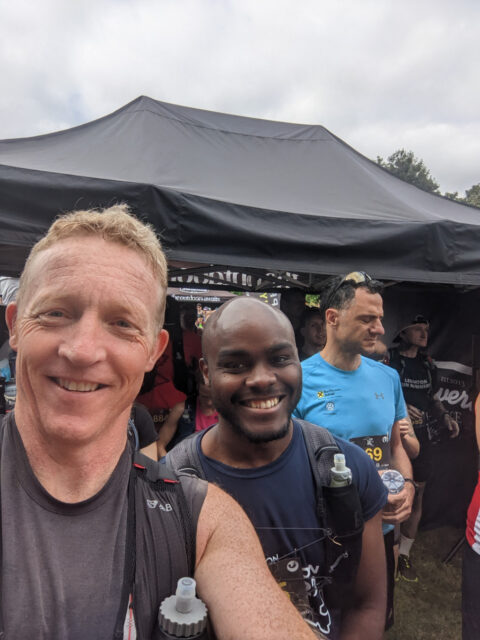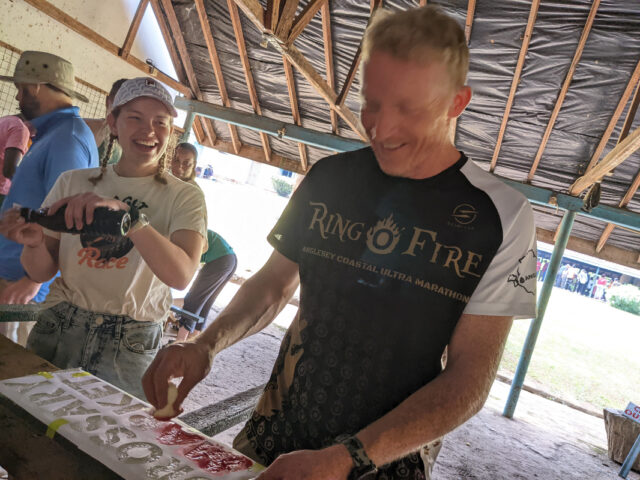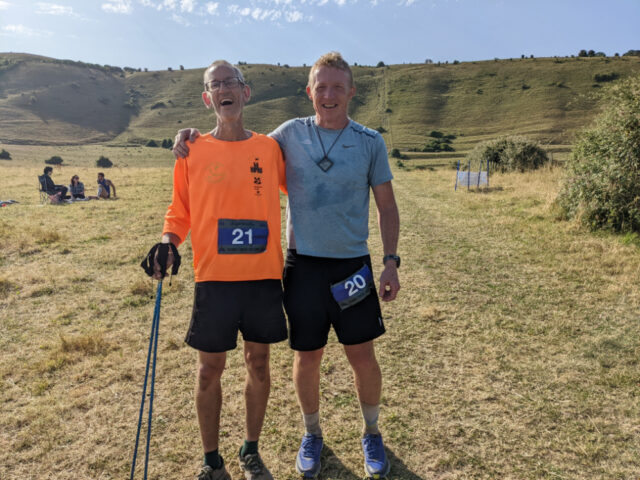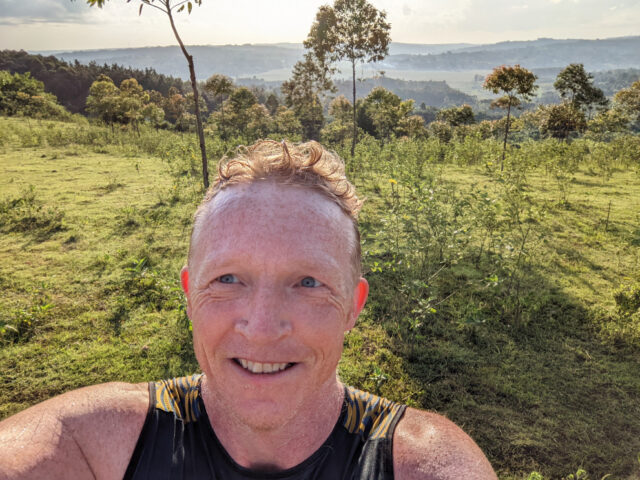 16 UTMB
So here it was, the World Series Final, Ultra Trail de Mont Blanc, an event beyond my imagining when I started running, joining Chippenham Harriers in 2017. At 52 years old,  I found myself  participating – albeit in the chorus line – in the biggest event in my sport.
The long story will come out eventually. But that first morning, dawn in Les Pyramides and a sunny descent to Lac Combal was one of the rare privileges my fitness and adventure has brought me. It was transcendent.
My race? It was perfectly on track and plan for 40+ miles, then came unstuck in the sun.
At 50 miles, I was as good as out, sunstruck at Courmeyeur, trying and failing to eat.  Lying down to cool down before realising that unpredicted sun was staying for the afternoon climb and nothing I was doing ahead of that was helping.
Then the climb, with a still dizzy head,  to Refuge Bertone, nearly finished me. Seeing others give up and return to Courmeyeur first weakened, then strengthened by resolve. Each hour that past the day cooled, and after hours of slow progress I got my legs and form back.
The event then returned to smoothness and controlled progress again, until the heat again, next day. But that heat was expected, and I handled it with care.
It was just wonderful to run back into Chamonix, a finisher of this famous race.
17 Farnham Pilgrim's Marathon
I was able to run an easy-paced marathon a week after completing UTMB. That's typical of me, it feels good to get moving again after a long event. It channels my recovery without leaving me to fall into the post-ultra over-appetite trap that I am prone to.  Running again was especially liberating after UTMB which I finished in low heart zones and with some very slow climbing mileage.
That said, this event lacked in x factor, and after the Alps I was more mentally jaded than anticipated. Twenty miles were fine, the last 6, a bit of a drag.
18 Causeway Coast
Two weeks after Farnham, I was in Northern Ireland for this bucket list destination marathon. There were loads of cliff steps to navigate and an ankle breaker of a stony beach scramble and I am a good technician on both.
I enjoyed this one, finishing strongly  and in the front pack. The trail also lived up to its reputation for extraordinary views on what was near perfect crisp breezy late September weather.
19 Clarendon
Another marathon that firmed up as a 'to do' when in Uganda and I was joined in running it by Annabel Pickard from that trip.
A trail point to point from Salisbury to Winchester, and a successful effort for me.
20 Ultra London – 55K
This is a very good idea for an event. The route, from Woolwich to Richmond, travelled parks, gardens, woodland and heath and whilst there was a fair bit of road it proved that that you can go trail running in South London.
There should be very little barrier to entry for ultra running, but travel and transport is an issue for city runners and that may be why ultras lack in ethnic diversity.
From a personal perspective this was one I had to keep sensibly paced with the Lake Tahoe Triple up next.
The Lake Tahoe Triple: 3 marathons in 3 days.
21 Lakeside Marathon
21 Cali Neva Marathon
23 Lake Tahoe Marathon
Running a perimeter of this famously beautiful lake that straddles the border of Califiornia and Nevada seemed a spectacular idea and it was one of my original 20 events for 2020.
The organisers have made this road run into a triple marathon option with a few miles overlap between the finish of Lakeside and the start of Cali Neva to extend the single lap route to 3 marathons.
Day 1, Lakeside, was by far the weakest offering, a slow hilly grind that sent runners straight into the busiest of oncoming traffic, clinging to the shoulder of the road.  The latter few miles gave a hint to the beauty of the days that would follow.
Getting this one done was a labour, but I did claim 1st veteran (the 'Master's' prize).
Then Cali Neva – which is more accurately Neva Cali as you run from Nevada to California. I was more sore and slow than I expected, though the route itself was enjoyable.
Finally, day 3, Lake Tahoe and quite the most scenic marathon I have ever run. I also slowed down less than I thought, coming past some of my fellow triple runners in the last mile or two.
These events were a full-on embrace of Americana, hot dogs, beer combined with trips across the border for gambling. The Lake was as dazzling as an emerald and the days running around it were wondrously sun blessed.
At the end of it all I was declared the 1st male in the triple, though my maths told me different. And indeed, the record has now been changed to give Jim Collins Jr his deserved win – by about a minute. Rachel Banton, 1st female, outran both of us!
24 Beachy Head Marathon
From the most picturesque marathon I had ever run to one that went into the top 10. Beachy Head is a beautiful demanding mistress of a marathon.
7 maras and ultras is a month though was pushing it for me, and my right leg decided it had had enough after about 9 miles. I jogged around without it worsening, but couldn't exert at any stage.
25 Escape From Meriden
Competing in the pairs with Liliana in this unique 24hrs distance, any direction, ultra, our plan was an audacious 106 miles to gain 90 as the crow flies, from Meriden to Hyde Park, using as little road as possible. A failed nuitrituional plan, wrong turns, my fall on my head at a style, Liliana's sore feet, and navigational calamity meant we would bail on the Grand Union Canal at Tring and get the train into town. It was still 80 miles and 62 as the crow flies for the gold medal, and actually only a couple of miles off winning the pairs competition outright, but suffice to say that Escape is harder than it looks and the black 90+ miles medals are rarely presented for a good reason.
This was, without doubt, an adventure we enjoyed. The mulled wine and burger at Euston station was sensational. A police intervention at Leamington Spa made for a rare photo, that is an event badge of honour.
26 Montane Cheviot Goat
Another underestimated ultra, though I think we all underestimated this one as this year's Goat took participant and additional 2 hrs to complete on average. It took me 20hrs and 52 minutes for a top half finish.
This challenging 57-mile event leaves you to self-navigate a lot of no trail route at night, and what a night it was with -9C and snow with freezing fog. That rough boggy battleground terrain will live long in the memory.
27 Sikhs in the City Ultra (50K)
2K road loops in the suburbs of Ilford was quite the contrast after the previous wilderness weekend in Northumberland and the Scottish borders. Whilst this was still a freezing cold sort of day, this was a lovely conversational event – and a chance to learn about the club culture at this unique embrace of running – especially running well into senior years – and Sikhism.