Beyond the Far Side is such a surreal set of races. There are four options these days, 24hr, 12hr and 6hr time-limited 5.3 mile endurance laps, and a single lap and a bit for a fun 10K jaunt.
This event is held in a corner of Wiltshire where it always rains everyday in the months before and the course starts off as merely treacherous and ends up bonkersly mudski as time progresses.
You need to know a bit about the course – as follows:
Leave the start-finish marquee and car park along half a mile of lane, hit the trail, ascend a ridiculous hill, trundle along a slippy ridge, descend a steep stony passive-agressive hill, 180 degree turn and back up it, along a 2 mile ridge, down a wearingly long saturated hill, 180 degree turn and back up it to the top of the first hill, demonic descent, run a zigzag route through a wood, emerge at the start-finish point and… start another lap unless doing the 10k in which case there is an extra flat lap of some playing fields before the finish.
In 2019 I did the 12hr, clocking 9 laps in 10.5 hrs, taking 4th place – 47.5 miles in total, an absurd prep race for my bid at Transgrancanaria's dusty mountains a month later. It was just my second ultra and seems like an absolute age ago. FB memories reminded me today that I rose the next day to complete a Harriers social 9-mile hilly run around our testing local Slaughterford route – a solid test of my back-to-back stamina build.
This year, with Country to the Capital only week ago, I marshalled the new 24hr race, allowing me a close up view of my fellow Chippenham Harriers, John Keat and Karen Hacker, both better ultra runners than me, John a top 20 Autumn 100 finisher and Karen 1st lady in the North Downs Way 100, both in quicker times than my 20hr47min 100 best.
Meticulously prepared – both are coached by local legend Michelle Maxwell – I had seen their pre-event recces, John's Strava, his careful kitlay, Karen's mental checklist before the start.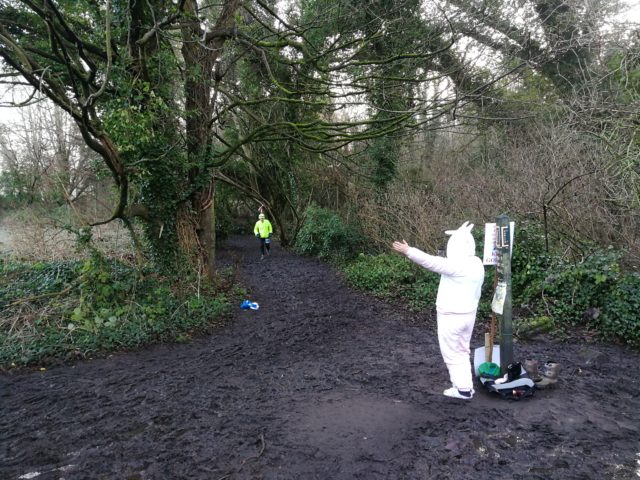 At BTFS I saw them through their first 3 laps in my role as timekeeper and lapcounter and then went off to a friend's camper overnight (thank you Lindsay Veevers) knowing they were doing OK and seeing their efficient use of the kit change and aid station.
By dawn, John was leading and Karen, who was in 3rd place overall, 1st lady, places they held to the end when after 22 hours John called in a day after 16 laps, knowing he could not be overtaken and Karen settled for 15 laps complete.
In the meantime the 10K, 6hr and 12hr races had been held, dissolving the last vestiges of grip from the hills.
After marshalling, I ran the 10K with two notable rewards. 1. I helped chew up the route making the multilappers experience all the more authentically farsideish. 2. I won the race the chief buzz of which was not being sure if the people behind me were chasing me down or runners from the multilap races I had overtaken. As I crossed the line, I realised it was the latter. I had pulled 11 minutes away from the field, most likely to do with my somewhat reckless descending. I was wearing the chest cam for these, but it was still dark so there may not be much to look at… TBC.
The aforementioned Lindsay also ran a good 10K, after marshalling, taking second lady, so we drove home very pleased.
BTFS is a proper local race with a charming organiser in Crooked Tracks. There are no prizes for winning bar a nice slice of branch engraved wooden finisher medal and a pat on the back from the omnipresent race director Neil Turnbull. And that is all the reward you could possibly want as Neil is that person that makes everyone feel good about life.
Borrowing from Neil's lead, BTFS is one of the most memorable events on the calendar for its sheer goodwill and bonhomie. John and Karen will have events that have more obviously epic rewards and trophies, but very few that leave such an afterglow of achievement.