I came home last night with make-up mogul Bobbi Brown's smoothie recipe in my pocket. "Think of it as the "little black dress" of smoothies", she says, and so I did.
Bobbi's chocolate collagen smoothie isn't billed as complicated. It is, in fact, your go-to collagen smoothie. Ingredients:
1 cup almond mile or preferred plant-based milk
2 Tbs cacao powder
1 scoop Evolution_18 Beauty Collagen
1 shot of espresso (optional)
3-5 ice cubes (optional)
As you can see, it is very much the wardrobe staple of collagen smoothies. Bobbi says you can even just take the dry powders with you through airport security – it is that easy to travel with. A blender is best, but you can also 'stir vigorously'. Away with you, depleted collagen fear!
I was learning about collagen and its properties for aiding hair, nails and my inner glow, thanks to Bobbi's new brand launch at Boots. In the UK her products are exclusive to that store. Currently the beauty consumables are 3 for 2 including my personal favourite, the beauty gummies. Collagen is an important protein found in meat, dairy and some green vegetables including broccoli. Supplementing collagen is a popular wellness trend, though you won't benefit from over-consumption. These gummies are not cheap at £15 per jar, but you can expect them to last. I have already designed my own recipe, my collagenandtonic using one gummy as a floating botanical. I can alternate days with my powder supplemented smoothie and feel tip top all week long.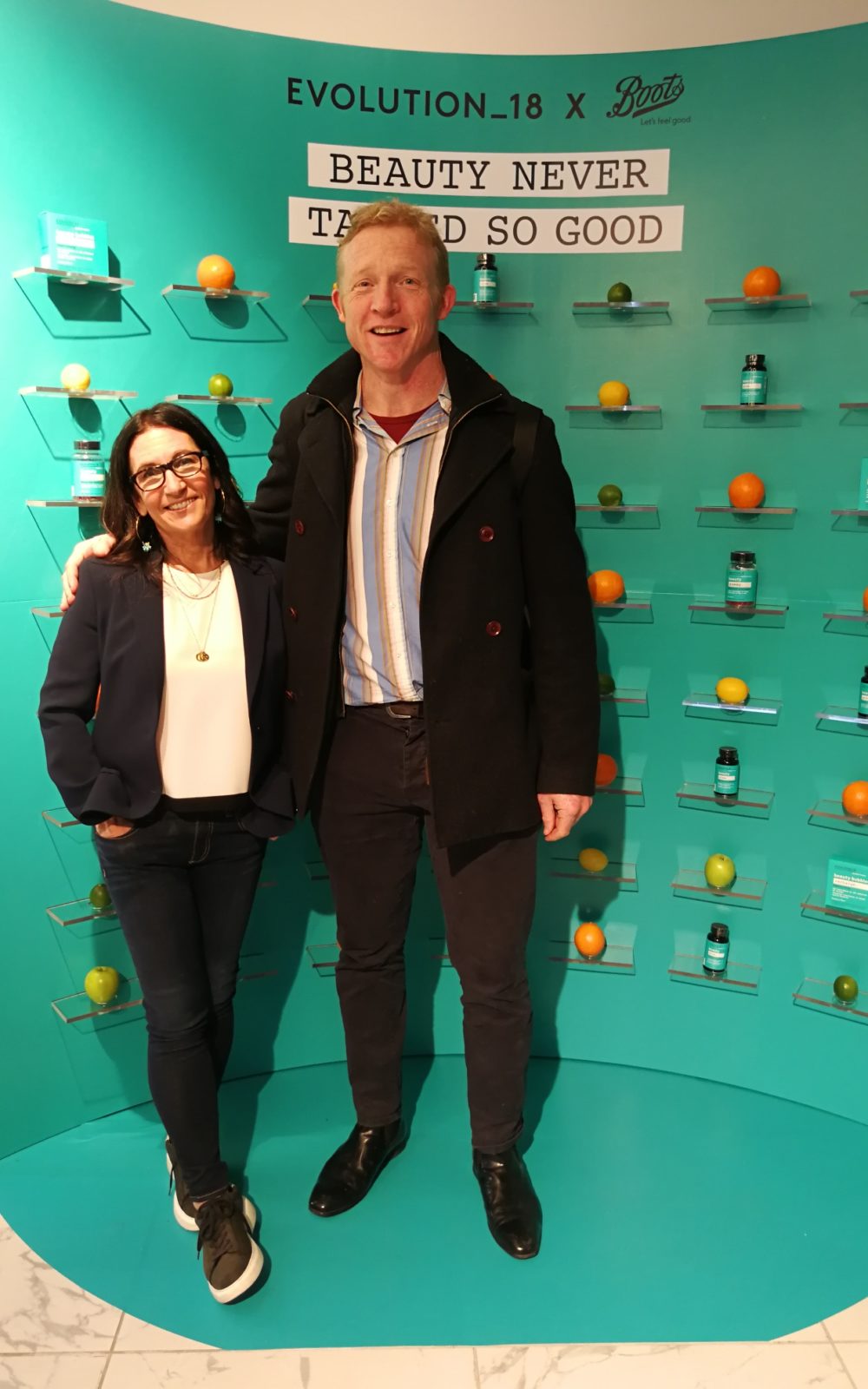 Bobbi seemed like great company, appropriate enough from an entrepreneur in charge of a great company.  Even with her track record, Evolution_18 is an important launch for her, after finally severing her business connection with her eponymous Cosmetics firm two years ago. She was very vigorous and energetic even getting towards the end of this day long launch at a Covent Garden event, hosted alongside sampling and experiential agency N2O. She told me that in fact her day had not been tiring at all, and was clearly enjoying meeting and connecting with her fans. Bobbi is a very successful author and has been a popular beauty consultant on the NBC Today show, and she lived up to my expectations as an immediately warm communicator. Her fans were, perhaps unsurprisingly given the context, very comfortable in their own skins, and enjoying the opportunity to meet this successful self-brand superstar. Bobbi has that enviable skill of immediately being amongst friends.
In store theatre is a tricky experiential medium to pull off. Too many fans and the store grinds to a halt, too few and the atmosphere dies. This N2O event erred slightly on the side of caution and it was quite possible to pop in for a bottle of Head and Shoulders and not know there was a global phenomenon chatting over by the make-up counters, but at the same time the in-the-know fans had a memorable moment to take away.