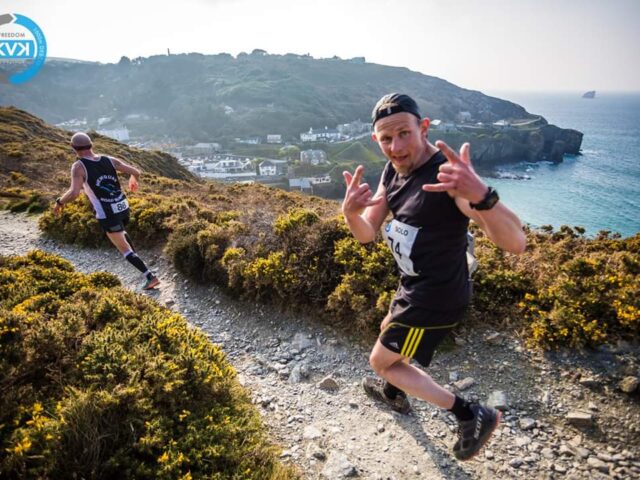 Run 202020, Race 16. The Atlantic Coast Challenge 40 Miler was a challenge and not a race so of course there was no winner. So the first place finisher was Daniel Jones, a local local, and an ultra runner who has plenty of experience of the South West Coastal Path. After the not race, Frank Wainwright spoke to him about it, Cornish events, Mongolian events and this September's SWCP FKT king Kristian Morgan.
Was home on the North Cornwall coast a lifestyle choice?
Growing up in the city seems so far removed to where I am right now. When I think of the busy city and fast paced lifestyle of Birmingham, I almost look back on it at someone else's life.
Moving to Cornwall for me was all about change, a chance to leave those ways behind and become more connected to my surroundings, to notice the changing of the seasons, and to live a more balanced life. So yes, it was 100% a life style choice, but it was also a total gamble as I only had a bag of clothes, guitar, and a small amount of money to buy a surf board! Life was very simple and it felt right!
What was your summer leg injury, how did you shrug it off, and did the 40 Miler re awaken the injury?
I've not suffered greatly with injuries, but when I do get them they tend to take me out for months. Last year's training was all geared up for my first 100 mile race, The ARC, a race from Coverack to Porthtowan. I had been training between 50 to 70 miles a week and felt good. The race went pretty much to plan with me finishing in under 28hrs [21st finisher] and, as instructed, I then took a break from running for a month to let my body recover. But as soon as I started to run again, I found a pain across my hamstring that I knew I shouldn't ignore. That was back in February and we are now in October. Apart from a couple of false starts when trying to get back on the trail, I haven't been able to run properly for most of this year. It has only been by cross training, strength work, getting professional help, and educating myself that I'm now able to start again.
Ten days before the ACC 40 miler was when I decided to try again. I had only managed a handful of training runs before stepping off the coach [The ACC 40 is tracker timed, with trackers starting as you step off the transport], but I was determined to put a good first 20 miles in and at that point decide if it was in my best interest to carry on or not. The leg injury that had plagued me all year felt good and in fact it wasn't until I finished the race that I remembered it had been a problem at all. I think this could have been because everything else hurt so much by the end of the race that I didn't have time to think about my hamstring.
Was it odd catching a coach to Fistral to go for a run?  
Ha, totally! This is the second time I've run the ACC and catching a coach to run on your doorstep just feels a bit odd. It's also the case that the first 10 miles or so is one of my local routes so it feels very strange being suddenly out there with a bunch of other runners. I normally look forward to seeing Perranporth as until that point it just feels like a training run for me.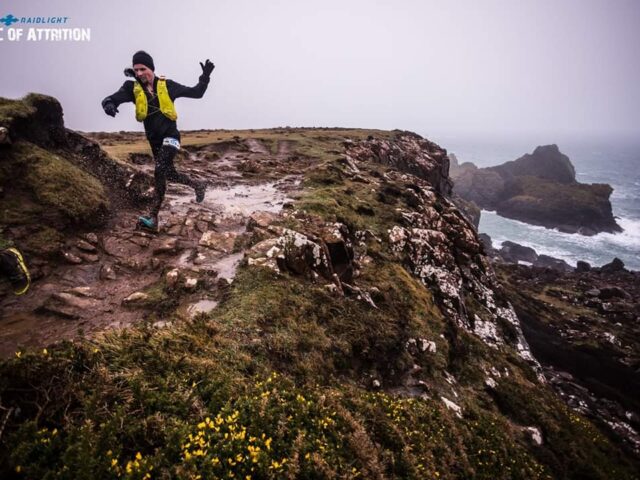 Were you impressed with the Atlantic Coast Challenge? With Votwo?
I think they did a great job especially under the current conditions as it can't have been easy for them with all the red tape. Their staff are always super friendly and I made so many friends running the ACC so they're definitely doing something right!
I would like to make one point but this is across the board and not just to Votwo, Please, if you're going to give away t-shirts at the end of a race, make it an opt in process to minimise waste. So many t-shirts go straight to landfill and it's a crime. I really feel that as runners we have a duty to look after our environment and this has to start with our own events. I would also like to give a shout out to www.rerunclothing.org  who are doing great work in prolonging the life of running gear.
What was your take out from this event? 
The first thing I would take from the ACC is that 40 miles is a long way without any training and just how important it is to practice race nutrition beforehand.  At around mile 18, I started feeling very sick down due to the fact that by this point I'd already had six gels. These hadn't sat very well with me and would then continue to remind me for the next 5 miles just why it's important to practice eating while running.
The second thing I will take away from this event is that my legs are a lot better than I thought, so now I can start to enjoy running again! This is great news as winter is my favourite time for running.
This was my second time running the ACC and I'm very happy to say that I beat last years' time by 5 minutes (ish!) with a new PB of 6.40.47. I will run this again, but if Covid doesn't slow us down I might be away in Russia on another challenge in 2021.
How did you celebrate your win?
I would've normally celebrated in the same way most people who have just ran an ultra celebrate – by drinking half a beer before deciding to take a nap for the rest of the day! But I had the nice surprise of my brother being in Cornwall for the weekend, so I took myself out to celebrate with food and too many beers. It was really nice to see him and I think he gets a buzz whenever I go out and compete in these events.
How was the Arc?
I don't know if my mind has blanked out all the pain and discomfort of the event, but looking back now I can only remember loving every minute of it! The wind, rain, and deep mud of the first 30 miles was enough to take out a lot of the field, but then as we went into the night I remember it became still and quiet. People talk about running in a Zen state, and that's how I remember the section from Lands End to St Ives, but then at first light it was like I had reawakened and pushed on. I said at the time never again, but I'm already down for the Arc 50 in 2021 so who knows! I would recommend to people to run the ARC, but it's not for the faint hearted.
Why did you choose that for your first 100 mile race?
For years I wouldn't let myself think about running 100 miles, but then after running my second 100k (the Plague) and getting a guaranteed entry I finally let it become a reality. Both the Arc and Plague are Mudcrew Events and I can't talk highly enough about these guys – they really put on a good show.
Another reason I would choose this as my first was down to the friends I had made while training for the Plague. There's a great community of trails runners in the Southwest that's I'm proud to now be a part of.
What other endurance running events have you done (that you can recommend)?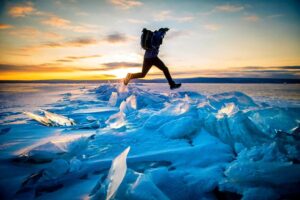 The Mongol 100 is the first thing that comes to mind. Having the chance to run 100 miles across a frozen lake in outer Mongolia in minus 25-30 degrees Celsius isn't something that comes along every day, so when I had the chance to run it I took it! There's just so much I could tell you about it, I would be here all day! This is a Rat Race event, so if you check out their website you will see the videos and get a taste of what I'm on about. And for something closer to home, the Plague 100k is a tough event set on the south coast of Cornwall. It's a real stunner and one I will be doing again for sure.
Did you hear of Kristian Morgan' successful Fastest Known Time for the SWCP in September? [23.09.20 – the new FKT for this 630 mile National Trail is 10 days, 12 hrs and 6 mins]
Oh yes! I was tracking the progress, what an amazing achievement this is! I remember watching Damian Halls' video Underdog and thinking what type of person do you need to be to run this! I didn't expect anyone to break the record for some time. Massive well done to Kristian! I would love to spend 5 minutes with him to talk about how he prepared for this. Amazing! Who am I fooling, I would have so many questions it would take more like 5 days? These types of achievements aren't about just being good on the day, they're all about pre-planning, training and becoming so mentally strong you can deal with the bad times and just somehow keep going. Tip of my cap sir! [To hear Kristian Morgan and Damian Hall discussing Fastest Known Times and more try Kristian's 10th October Podcast]
For a history and links to the FKT
What's next?
The big question! Well I've got some shorter races in sight this year in the build-up for the Arc 50, but the prize at the end of all this will be the TDS (UTMB Series) in August. I've dreamed about running in these events ever since my first trail run and I can't wait be out there now to experience the atmosphere. Shortly after that I head out to Russia to be dropped into a volcano as part of one of Rat Race's test pilot trips. This might not be a running event, but its time spent in the mountains and that's priceless. So all being well, an exciting 2021 ahead.