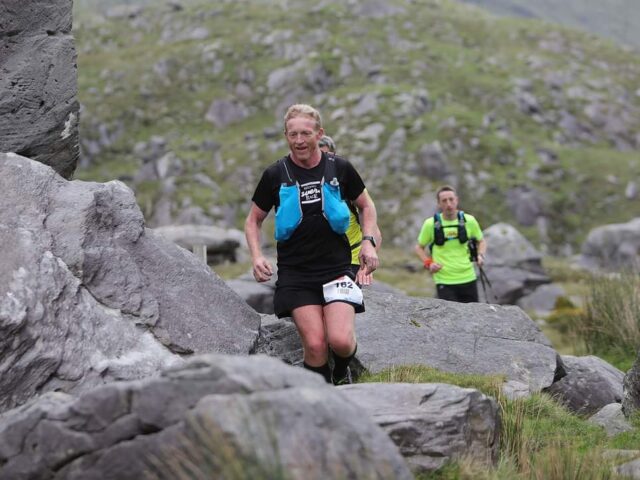 A grade 2 calf strain (aka a calf tear) is a serious setback in any athlete. Fortunately, it is also a well known one that responds well to what they call conservative treatment. That means surgery intervention and advanced science treatments such as stem cell are not high on the agenda however keen you are for a quick fix. Rest, Ice, Compression and Elevation (RICE) is the proven classic.
An injury such as the tear that I suffered at mile 60 of Kerry Way Ultra – the exact halfway point – would typically set a runner on the sidelines for about 4 to 8 weeks. So, how come I completed the race over hills, rocks and stiles inevitably harming the tear, and then successfully lined up for a hilly 33 mile ultra exactly 3 weeks later?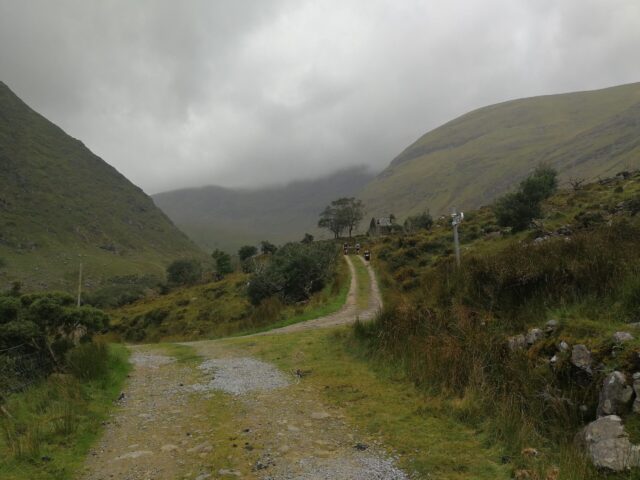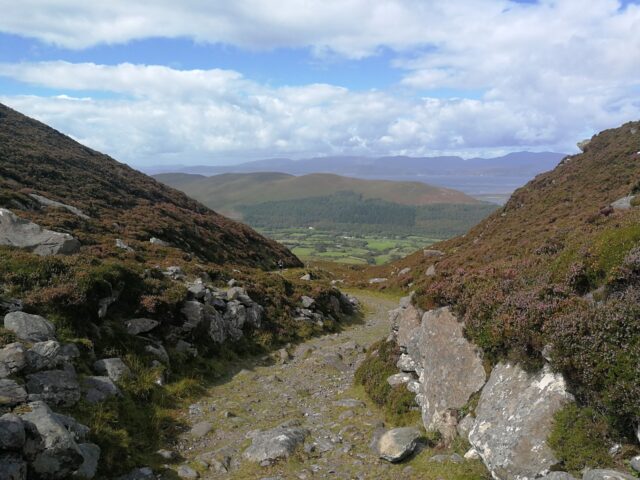 Let's deal with the reckless completion thing first.
It was sixty miles in. Admittedly that's only halfway but I was fully committed to the event by then. The section that exhausted my calf was traversing over an exposed boggy mountain. I was the wrong person for this, my weight taking me through the peat so that I had to haul my way out of it every step. It was the known nightmarish 13 mile section of the race and now – after a six-hour battle – I had it behind me. I hadn't let it beat me. And everyone said there was nothing like it in the remaining 60 miles.
The calf tore as I stooped for my backpack which was on the floor. I didn't believe the injury could be as bad as it felt. I have since understood how this change of action caused the calf to cramp and then tear after overuse through those bogs.
I was in Waterville, a large village, but was on a bag drop system. I didn't have a crew to persuade me that enough was enough. It was just after midnight. A taxi back would have been a long wait, possibly hours, feeling sad and ignominious.
Ultras push your pain threshold. I can already block out pain of all sorts. I have been running with an exposed tooth root or with broken ribs. I soon convinced myself. I rarely have painkillers and had none in my first aid kit (though strangely I did have a rogue foil tray of irritable bowel pills), so the painkillers that another runner gave me really hit the spot.
The tear was in a muscle used for pulling and knee lifting more than for running or walking. I figured I could limit the damage, hand lifting my leg over styles and step ups, always pushing up with my good right leg to get over natural obstacles. Running would be at the low ultra shuffle, with low knees all the way.
Kerry Way Ultra had been a long journey to get there and a big commitment. The organisers had done so much to get it on past COVID. It made me feel very invested in seeing all of the event through.
Beyond the memento, the event is also a maximum 6 point ultra for UTMB qualification and offers a place in the qualification lottery for the Western States ultra in California. I wasn't keen to give up on these.
By now I had developed camaraderie with the runners around me. We were in this together.
There were sections ahead that I really wanted to see.
Funnily enough 9 was the biggie. Sunup on an overnight ultra is a magical moment. I am not a person to start wishing for the end of an event once I have started it. I came here to experience The Kerry Way, not half of it.
And then the recovery… This was a serious injury. But I had been stumbling along for 36 hours, so I got back to my hotel, kicked my way out of my trench foot trainers, and passed out. I could not walk the next day, the calf was immense, and the skin was stretched taut like a watermelon. I lay in bed anxious about the inevitable bathroom requirements.  Bruising followed. Then the leg went yellow. But from there I progressed rapidly. Three weeks later I ran Ultra Peak X. Here's the theory as to how I got there.
Though I am 50, it is fair to say that I am fitter than the average 50. Running ultras regularly trains healing as well as training strength and endurance.
I have the most exceptional sports therapist, Phil Hale of Rowde in my corner. I rang him 20 minutes after I finished the race for a recovery plan and reassurance. My plan meant that I treated recovery as seriously as training – for instance icing for 10 mins every 2 hours.
Mental strength. I don't strictly believe in mental healing, but positive thinking means that you focus on getting recovery done, sticking to the regime and not letting it slip. RICE was supported by gentle stretches as I became more able, doing a fraction more each day.
Phil, of course, knew the injury type well, as any such therapist should. But he was able to locate it and describe its location to me unseen, over the phone. "It's going to be on the belly of the muscle", he said, a good sign as that gave quick recovery a better chance. So, by the time I did see him, about 10 days later he was able to put his thumb straight on the tear and the work that I had been doing at home had been targeted and correct.
As soon as I could, I started walking on it supported by sticks, 2-3 miles per day, gently stretching and strengthening the repairing muscle. Icing straight after gentle exercise helped promote the healing.
Dry needling after 10 and 17 days. The basic theory of dry needling is that you cause a tiny injury in order to stimulate repair. Phil uses his needles with more dynamics in mind than that and I don't pretend to understand it all. Often, I have allowed him to dry needle a tight muscle with a 'may as well' attitude. But something he did with a needle on the Wednesday of my third week of recovery seemed to allow the calf to unkink somehow. A lump you could feel under the skin moments before was now undetectable.
Phil gave me confidence to test the calf properly with a 6-mile run the Thursday before Ultra Peak X. He said the leg would swell following and so when it did, I didn't panic and simply iced and relaxed.
Compression tights. My compression tights are my secret to post ultra recovery. I simply don't stiffen up so much when I wear them and the support that they give me allow me to balance and stretch sooner and more effectively. And, of course, vital extra blood flow to my legs is a real benefit.
Home cooked protein heavy food certainly helped the rebuild. The Guinness that I drank probably didn't promote recovery, but it did relax and reward and make me a more patient patient.
So, can others copy this routine and expect the same results? That's hard to say. I didn't have Ultrasound so the severity of the tear is down to what we saw from the outside and what Phil could feel. My severe immediate post run reaction in terms of inflammation and bruising may have been in part just body exhaustion.  But I am also in no doubt that a three-week recovery was the bare minimum using the conservative treatment options available.
Getting over this injury quickly was a huge relief and made the consequent ultra day out I the Peak District feel extra special. I was nervous as anything the night before Ultra Peak X, mostly doubting my judgment, but I armed myself with running poles for the 5000ft of climb that was promised and took the hills cautiously. The result – a slow time at just over 7 hours, but an event day to savour, and a finish that felt as ecstatic as a 10K PB.