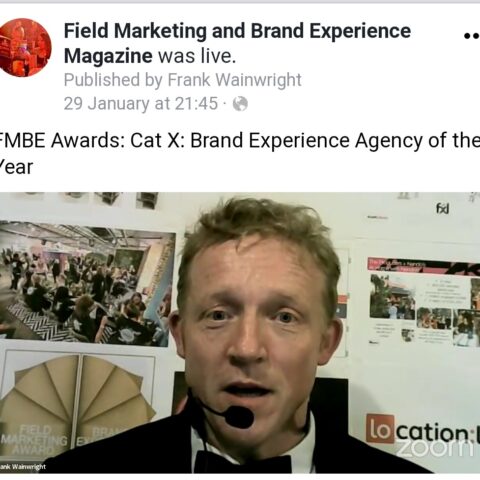 Ask on any relevant forum about your chances of training for and completing an ultramarathon and you'll be told a few things very quickly:
Control your pace.
Walk the hills.
Its more a mental challenge than a physical one
This advice is broadly true as a ruleset for the majority of beginners. The top two might occasionally be correctly broken with experience, especially for those intent on racing rather than completing. The last one – well, I found that harder to gauge – until now.
The ultra-mentality comes naturally to me. I have now taken on around 30 ultraraces and have yet to find myself grappling with the will to continue. My mental weakness is usually to allow myself a dip in pace and effort at about three quarters of the way through. But that's a weakness over 5K or 200K that I need to battle. It isn't specific to ultras.
But then my FMBE Awards came along and I had to find a virtual solution. My chosen way of doing it was to chat with the finalists ahead of each category reveal. It was only after I committed to this that I started to work on a schedule to make sense of it.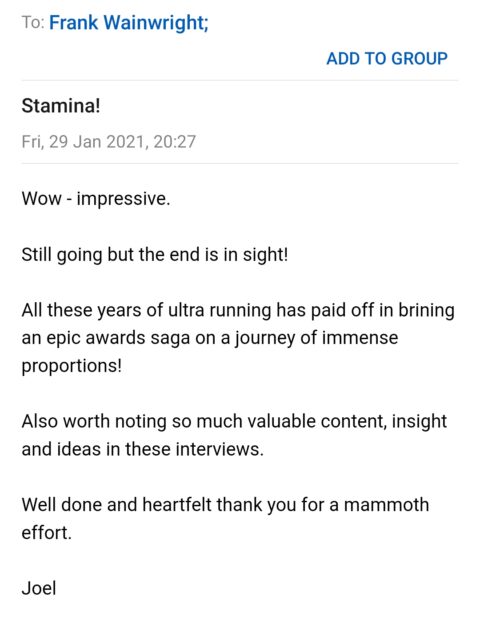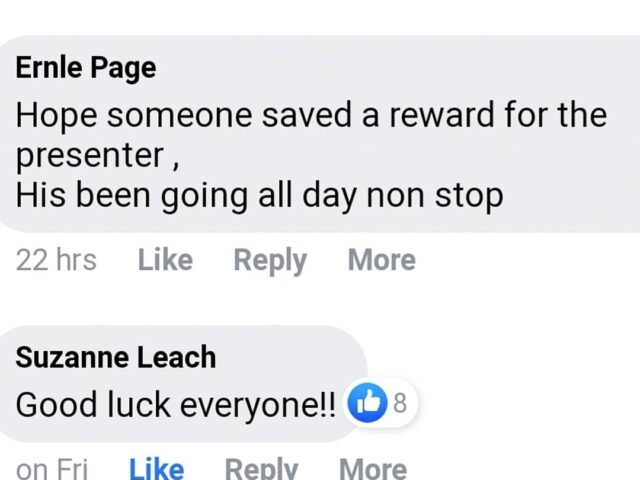 In the end I presented FMBE 2020 last week, Friday 29th January by setting up a studio at home and completing finals interviews across 24 categories, starting at 9am and finishing at 10pm. In those 13 hours of non-stop broadcasting, I completed 78 interviews.
The scripting and planning for this event felt virtually endless. My performance was very far from flawless, I made plenty of mistakes, but what I didn't do was squeeze anyone out, forget anyone, start any session late, say anything potentially slanderous, swear, eat and talk, fail to congratulate.
I made bumbling errors with the tech along the way, but nothing more than miscuing a video clip or three.
After the event I had a vast outpouring of congratulations. Many mentioned my stamina, some knowingly, cross referencing the ultras. But many who don't know I'm an endurance runner called it a marathon effort. And this made me think. Had I tapped into my ultra-mentality?
I'm concluding yes. The whole picture was more than just the 13-hour stint in my kitchen chair. There were late nights in the run up and a near sleepless one the night before as my mind went over and over the content. Just like an overnight ultra, I felt the energy kick in at sunup and was soon ready to go. Once started, the day was in flow and I didn't lose interest in it until it was over.  I grabbed my snacks aid station style. I kept the drinks coming – water, coffee, Red Bull, beer – not quite the same as when running, but hydrating always with an eye on the clock. And at the end of it all, I managed a sprint finish, accelerating through the agency of the year categories with greater articulacy than I had delivered all day.