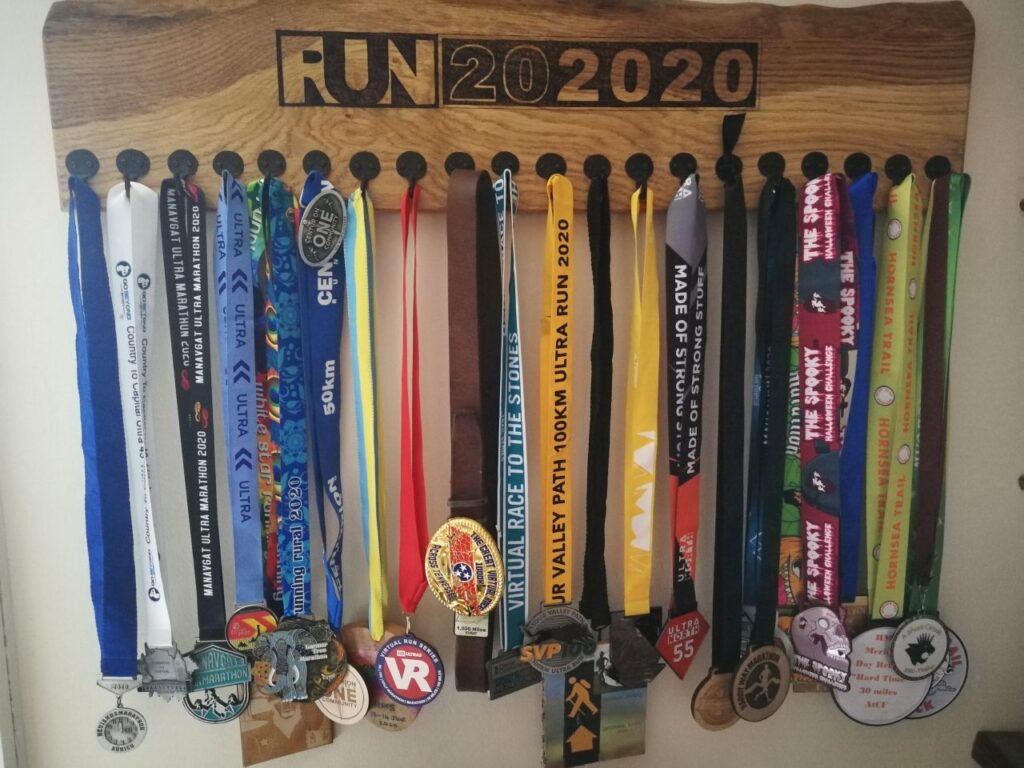 In December 2019 I looked ahead to 2020, the most meticulously planned year of my life with 20 outstanding endurance running events booked and scheduled in amongst my cut down office workload. I sunk a vast chunk of savings into entry fees, travel and hotels. But what a year in prospect!
Spoiler alert: It didn't go to plan.
COVID smashed and then rebuilt my year, not once but several times.
The year started in a packed gymnasium in Zurich. We burst outdoors into the freezing cold air and cacophony of fireworks of a Zurich New Year. A trailing camaraderie of headtorches snaked along a riverbank of whistling rockets overhead and the fizzing sparklers clutched by wellwishers. The year ended with 28 miles of a home-isolated new year running of 938 laps of my garden. This last event happened after my nieces' false positive test could not be expunged from the world-beating track'n'trace Excel spreadsheet despite her two immediate consequent negative tests.
But if it hadn't been for COVID I would not have had the lifelong memory of Endure 24 NHS, 111 miles of running around Chippenham on an ever busier club run 5 mile circuit that ended by my dilapidated garage with a medal made by Jack and Marion and Vicki leading a welcome party. I had really enjoyed a jamboree of support through the night and morning that made me realise that above all else in my scattergun life, I now, for the first time since schooldays, had a community. I belonged, and the oddness of that feeling took a while to sink in. It felt extremely nice.
COVID also meant that I ended up in all sorts of last-minute running capers, chasing down only the events that I deemed worthy of my challenge. In the end, by combining real events together (double marathons days and weekends etc) and taking on properly challenging virtuals, I have satisfied my 20 medal challenges brief, and even added the aforementioned garden encore.
COVID frustration kept me moving through the a year in running like nothing before – 3150 miles of running (5000km+), 400 miles of walking, 212,000 ft of elevation.
I only had a couple of injuries, and only one was moderately serious. That was the calf tear midway through this year's toughest ultra The Kerry Way, 120 mile mountain race, a 35 hour epic. My 3 week recovery from this 4-7 week injury, and my odd ability to run ultras one weekend after another has finally been rewarded today when I became a brand ambassador and web content editor for Riixo Recovery.  Their ice and heat compression calf cuffs are completely awesome, so beautifully crafted – an unboxer's dream. Amusingly they were alarmed at the size of my calves for the fitting as I measure prop forward/tree trunk not runner, at the top of my calf! They were so shocked I was asked to measure again.
So, the obvious question. Of all of the events, what was the best, the most rewarding? The long answer will be in the book when I finish it, together with the race prep notes and the amazing people and places. So, instead of answering that question directly, here's an image from the UTMB website noting my absurdly long current list of qualifying points races completed ranging from the 2 x 6 pointers (maximum difficulty) to 2 pointers. And I will caption it as follows:
"Below is a list of extraordinary race events all of which were unique celebrations of life and the hurdles that we overcome to reach our intended destination. These are events with genuine spirit and over-brimming with satisfaction for the soul. These routes have been put together by people who understand me, in places that will me to explore them more deeply, and leave them only when physically exhausted in the body and energised in the mind."