If there were an inspiration pyramid for UK running Steve Ovett would be somewhere near the top, a pioneer of the age when TV stopped being a luxury and enshrined the achievers of the day to the viewing masses for the first time. Coe and Ovett were the Bolt and Kipchoge of their day, global superstars, record holders.
Just a rung below Steve would be club mate and training partner from Brighton and Hove days, Mike Gratton, no longer a household name but nevertheless one of the finest runners this country has ever produced – a competitor that rose to the top as the distance race emerged from what he calls the Cinderella era of marathon running.  Marathons took off back then as London changed running culture at home and abroad. The elite runners followed home by a ragtag of club runners and actual smiling fun runners was such a novel thing to see, and we, watching at home soaked in the atmosphere remotely and wanted to be there too.
Mike's running sweet spot struck in 1983 when he won the third London marathon in 2hrs and 9 minutes, making him still the 14th fastest UK runner over the distance of all time. It is a number that would remain right up there as a potential winning time right into later 1990s. It wasn't a flash in the pan either, following third place in London in 1982 as well as Commonwealth bronze and several top tier elite finishes.
Unsurprisingly Mike has held onto that number, creating his own sports and travel business 2:09 events which amongst other things has hosted a famous spring training camp in the Algarve since 1984. 2.09 also helps facilitate entry and travel to those Abbott World Marathon Majors, Boston, New York, Chicago, Berlin and Tokyo, the big 5 alongside London. 2.09 also ventures further afield including hosting runners at a wonderful looking race in Bhutan.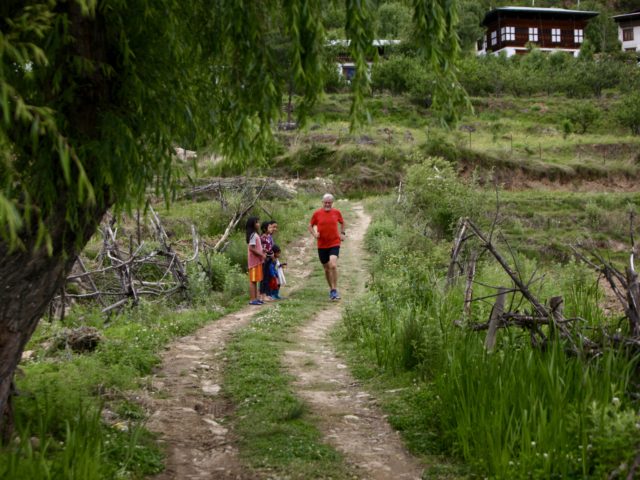 Speaking with Mike, the first thing to strike me is the ease with which he reels off his personal history, including the exact times of his successful events from school days in Germany with the British forces, to Folkestone Athletics club at age 15. Of course, he has often been asked to speak about and repeat his data, but there's never a pause for thought as he whips pacily through his racing days with names from the era. He drops names into our chat like Ron Hill and Andy Holden, casually evoking legends.
Of these Hugh Jones is perhaps the most remembered. Mike's 2.09.43 in 1983 was 19 seconds beyond Jones's 1982 course record at London. Those that remember David Coleman's reassured commentary can recall the British record speculation as, having been inside the target, Mike's legs heavied just too much in the last mile or two. These two old rivals overlap now in work as Jones is the authority on measuring the length of running courses, and Mike's 2:09 hosts events that need to be verified. When we spoke, the two had combined the week before to confirm Mike's route for the Farnborough half.
Back in the early 80's, Mike says, elite marathon running was a small club. 200-300 would line up for the Olympic Trials. London "instantly changed everybody's outlook". It secured 9000 runners for the first event, a figure that doubled for 1982. The figure, Mike says, was then capped by logistics as pre-chip timing 18,500 runners was a huge data collection exercise at the finish line. So, says Mike, "Canary Wharf was quiet" in his winning year, but it was still a big occasion. "The Mall was packed, and crowds lined the Embankment", he recalls. It was an intriguing race, with Invicta runner Mike breaking away at 22 miles with Garry Helme of St Helens, and staying side by side to the Tower of London before he finally broke away. Mike took the tape for the Gillette sponsored race by crossing Westminster Bridge, the old finish notably undulating right before the end.
I asked Mike if he had known back then that London 83 was his peak, but unsurprisingly not. He had felt there "was more there". When that didn't materialise, he moved in to coaching and training advice more than seamlessly as he was already doing it- having been a coach to teammates right back to his Folkestone days.
Mike ran his last marathon as a competitive senior in 1991. These days Parkrun/5K is his event of choice and he has a plethora of times, with a sharp 18.50 set as recently as 2017 when Mike was 63.
Now 65, there's no sign of retirement for this keen entrepreneur,  who has his eyes focussed on the long and short term, looking ahead to future training camps in the Algarve, noting that he is now taking fee-based coaching for the first time, and at the same time eyeing at 2:09 event coming up in my area on 2nd February, a much anticipated return of  the Longleat 10K after a year's deferral following a snow-off in 2019. That event is still open at the time of writing, with a sell-out anticipated.
When talking to Mike about the Algarve you get a real feel for his love of running and runners. He has been going there for 35 years with a mixed band of regulars and new athletes, getting a head start on spring weather in anticipation of the likely conditions for marathons including London, Manchester, Paris and Brighton in the following weeks and months. Not everyone is there for marathon training though – Mike says that many just enjoy seeing off winter early with a like-minded team.
Certainly 2:09's events cover the full variety of distances and terrains with events selected for scope to attract around 2000 runners. His events have a broad appeal – I have enjoyed the South Downs trail half marathon in 2018 and an event that is new to the 2.09 management team, December's Grim Challenge, a mud-wade-run through the flooded tank tracks near Aldershot. The 2:09 stamp seems to be atmosphere and accessibility. Some of that is simply good event planning. Location access and car parking are easy, facilities are well resourced and function well. The Grim Challenge also impressed me with amazing photography, something which Mike says was a core part of the event budget as he understands the publicity power of social media and the post event share. So, I will include a picture or two from it to uphold my end of the bargain!
The Grim Challenge strikes me as being an extremely experiential brand friendly event, with 1500 mudwashed participants anticipated for 2020, an easy jaunt from London, unique access to the sloshy military  route, Christmas shopping season in full flow and the British sense of silliness fully embraced – supported by good social media shareability.
Mike, running, travel, adventure and the media have grown up together. Fortunately, Youtube historians have diligently brought the early forays back and you can embrace the nostalgia and the history being made with a full view of the BBC's often interrupted coverage of Mike's big day in 1983 when his astute tactics at a grey and moist London saw him hold off the intrepid Helme after David Coleman declared that the pair broke away because "The Ethiopians paid for the early pace."
(The best bits are from 40 mins in to about the hour mark)
In the film you can also follow Grete Waitz, then 29, the popular Norwegian whose World Record that day, 2.25.29 was delivered behind a badly driven Gillette milkfloat and alongside male runners in satiny union jack shorts.
The BBC scheduling of other vital stuff like Pebble Mill, means that both Mike and Grete's crucial breaks are missed, but you do get to see these superstars striding  with elemental ease through London's streets and then being absorbed back into anonymity almost immediately after crossing the line. There's Mike, 70s throwback tached and bearded, in his foil blanket, merging with the crowd and shuffling off, possibly looking for the car park, a shining ambassador for our sport, one of Britain's very finest, and stepping away from the pinnacle of his sporting career to a lifelong dedicated future of inspiring others.