The Leviathon, Southend Pier Marathon, Beyond the Far Side:  Is there any merit in long races done as laps?
In the last two weeks I have completed the 50-mile Leviathon which saw me repeat 7 there and back laps of the same stretch of Thames Path and the Southend Pier Marathon, which is 11 visits to the end of Britain's longest pier and back. And in January, I will be heading back to Beyond the Far Side, a looney laps hills race in Wiltshire – only this time as marshal…
Is there any point to all this, and what can possibly be the draw?
As a runner who loves travel, my favourite runs are journeys and I like them the longer the better. Transgrancanaria and The Beacons Way were my two stand out events this year, both extraordinary point to point races though mountains and valleys. They both felt absolutely monumental from start to finish. One had 1000 runners, the other just 60 or so, but it made no difference. These races just brimmed with atmosphere, had stunning scenery and finishing them felt deeply emotional.
The Leviathon
By comparison to these, The Leviathon is totally unremarkable. You run 50 miles without any major sense getting anything other than tired. But this direct comparison isn't really a fair one.
This was an easy event to organise – and by the same token, to join in with as a runner. The organiser, Phoenix Running has found a very clever formula that has made compiling distance 'races' a bit of an addiction for many participants. The company can be found on many weekends of the year, typically sending runners either up or down the Thames path from Walton-on-Thames, yo-yoing between two generous aid stations. Different races are often held on both the Saturday and Sunday of the same weekend, either distance required (such as half of full marathon) or time limited so that you complete as many laps as you wish in a given bundle of hours. Phoenix specialises in theming its events by name and medal and the medals often play to the 'collector' audience. These medals are far more creative than seen typically and have pushed up standards so that many event organisers now try a bit harder to make middle of the pack running rewarded with an appealing keepsake. Phoenix's recent Race to the Thrones event was a good example, with its detailed and free-standing Game of Thrones medal.
Phoenix also markets a bewildering range of boastful t-shirts appeal to the collector spirit. These shirts, come from Phoenix owner Rik Vercoe's medal and t-shirts business, Global Marathon Challenges. They are worn by many of the more magpie-ish runners and they lay verified claim to X number of distance races in X number of days or weeks or months. These are printed in an unmissable bold style… Phoenix is a master at helping people achieve and celebrate this numbers game. And the t-shirts come in a full range of sizes from XXS to 5XL, reflective of the all-shapes of runners and runwalkers who take on these challenges. Rik Vercoe has, it seems, built the business in his own image. Amongst his own multiple achievements, Rik has run 100 marathons in 100 weeks. These challenge shirts are a particularly good idea in my opinion, as they seem to not be an exclusive for the few but an option for the many. They encourage the type of running that allows people to get marathon fit and stay marathon fit rather than being in a cycle of fit or bust training.
And with Phoenix, regular runners can even earn 'Wings', Phoenix's loyalty scheme that rewards regular competitors with shoelace bling. Yes, you heard that right. One man, one extraordinary man, John Kew must have the blingiest wingiest trainers. He rocked around the Leviathon on 19th October in 9hrs44. The very next day he slew Excalibur 10, completing the marathon distance in 5hrs 47 minutes. Those were his 140th and 141st completed events with Phoenix. He is well on his way to 4000 miles with the same organising company. The only way to stop John would be to make him wear all of his medals at once. You could anchor a Thames tanker with them.
I completely understand the loyalty. Phoenix has a club mentality that its members clearly love and the rewards are great. Via Facebook I noted that core participants all went to an inspirational marathon film screening together recently.
Addictive stuff! On the face of it, this formula, with a pub to finish at and tubs of chocolate Freddos always to hand, is very hard to knock. This is club-style running commercialised in a way that gets people out the door and winning rewards for their exercise. There are many worse addictions.
The Leviathon is a great example of the "run further more conveniently" genre. A cut off of 12 hours makes the distance accessible on this flat forgiving pathway. It also offers up a chance to set a time – I cruised round in 8hrs 57. There is also a chance to chat and meet other runners whilst on the move – I met Pam Philpot, for instance. And there is and an insane, immense medal.
Of these plus points, Pam Philpot was certainly the greatest reward, a proud 60-year-old who runs the odd Ultra here or there, and who I caught up with when I was a lap ahead. By then she had already smilingly 'well done'd  me about 10 times as we had passed each other on the towpath.  Formidable Pam, it turns out, completed Marathon de Sables in 2017. She disclosed this information under questioning with appropriate nonchalance.
It has to be said, the Leviathon medal was quite a piece of work too though, massive in size and fretted with detail. My next biggest medal is half the weight of it.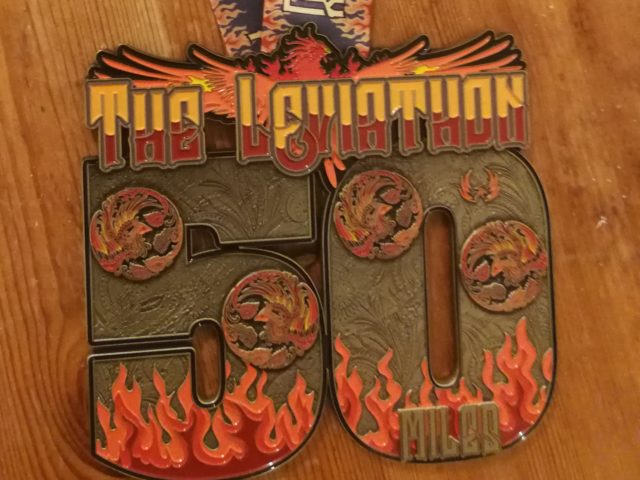 This type of lapped event is clearly worth it for many, but was it for me?
Well, if the Thames Path (or indeed Phoenix's other oft-used site in Essex) were on my doorstep then I would certainly look at these events as a training run with an entry fee, a medal and aid stations. For runners who are motivated by running in company and can afford the ticket, then it is a great answer to staying marathon fit whilst making friends. The easy course is also going to offer up some PBs. Seen as a race, it is a little lacking in buzz, and as a conquer the distance adventure, there are a multitude of more fulfilling routes. But if you can plough the Thames Path often enough to meet the likes of Pam before heading off, inspired to beat the Moroccan desert, then you have to applaud the rise of this Phoenix success story.
At the very least, I am heading back to Walton one more time. On December 21st I am joining up with Phoenix for 'Excalibur 12' a 6-hour timed run, where I can be sure my blind running partner Ryan and I will get safe car-free running that will allow him to push his distance ambitions. I'm sure he'll love it and feel very well supported. It will be a great festive day out, and at the time of writing, you can come and join us.
The Southend Pier Marathon
A week after The Leviathon I went to a there-and-back-rinse-and-repeat marathon with a far clearer premise behind it in terms of theme than just an evocative name and a creative medal, although both were present. The medal for this one was aesthetically pleasing with the ribbon artwork working especially well.
Just saying that you are running 'Southend Pier Marathon' leads to inevitable questions about where and how far, but yes, it is a marathon, and yes, all on a pier. Idiosyncratically, it is run on neither road nor trail in Essex by Sussex Trail Events. Fortunately, Southend is Britain's longest pier making the repeat journeys fewer than you might think. There are, in fact, 11 there and backs to complete. That test is distinctly Hare Krishna though, as the turn point is nearly always in sight, most dauntingly when it is a mirage-like meditative mile and a bit away. At each turn your next destination wavers in the horizon sunlight, broken only by pier visitors and other runners, and the full-size pier choo choo, which trundles along at a fast running pace.
Racing the train was one of many little moments that broke up my personal journey. I had heavy legs after 8 miles, unsurprisingly after four marathon and ultra races four weeks – and I ran the next 18 miles managing my slow down, it wasn't a very polished performance, but I did learn from the experience.  The way to run a repetitious race is definitely to focus on bite size objectives – catching the next runner ahead, running to a landmark before seeking the next one, running to the next scheduled gel… I broke that endless pier up into next bin, train stop, ice cream sign, supporter with jelly babies etc. I finished in 3.46, a respectable 17th place, and 20 minutes outside my PB. It did feel like a waste running at this relaxed pace when the weather and track were actually good conditions for a PB, but I lacked zip and impetus. No matter, I enjoyed the feeling of novelty and the sense of occasion.
Novelty is definitely a draw to this marathon, an appeal which also lends itself to the 100 Marathon Club members who form a decent few of the turnout, clearly enjoying putting this one on the CV.  I had expected more eccentrics to be running, though there was only the one Victorian bather amongst us and the Scooby Doo charity runner had added a rubber ring, bucket and spade to his outfit.
Sussex Trail Events like novelty, but it isn't all sunny stuff. The team are also behind Somerset's Prison Marathon, called the Green 26.2 Mile, held entirely up and down the floors and gantries of the retired Lifer prison HMP Shepton Mallet, where you can run the metal stairways amidst the spectre of executions, and in the footsteps of The Kray twins, if that macabre mix appeals. Here is the relevant page for it.
So, beyond novelty, mediation and marathon collecting, what other purpose does this Pier marathon serve?
Running – especially endurance – can be a selfish and time-consuming experience, but this one is held at a tourist attraction for a reason – it attracts tourists. So, we travelled in a group to this event, with our Swiss exchange student and the dog as part of the team and extended the weekend into Monday to get the best of our drive to Southend. Some British seaside resorts are pleasingly upbeat in off-season nowadays, and Southend is one of these. There's none of the stink of decay that some associate with our more battered and addled coastal towns. Events like this are helping to further reinvigorate these locations and their attendant hotels. We enjoyed the town, and my support team had plenty to do whilst I ran. A performance by Sh*t Faced Shakespeare in the sell-out Palace Theatre on Sunday night wrapped up a really good offbeat weekend. A Midsummer Night's Dream with one of the actors off her lairy face on beer and gin was a bawdy, gaudy delight in keeping with the brightest of Southend's amusements.
Whilst Southend provided surprisingly good entertainment, helped along by unexpectedly dazzling post-clock-change sunshine, any laps race might claim to be more fun to support than standard, even if that is just becoming installed at the Weir pub in Walton and bantering the day away whilst someone sweats it up and down the towpath.
However, one laps race that I have indulged in would challenge the spirit of even the most ardent supporter. Welcome to…
Beyond the Far Side
10k, 6hrs, 12hrs and for 2020, 24hrs are the options available for the hardy January perennials who head into a darkly inhospitable corner of Wiltshire each January.
I ran the 12 hour special this year. Next year, I am between planned events and have opted to marshal.
In two years, this insanely foolhardy and morale sapping event has built a reputation for guaranteed rain and mud. And because of its lap-based set up the tricky conditions underfoot just get more and more churned and attritional.
I have chosen to marshal this race whilst hoping and praying for the annual downpour; anything less would be a major disappointment, as I remember such a calamitous human comedy that came slip-sliding into being as we survived our allocated 12 hours of it last time. This is a race where the whites of the startled competitor's eyes light up the hillside woods on the descents and anyone who stays on their feet throughout simply didn't try.
The route is 5.3 miles.  A road and track start, then up a dark forbidding steep hill to reach a sticky plateau, along a ridge to a firm rutted slippery hill descent, 180 degree turn and up it again, along a longer bridle ridge, down a long bumpy hill, 180 degree turn, back up it again, back to the start hill, descend by clinging to any foliage available for brakes. Watch the braking facilities diminish as each runner mashes it away.
Beyond The Far Side was nuts enough when offering 12 hours, but 24 promises to see some mudlerium seeping into the runners, gibbering clay sculptures, who may end up just being fired in a kiln for posterity.
After my Friday night marshalling stint, I have even chosen to run the Saturday morning 10K so that I can help 'quag up' the experience for the 24hr ultra heroes right in the middle of their torture. Yes, the 24-hour heroes get the bonus company of three other races on the narrow tracks after the first 12 of their hours. As they are all going to be masochists, they will enjoy this.
That 24hr race also has a mystical challenge, billed as a Holy Grail – 24 laps in 24 hours. Taking 4th place in the 12hr last year I managed 9 laps in ten and half hours. I could have pushed for 10 like the 3 ahead of me managed and winner Ben Bridewell had enough class that he might have managed 11, even sneaked in a 12th? Anyhow, 24hrs, 24 laps, 127.2 miles, 20,000ft of elevation would certainly be more than a tall order, requiring exceptional mental fortitude, even in the extremely unlikely event of sunshine…
But that is not to say the this vegan hot-potch of masochistic hill running isn't a good idea to enter. Very few events can match this one for sheer camaraderie and 'in it together' spirit. Come and meet the challenge, I promise to give you a joyful welcome in my appropriate marshalling position – counting those completed laps. Here's where to find out more and enter.