Unconventionally, my second 100-mile race was one that many recommend for their first. Equally, entering a 100-mile race two weeks before is not in the standard learn-Ultra rule book.
But two weeks out I suddenly had the weekend free and scanned the Internet for a race.
I chose the full Robin Hood, rather than say a half maidmarion, for a few reasons but the main one was it presented a challenge that I still hadn't answered – could I run 100 miles in less than 24 hours? I thought that I could, but the logic was a little lost on me. I only had two points of reference in my short Ultra career. Transgrancanaria, 80 miles in 26 hours and The Beacon's Way, 103 miles in 37 hours.
Epic though those mountain miles were, I was still proposing to knock 13+ hours off my 100 PB just a matter of weeks after completing the Beacon's, with a boozy holiday and some intermittent running the only activity in between. I wouldn't have either crew or support either, though the event seemed very well catered and cared for.
So, I was necessarily chilled about my chances in advance. Getting experience was the number one priority, then completing, then the time. An honest guess at my result beforehand was completion in 25-26 hours but I planned to set off with sub 24 hour pace and see what happened.
As the sun came up on race day Saturday, the weather portends were good. The daytime ahead would be a tad too warm but not brutally hot, the night cool and comfortable, well-lit by a full moon.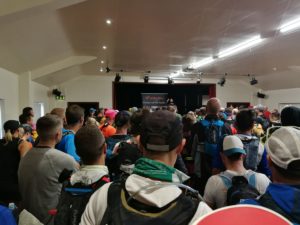 King Hobo, Ronnie Staton, whose company Hobo Pace organised this event, got us underway with advice and wisdom. Ronnie suffered a stroke last Christmas and though now tentatively running again, was keen for us to appreciate the window of good health that allows us to participate in such offbeat endeavours.
The undulating route – out via abut 20 miles of fields and canal path, two identical loops of Clumber Park and Sherwood Forest, back to base via the canal again – was predictably canalish and treeish. It didn't blow me away with its beauty, but it had plenty of subtle charms. Underfoot was firm all the way, with impacted dirt, track and tarmac prevailing. After halfway the repeat made things a bit dull, but the wind got up in Sherwood and it was possible to imagine all sorts of stealthy foxes out and about.
Aid stations were dotted all the way, always helpful and encouraging – though sometimes short of the bananas I thrive off when my nutrition becomes a struggle. I can't chew stuff up easily after 30 miles… Plus points though included the coffee available at many stations and the soup at the big dropbag stop – a point we visited at 22, 51 and 82 miles. The enthusiasm at these stations was beyond compare. No crew, no problem.
At the midway point I picnicked. For less calorie hungry runners, this isn't recommended. For me a ten-minute pit stop was a massive pick up. In this stop I had soup and roll, a noodle salad from my drop bag, bottle refill, sock change, shirt change, 2 coffees, fruit juice from my bag, refill of gels and pack snacks, litter unload, headtorch function check,  water melon and a banana for the road. I even got the tooth brush out. Straight after I ran an 8ish minute mile, my quickest of the 100 – back on track.
The 82-mile point was my last serious stop with more soup and coffee and a final shirt swap. That worked really well. The last 3 aid stations were banana and water refill only as I cracked into my carried gels to see me through to the end. Gels alone can't sustain me through an ultra, but quick burning carbs are a great boost when the sun is rising over a seemingly endless canal and I can afford the post glucose low after finishing.
And so, I did finish. Running 100 miles, there is plenty of time for reflection, especially if you don't pair up to chat.
In part I reflected on politics. If you learn anything from the route, it is that Robin Hood's legendary status is based on triumphant stories that are beguilingly fleeting. The no-go fenced off areas and private parkland restrictions of today are evidence enough of how little the rich were set back by the Merry Men's efforts at financial redistribution. Given time, the Sheriff always wins.
Result – I fully surpassed my expectations, 22hrs and 34 minutes and 21st place. Better still, some good new running friends including Jake who helped me see off the dull and distant 10 mile loop from the Hazel Gap aid station in the night, some of the wonderful Hobo team,  and Maggie's proud parents, who cheered me home as I finished, after we had met parking cars before the race. I never did meet Maggie, but was pleased to note she finished strongly.