The London to Brighton car rally is a sleeping giant of the automotive world. These days it is, in fact, accurately referred to as the Bonham's London to Brighton Veteran Car Run, #veterancarrun. The event is designed to celebrate the emancipation of the motor car when in 1905 the speed limit went up to 14mph and walking in front of waving a red flag was no longer a safety requirement.
The event seems steeped in British history to me – I'm sure it was in a schoolbook, annual, or several such things and it must have been shown on Nationwide that interminable magazine TV show of the 1970s. Nowadays it isn't so high on the public radar, but it was good to see it nonetheless. Some 400 collector's pieces set out at daybreak from the heart of London in an event which has a cross-generation appeal, being both timeless and Instagrammable.
The rally was cranked into action by a man who feels very Sue Lawley/Nationwide era, though I suppose he must be a bit younger, Alan Titchmarsh, who tore up the symbolic red flag to get the event underway.
The day itself was primarily sunny and saw these polished and treasured machines sparkling at their best.
Tragically, it should be noted, the day was also marred by a motorway crash involving one of the entrants who had veered off the right safer route, leading to the death of the 80-year-old driver. London to Brighton is a genteel event, so this news, that followed at the end of our day, was quite a shock and this article sends its condolences to those connected.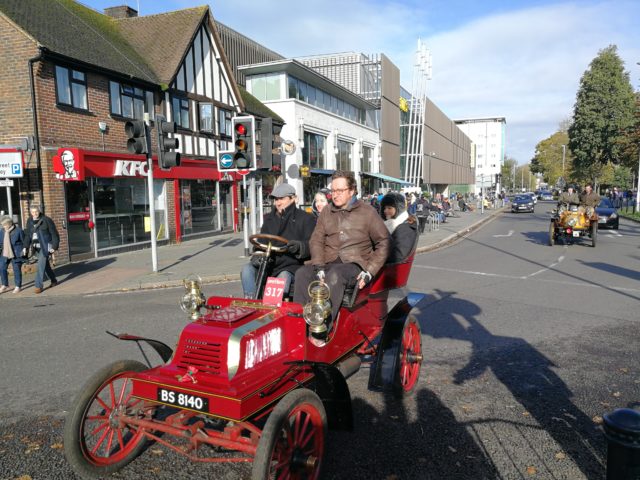 We knew nothing of this at the halfway point in Crawley, where in fact information for the gathered enthusiasts was in short supply. The local Susy Radio was working hard to enliven and inform those in attendance and their listeners at what must be quite a big day in a town the size of Crawley.  But even they did not know that one of the cars many were waiting to see, the Darracq called Genevieve from the eponymous film, had been withdrawn, a victim, apparently, of Brexit date uncertainty as the Dutch displayed museum piece did not want to risk a 31st October wodge of pernickety paperwork.
So, Genevieve, billed several times over the radio through the morning didn't arrive. There is certainly an opportunity being missed to give these old cars GPS trackers. That would make the Crawley stop, sponsored by London Gatwick, into a far better experience, and what better sponsor to supply a pending arrivals and departures board? Instead London Gatwick gave attendees a fairly limited stationary car photo experience. Nice though it is to have a sit behind the driver's wheel, Crawley really lacked the living museum opportunity that the 400 passing vintage cars should have evoked.  Someone from the brand and experiential events industry might be expected to get hold of this occasion which is so easy to get to out of London by train and has an airport 4 mins away.
I'm sure LtoB would be wary of over-commercialising its offer, but this moving museum with its own place in history has so much to intrigue compared to much less authentic Victorian dress up days and the like.
In Brighton the town effortlessly provides the experience, and many are there by the happy coincidence of simply passing by. The old cars seem to fit right in on the road past the Pier and seafront and the experience of this event there is evocative with the surviving cars now suitably smoky, puffing their way to the line with their clattering throaty engines and the proud hat-waving pilots. Destination Brighton, with its attendant fish and chips, cawing seagulls and sighing seaside has managed to maintain its timeless appeal and seeing the vintage cars arrive added to its sunny atmosphere.