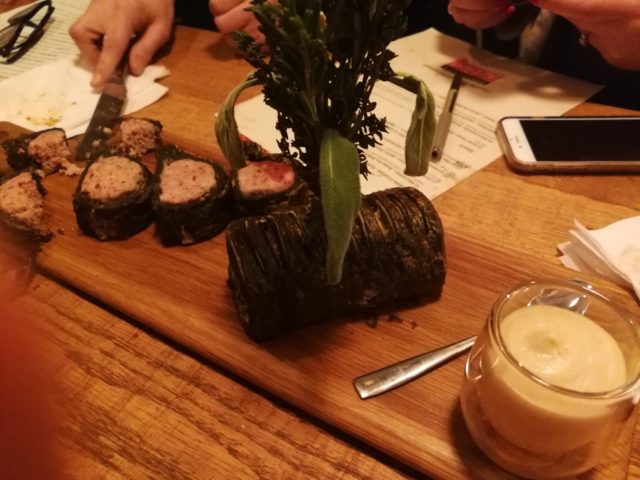 The trip ahead of me was immense. Manavgat Ultra beckoned, a 41-miles run with an upwards trajectory of 9000 feet, scrambling up Mt Hatmalar up over loose brambly boulders and scree, with freezing wind and snow flurrying down from the icy cap.
Then, after Manavgat, I had a further mission to run across snowbound tracks to find the valley of Love, in Cappadocia. That sounded like quite a calorie burner.
I would need some kind of send-off, something to remind me of Great Britain as I set out to climb in those cool foreign climes, something hearty for the heart, made from the heart, maybe even made out of heart. Certainly, one of the party could be from Heart.
Ad by jingo, thanks to Fuller's and the marvellous Jo Steward from Leisure PR, my journey to the airport was waylaid by something so uniquely British, comforting and celebratory even chips at the seaside would feel less welcome.
For here was my invitation to lose my Great British Roll Off virginity at The Red Lion, Barnes at a table surrounded by the nereids of the sausage roll world, the aforementioned Jo, two catering business superfans of this annual event,  and Jane Jones, marketing director for the Fuller Smith and Turner PLC, the company that is located a hop and a skip away in Barnes.
The anticipation was immense. The judges were introduced, 3 illustrious chefs and best of all for my storyline, Lucy Horobin, presenter of Heart Radio. Compere Melissa Cole took the floor. And just as seamlessly the first chefs and – importantly – their magnificent sausage roll creations, started to arrive. And Jo bought me a beer. This… was bliss.
There were 18 chefs competing. Would all 18 wend their wicked way to our table? Surely not. They did.
I tried to pace myself, but my gosh it was hard. This was carnal and we were so expectant. Heat 1, with 5 to try, and my Wiltshire neighbour Amber Southon, from the Quarryman's Arms was called as the clear leader on our table. She would go on too claim second prize at the end of the night. In terms of Sausage Roll judgment I found myself very much on the same page as the esteemed and #Rolloff-experienced marketing director sitting opposite. We swapped sage comments about the texture of Phil Harrison's spiced duck, Robert Taylor's exceptional pickled walnut ketchup and Amber's exquisitely textured Gloucester Old Spot, walnut butter puff pastry with apple and pear flavours. Ben Hadley's Norfolk Quail and Fruit Pig Co's celebration of Norfolk Farmland was very pretty, but had he possibly been heavy handed with the flavours? Had he over-egged it?
Quite where the smartly attired Jane was putting her sausage rolls became quite a mystery. She was unflagging as heats 2 and 3 came and went, maintaining appetite and enthusiasm in equal measure. She also made sure I didn't miss a trick, encouraging me to make a between-the-heats foray to the chef's kitchen to observe the pastry being pinked.
So, what would win? Apparently, novelty vs tradition is quite a debate and certainly upmarket Greggs-alikes right through to experimental artworks were represented. Anton Manganaro, from BAFTA, Piccadilly stirred up the most conversation with his Marmite and Cornish Gouda puff pastry.
But it was back to the West Country with an extraordinary concoction of well-blended sub-continental flavours that saw Alan Chilton, from the Bower Inn, Bridgwater steal the judges' hearts to win with his Old English flavoured with ground cumin, coriander, turmeric, fresh ginger, chili and garlic with crushed caraway seeds  and apple and tamarind ketchup.
There was thunderous applause and raucous cheering. Melissa Cole cued it perfectly. The tables rattled. This was emotional stuff, and absolute A-Class branded event, full of meaning, connection and joy. It was impossible not to become 'wrapped up in it'.  Everyone at the #Rolloff has a ball.