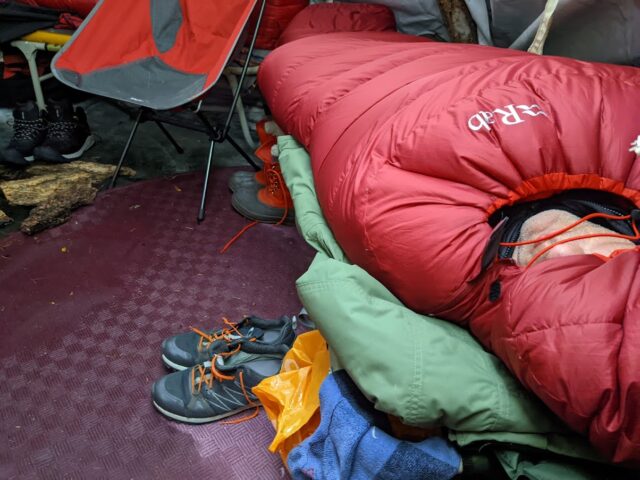 Frank Wainwright was recently a runner participant in the Mongol 100, a 100-mile, 4 day crossing of Lake Khovsgul with participants making the journey on foot, skating or by fat bike. The event had just 12 participants – all of whom had signed up in 2019 for the COVID casualty 2020 event. The lucky 12 were able to get out to Mongolia when a late change in COVID restrictions made this year's event possible.
Here lies Brian Downes, swaddled in down. Don't be deceived by the coffin bag. This is the resurrection of a superhero in progress.
How deep can you sleep on a frozen lake at -30C? If you take your inspiration from Brian – and I tried to – you can go a full 7pm to 7am in snuffling bliss.
Brian needed that sleep and we needed Brian. As Brian snored gently into the night it struck me that nobody cared. No, more accurately, everyone cared. No one was remotely bothered by the snores,we would all snore at some point.  Everyone cared that they did their work and restored those energy levels to a member of the team upon whom we were all so reliant.
In fact, I was inspired and comforted in equal measure. If Brian could find such deep rest, so might I? This man was sleeping by example.
Brian had volunteered for this trip, to help us meet our ambitions, and he did so with an easy effervescence and bon homie that made us all feel lighter in spirit. Brian and Laura, this event's other volunteer, were our aid stations. They became two beacons of joy, easy to spot against the white land and blue sky day. They made hot drinks ahead of order each day at 10K (Laura), 20K (Brian) and 30K (Laura). Both knew how to find the right words of encouragement. Both could raise a smile into the shrilling wind.
Beautiful people, but the biggest joy in writing these reflections is that I could say the same for anyone on this collective adventure.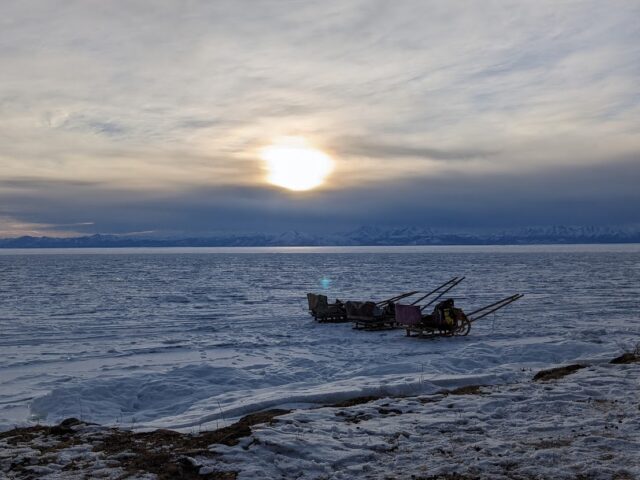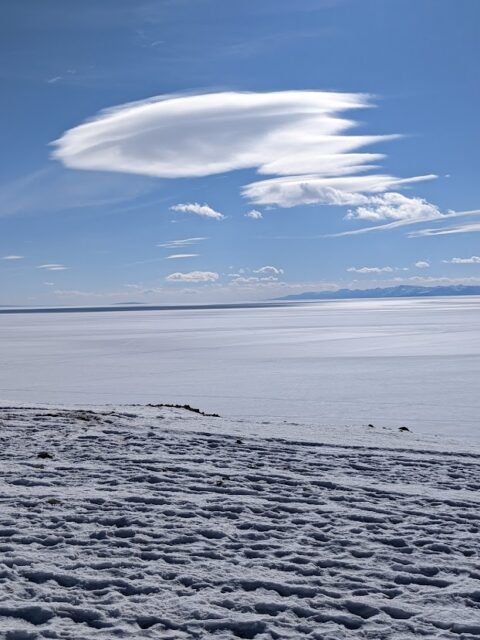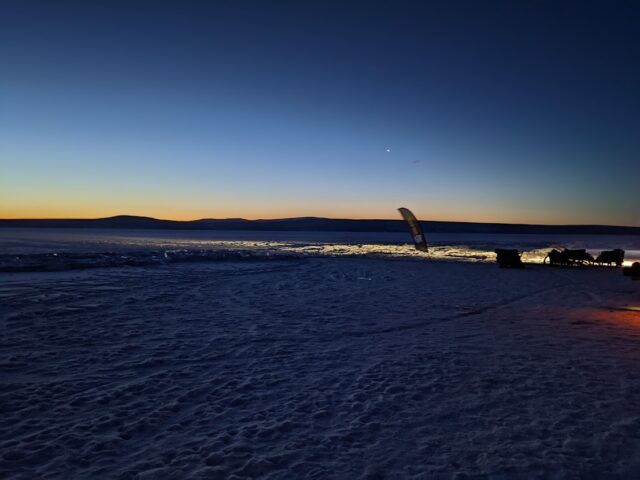 Only 12 of our party were going for the challenge of crossing the 100-mile expanse of Mongolia's Lake Khovsgul in four days. But our overnight camps were nearly treble that number with a full entourage of Mongol guardians, driving essential vehicles, building and tending the fire, setting up tepees and stoves, heating water, disposing of waste, feeding ponies… And we also had our own imported expertise – expedition and survival leaders, medics, cultural translators, event-co-ordinators, sports advisors, and a photographer supreme.
As an event participant I have rarely been encouraged to be so selfish, nor taken advantage of that offer so readily. My arrival in camp was all about me, me, me. First taking congratulations at the finish flag, then finding my essential gear that had been driven there, then choosing a bed in my designated tepee, then changing, then bed making, then attempting to warm myself. After that, cooking, eating, drinking, abluting… Then joining in conversation, that necessary catharsis that helped us to relate to these straitened circumstances and handle it better.
Even being so well supported, it wasn't easy, fingers never far away from frost nip, supplies frozen solid, calories in deficit, knees sore from exertion, face burnt, back seized and stiff from the campsite stoop and above all a nagging fear of that flighty flickery sleep. It was a sleep to search your way into, after the salvation of those last sensational tendrils of evening sunshine departed. I clung to that feeble sleep, clothes layered to mummification, mentally masking the anxiety of a bladder that I knew wouldn't hold until morning…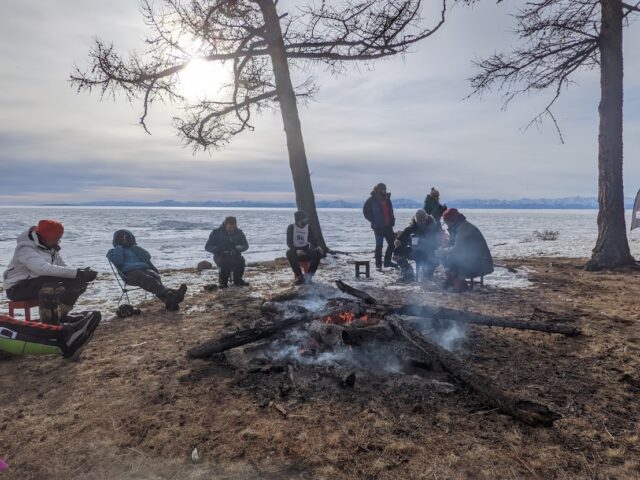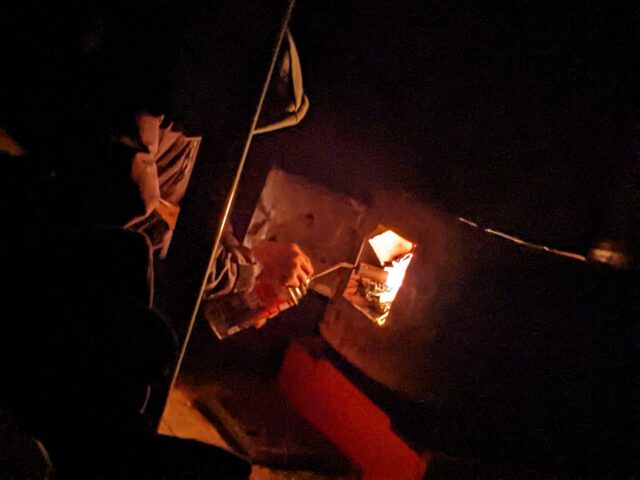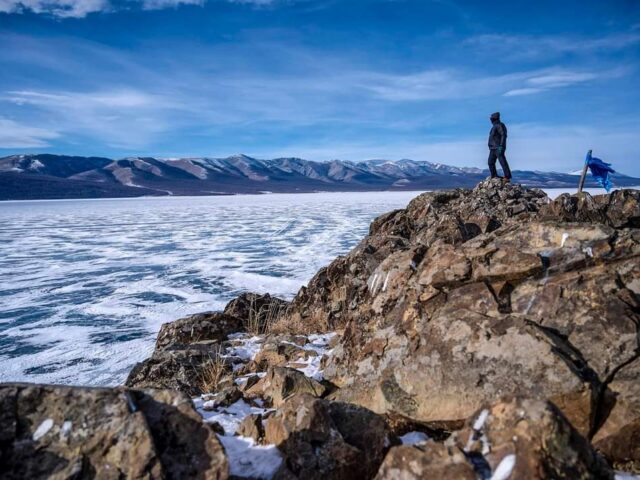 There is more, so much more to tell about the incredible life-affirming journey through this vast frozen wilderness. That's for another time.
But this is the thank you piece for those who made it possible. Because although all twelve of us that crossed the ice were rightly proud of our athletic resilience, the Mongol 100 might equally be named after the 100+ people who made it possible, those who dreamt up this incredible journey, those who travelled with us and those who stayed behind, feeding our pets, comforting our children.
Typically, there would be more than 12 guests on this expedition, but our trip to the ice was permitted at short notice as COVID restrictions to travel melted away just 6 weeks head of the off. Travelling so very far away from the rat race, with adventure company Rat Race, seemed an act of rude audacity. I sneaked onto the plane nursing injury, just glad to go, only able to travel because my astonishing sports therapist Phil Hale elbowed and needled my limbs and lumber into slackening submission. When I flew home, left knee braced in my newest recovery invention from Riixo, but essentially fine, I did so a more connected and thoughtful person. I returned remarkably fit and well in body. Campfire evenings had successfully rekindled my spirit.
We went to Mongolia as individuals and came home as a team. As a runner I learnt quite a bit crossing that otherworldly lake. As a person I lived life to the intensive full for those unforgettable few days and nights forging bonds of friendship, culture, and gratitude. These bonds will sing long into the smoke-crackled starlit night-time of my memories.