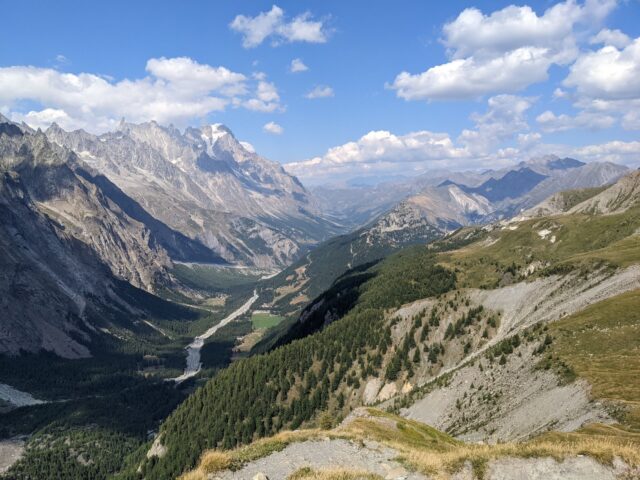 This time next week I will be in Chamonix awaiting the Friday 26th August start of Ultra Trail du Mont Blanc. It's a prestigious race and for many the ultimate goal of ultrarunning, the nearest thing ultrarunners have to cycling's Tour de France.
It's a full circuit around Mont Blanc, Europe's biggest mountain, anti-clockwise from Chamonix, crossing into Italy, then Switzerland before returning to Chamonix. UTMB bills itself as the world's toughest single stage ultramarathon.
UTMB and its sister events attract the world's best, both to the big event, UTMB and various other ultras held the same week. These include the 100K CCC and 145K TDS.
UTMB will see 2500 starters and I am one of them. I'm travelling to Chamonix with Karen Hacker, a top-rated athlete who is ranked to do well in the CCC.
To get into this race you need to gain enough points from qualifying races before entering a lottery that is oversubscribed by 6:1. So, in short, I am lucky to have a place, but not a total imposter because I have been good enough to qualify.
Here are the stats about my race, the UTMB.
Miles – 105 (170km)
Total Elevation – 10,000m (29,249ft)
Low point approx. 1000m (St Gervais), High Point approx. 2500m (Col de Ferret)
Maximum time allowed – 46hrs 30mins
Fastest finisher – approx. 20hrs. Total finishers – approx. 1500. Median finisher- 40hrs.
Start time: 6pm. This start time ensures a sleep deprivation challenge as most runners complete two full nights out on the trail.
Weather – the forecast is warm with minimal rain. If this happens then a midday peak of 25C will be extremely challenging but an anticipated drop to 13C at night is extremely accommodating for these mountains.
That's quite a bit to wrap the brain around – a good way for many British readers to visualize it is that it is 10 ascents and descents of Snowdon (1080m) with extra mileage inbetween +altitude conditions.
My estimated time – I am scheduling for 38hrs, typically about the time of the 500th finisher. But any sort of finish will do. It is a really loose estimate that gives me a progress chart to refer to.
The dreaded DNF
Clearly 1500 finishers, unless the weather turns extreme, means there are also approx. 1000 DNFs, or 35-40%. We are all qualified for this, so anyone who thinks finishing is a certainly is plain arrogant. I am just nudging towards peak fitness after a long period of struggle so a DNF for me is more likely to be following injury or incident than the dreaded cut. I feel mentally strong for it and though my right knee is still often sore – as it has been all year – it doesn't feel likely to break down. I have recced 50 miles of the total route, and I like these trails more than I thought. UTMB is a hike+run and the running bit requires you to step off the mountain top and go. I have been shuffle jogging down the steep bits and running the curbing descents. Descending strongly is an important part of the race and I know that I descend well – until tiredness is makes me clumsy. At a certain point I'll be too tired from lack of sleep to descend with the right agility and it will be important to recognize that and measure my pace accordingly.
Typically a DNF is something that you try your very best to avoid, yet take on board as an inevitable part of pushing your body's limits. At UTMB there's a bit more of a bearing on completion because of the rather exclusive access to a startline ticket. Getting into the event is a long journey and I was lucky to get in by 2022 having started the journey in 2018. The qualifying goalposts have been moved for 2023, making a rapid return extremely unlikely.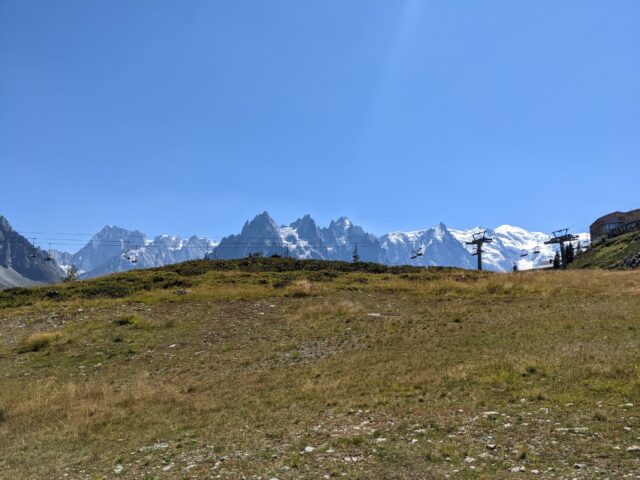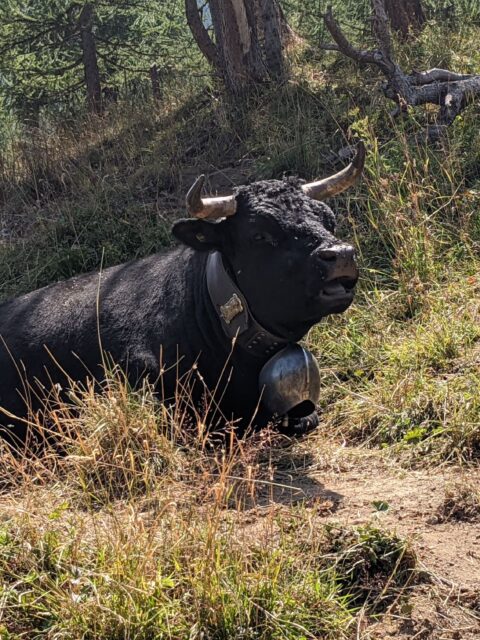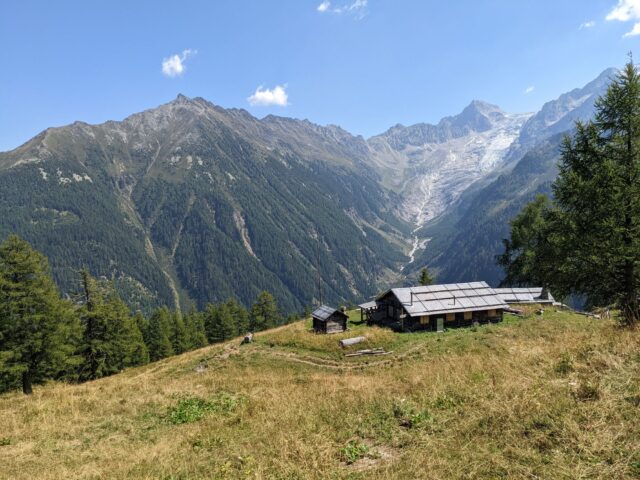 My journey to UTMB
Two big mountain ultras lead my credentials for being UTMB quality, The Beacon's Way, 110 miles, 6000m elevation (2019) and The Kerry Way, 120 miles, 6000m elevation (2020), whilst my second ever ultra, Trangrancanaria, 80 miles, +7000M elevation, completed in 26hrs, is probably the best race for dispelling imposter syndrome. For most mid-pack athletes who have done both, you can add about 11-13 hours to a Transgran time to get a UTMB time. I'm a bit better now than I was then, and certainly more experienced.
This year UTMB has been my main focus, with all other races being route markers along the way, designed to a plan to build up my climbing credentials and endurance base.
I started the year with an injury that meant I could only run on the flat. Fortunately I had The Mongol 100 to deal with in Feb/March – 100 miles across frozen lakes. Nothing could be flatter.  But straight after that I started to add hills and hill training into my workload, slowly adding load to my recovering knees and delivering long slow UTMB pace miles even at shorter events, testing gear, and different nutrition strategies.
I like using events to train my self – they make me comply with race conditions and are each little journeys of discovery. Training long miles has become a joyful adventure.
Here are my 'races' since the Mongol 100 in March and why I chose them.
Endurance Life Sussex – a hilly marathon, ran in knee braces to test and strengthen the injuries (following physio advice)
Alanya Ultra Trail – DNF at 20 miles, just before halfway. I'm not sure looking back if participating in this savage event in Turkey was sensible or not. It was baking hot, especially after a British and Mongolian winter,  and very sun-exposed on Taurus mountain. I also wasn't fit enough for an event with a steeper profile per mile and harsher cut offs than UTMB. I missed the checkpoint by 20 mins.  Still, I made it to the top of the mountain. The failure showed that I wasn't as indestructible as I thought and that much of my 2021 mountain fitness had departed whilst injured in the winter. I have improved massively since, and I have used this DNF to push myself on training runs.
Cowshed Backyard Ultra – 50 miles – hilly laps, stopping when I had had enough. This event was booked as an 'A' race before the UTMB draw and injury changed that.
Bluebell Challenge – 27 miles – more steady hilly laps – all part of the knee rebuild.
May the Fourth Marathon – Shropshire hills
Heart of Wales Ultra Marathon (30 miles) – Hills + refuelling strategy.
Ohrid Ultra Trail – 90K – an 'in at the deep end' hot and mountainous run – to remind myself what real mountains look like and wake up the calf muscles. Ditched the knee braces for this.
Keswick Mountain Festival Ultra – a week after Ohrid to strengthen tired legs on a punishingly hilly 50K.
Uganda Marathon – planned as a bucket lister years ago, the heat and altitude proved helpful as prep. Pace dialled back
Salisbury Plain Marathon – a free place after marshalling for Run On Trails and a week after Uganda – good for progress checking.
Giant's Head Marathon – more hills, pushing a bit more pace. A fast finish gave me much more confidence in the knees.
Maverick Chiltern Ultra – This event was purely time on feet in the sun whilst helping a friend to complete his first 50K ultra.
Sagarmatha – hill climbing/hill repeat 24hr challenge event in Wiltshire that I ran as a pair with fellow UTMBer Andy Dunn. It was 30C. This oddball event was massively beneficial to my training, really strengthened my calves for climbing and running core for strength and balance. The descent was steep and treacherous, great practice for night descents at UTMB.
Peak District 50 miles – completed comfortably in 10 hrs 10 mins, this was a great progress marker and confidence builder. It wasn't as hilly as 'Peak' might suggest but there was steep climbing in tired legs near the end.
Tracking me, my friends and the elite runners
I'm number 1901 and one good way of tracking me is via the LiveRun app by LiveTrail from Apple or Google app stores.
There is also live coverage online with some cameras
My category is M3 H
Andy Dunn, my Sagarmatha training partner is 1348. He has run UTMB before, taking 33.40 and 260th place.
Karen Hacker is just outside the elite runners list for the CCC. She's number 3809.
The Elite
https://www.irunfar.com/2022-utmb-womens-preview