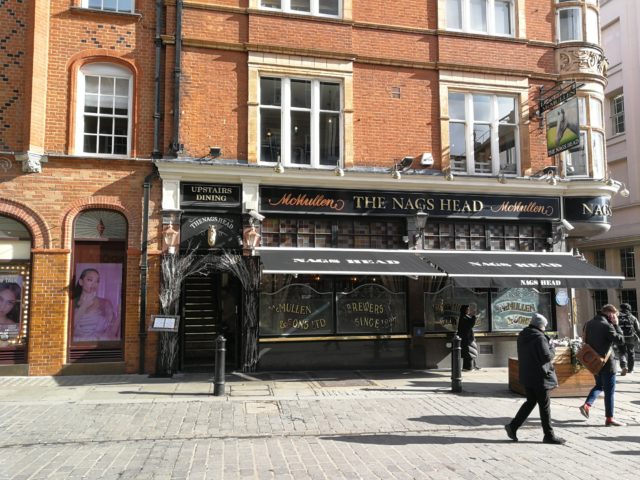 On Monday, Frank Wainwright met the ROKiT team and some of the glitterati of motorsport at the classic London pub, The Nag's Head, Covent Garden
Got to be honest with you, until Monday I didn't have a fantasy business conglomerate. But I have one now. I mean they just put together an event where I've lagered with Felipe Massa at the Nag's Head. True story.
Yes, if I were to start up my very own billionaire conglomeracy fantasy league it would have to be as team ROKiT, with Jonathan Kendrick as captain and lead striker. It is exciting to see such a recently founded company wading in alongside some of the world's most established brands in some of the most competitive markets and snapping at life, business and opportunity with vigour, fun and freedom.
Chairman 'JK', Jonathan Kendrick's devil-may-care persona is infectious and refreshing in a world dulled by corporate speak, and the ROKiT team follow a leadership attitude that is refreshingly instinctive. He and co-invested partner, tequila and shampoo tycoon John-Paul DeJoria have solid connections and proven hunches – instinct that clearly hasn't let them down too badly so far in their successful lives. DeJoria is big league with an estimated net worth of $3.1 billion.
The current positioning is nothing short of audacious, and multi-focussed. ROKiT is a young medusa.  One head is taking on the smartphone market where previous pretender brands and challengers have been whipped and crushed by the giants. ROKiT's phones have clear points of difference with both 3D media enthusiasts and rugged outdoorsy phone users in their sights. The telecoms company is also behind what it calls 'Wi-Fi Cities' in India.
Another of ROKiT's medusa heads is also battling the alcohol market on behalf of a near forgotten classic beer ABK, and spirits brands Bogart's, UB and Bandero.  ROKiT's sponsorship is bringing drinks brands back to Formula 1 at a time when Martini, predecessor sponsor of Williams Racing, had stood down and when, in the view of many, alcohol abstinence is the new cool. What could be more audacious than that?  How about announcing the arrival of a ROKiT energy drink right in Red Bull's high velocity backyard?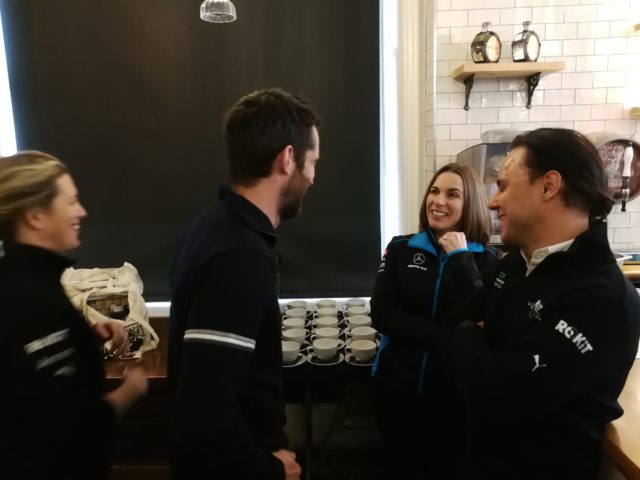 I can't speak for the products apart from the excellent beer, but my goodness I want ROKiT to be the real deal and succeed. Telecoms and tequila? – it really makes a heady mix. It is a business cocktail fuelled by a strong sense of old school 'we know how to party' bravado alongside a beguiling tale of fighting for equality and equal opportunities. ROKiT may have a macho sounding drinks brand like Bogart's in its portfolio, but it also champions women in motorsport and stands four square behind the less famous racing Hamilton, Lewis' brother Nicolas, in charting a pathway through and past discrimination. Hamilton is currently overcoming cerebral palsy with an adapted car in order to compete in the British Touring Car Championship. ROKiT is also sponsoring motorsport's W Series the female drivers' championship, a contest that expects to find the women who will take on men for an F1 seat. Catherine Bond Muir, CEO of the W Series references ROKiT as 'a pioneer'.
The swashbuckling Kendrick could easily be mistaken for a 60s throwback, howling into ye olde wynde about the fun days of yesteryear, but the Kendrick I witnessed was quite the opposite much of the time – actually a step or two ahead of rather more blatant progressives. For instance, he set off on an unscripted discourse about electric motors…
"I'm a big supporter of Formula E, but I'm a big fan of the internal combustion engine" says JK. You might think petrol-headed Kendrick would be out of step with the ambitions of a sport that sees Formula E as the guardians of its future.  But whilst supporting Formula E via the ROKiT Venturi team, Kendrick himself has the independence and authority to question the environmental flaws in lithium battery production and spotlight the unsavoury side of electric power plants. He can point out the imperfections of the emerging new E-god in a few deft sentences. At the Nag's Head, he did so alongside one of the best-known Formula E drivers, Venturi's Felipe Massa. He did so whilst remaining an advocate of cleaner, better motorsport. It was some performance and not one he had reserved for the big platforms. This was an intimate gathering.
Kendrick's philosophy very much acknowledges flaws and issues, deals with them and moves on. Massa had just returned from a poor weekend in the Marrakech E-Prix where discomfort with the car's braking system led him to a no points race and a weekend well off the pace of Venturi team mate Edo Mortara. At the Nag's Head he was amongst sponsor-friends, people who have his back and will support his efforts. Kendrick reminded us all about 2008, the year Massa looked destined to win the F1 driver's championship only to have it snatched by an advancing Lewis Hamilton taking 5th place in the race and scraping his first World Driver's Championship. His legendary racing credentials intact, Felipe visibly relaxed.
ROKiT's sponsorship of the Williams Racing team is very much the underdog championing of the underdog. A US$20M two-year deal was extended to 5 by ROKiT's chief marketing officer Bruce Renny soon after Williams has endured an especially bad year in the sport. According to Renny, the realisation came to both parties that the investment needs to be durable. "We want to become entwined with the narrative and see Williams back on the podium", he says.
The ambition is coupled with the expectation that there will be setbacks along the way, and this give and take is clearly one that Claire Williams appreciates. "Our partners are our lifeblood", she told us. Kendrick is equally quick to acknowledge that the lofty status that goes with sponsorship of an elite team in a global sport has given ROKiT a credible presence on the world stage, a presence that can shoulder open doors. "Worth every penny", he smiles.
For her part, Claire Williams and team must find a way to live the brand, "Helping ROK to grow its business."  Williams embraces ROK's values with season end partying fuelled by ROKiT Drinks. All the team sing firmly from the song sheet of knowing how to party when the opportunity arises, and Claire is certainly convincing
when she notes that sampling is a beneficial requirement of the job. Kendrick reels off the post party damage including 470 pints and 18 bottles of Bandero. "We were sampling" responds a smiling Williams.
The camaraderie and banter are genuine, and the flavour of the event is open. Sitting next to me is Ben Hunt, The Sun's F1 correspondent who famously rattled Mercedes' typically cool-headed Toto Wolff in a Netflix doc, asking him how embarrassed he felt after an off day for both drivers. Here, Hunt, who was later thanked by Mercedes for keeping them accountable, made sure the threat to sports sponsorship from Coronavirus was not overlooked.
The chemistry and convivial atmosphere prevailed – a show of strength for the partnership whilst embracing press scrutiny, a great sign and one from a group who are doing things they really like. You get the feeling that Kendrick's marketing team are as driven by stuff they like as much as ROKiT's business model seems to take on a 'products we like' portfolio.
Sponsorship deals beyond motorsport brand in art and music are via gaming artist TheFatRat and singer-songwriter Maisy Kay. Tennis stars supported include Gael Montfils, Stand Wawrinka, Sam Querry and Danielle Collins. ROKiT also sponsors Las Vegas Raiders, Houston Rockets, LA Chargers and the World Seniors Snooker Tour.

At the Nag's Head Bruce Renny discussed his marketing plans as a 3-phase programme, with Phase 3 still a work in progress. That Phase will see ROKiT join up the dots with consumers – and a recent experiential for Las Vegas Raiders, from 21st February, using hidden cameras and a London red phone box – shows that ROKiT is a need to know brand for sponsorship activation experts.
If that sounds appealing to your agency, get in there quick. ROKiT doesn't hang around.