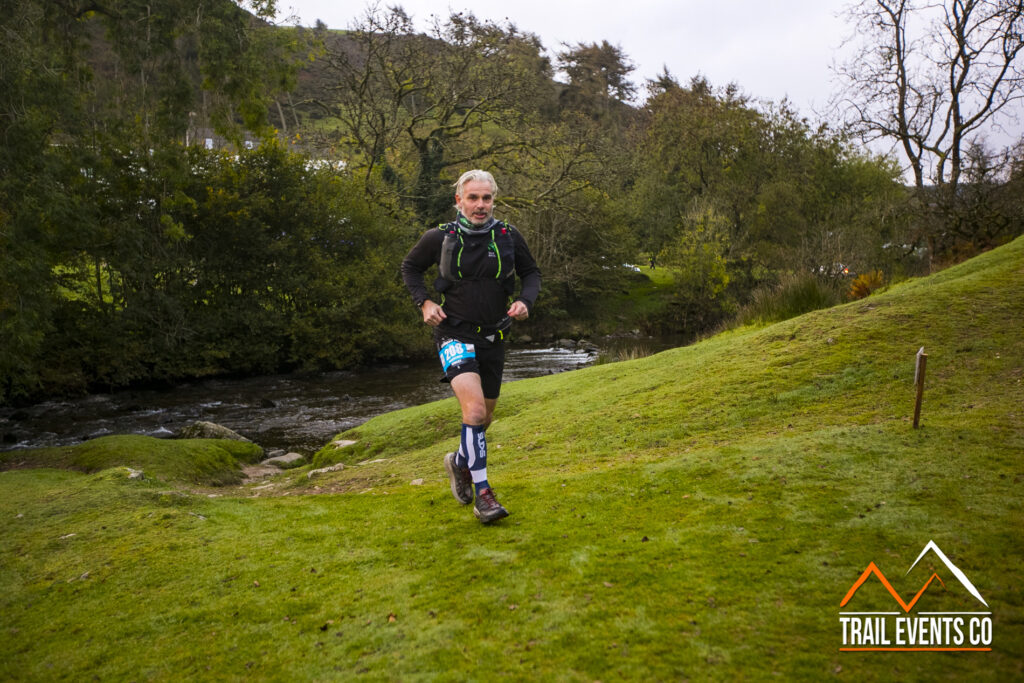 One of the pleasures of ultrarunning and long endurance days out, is that it acts like a humanity sieve. The people that put themselves through it are my kind of people – outdoorsy, energised, contemplative, easy company. In the middle of the pack there's no room for arrogance; we're not there to win the race and complacency can lead to a DNF. A passing runner will wish you well and acknowledge that they may see you again if they have underestimated the challenge ahead or overestimated their ability. "Lucky to be out" is a standard greeting, complaint is very unusual.
The Exmoor Challenge Marathon was a long day out. I had just shrugged off a bonus mile and a half courtesy of one obscured sign and was just avoiding a second wrong turn courtesy of careless route marking when I was caught up with by Gloucestershire's Rob Bircher. There were probably about 6 miles left to go at this point and we zigzagged back and forth, me running the road sections better, he cutting through the trails better. I thought I had lost him a couple of times, but in the end we ran together a while before he forged on to finish slightly ahead.
During the time we ran together I realised that I was in the company of someone who had similar motivations to me and who picked his races with the same regular nonchalance as me, showing a slightly reckless disregard to frequency and ambitious recovery. I also had the feeling that, like me, he was running a bit within himself, there to enjoy the route and the experience ahead of scrambling for seconds saved.
I imagined that Rob might be one who remembers to stop, even fleetingly, on the journey of the run, to take in the view and absorb where this endurance run had taken him. I discovered after the race that he had at least hovered during the Exmoor Challenge at very similar spots to me, as his handful of photos were very similar to mine.
I find that only certain runs seem to demand that a picture is taken. It's not something I can do during a road marathon as the break in rhythm and the pace demands make photography impractical, but a hilly trail – and Exmoor was a very hilly trail – makes capturing a memento of the route much more compelling, and a few seconds lost are of no consequence.
Races like Exmoor Challenge are certainly chosen for their scenery. Whilst I would revel in leading the way in these races if I were capable, that moment of dwell and reflect time is compensation for those of us who are there for the heady mix of exertion and spectacle.
With that in mind I asked Rob to come back to me with his thoughts post event:
"I chose Exmoor as it fell on the right date and I've done a few of their events before…really like the setup of the Trail Events co think they have it just right. Definitely the toughest I've done over that distance."
The distance in this instance was marathon and Exmoor was rammed with elevation. If 'fast and flat' gives you the shivers, then put this race on your list and possibly others from the same company. Exmoor offered an exacting 8500ft/2590m of elevation according to the organisers. It was a touch less than that going by my Garmin, but nevertheless my research failed to turn up a hillier marathon race in England. This race took full advantage of the up and down trails that lead to, and along cliffs of the Devon-Somerset coast.
Rob likes Trail Events as an organiser and their locations are generally all about the route and the location. This organiser is at the pricey end for this sort of event, but you do get an adventurous and (typically) well-marked route for your money. One part of the Exmoor Challenge had many of us commenting – a very precipitous path down to the edge of a peninsula that played with the brain. It was safer and more runnable than it looked, but certainly felt exhilarating. The sunlight bounced off the lively sea and white lighthousy buildings as the path spiralled down to them.
Rob's next event would have been with the same company in the Black Mountains before lockdown 2 was called.
Rob's favourite race to date has been in South Wales, the Gower 50, organised by Run Walk Crawl, an organiser that he recommends. His toughest long day out was Chester 100, by GB Ultras, his only 100-mile race to date but "definitely not the last".
Rob's nearest national trail, the Cotswold Way is up next for the 100 distance, in the shape of the Cotswold Way Century. "That's the big goal for next year."
It is a pleasing goal. The Cotswold Way is a classic trail full of variety, including challenging rangy hills and quintessential English villages. I'll enjoy seeing how Rob gets on with it.