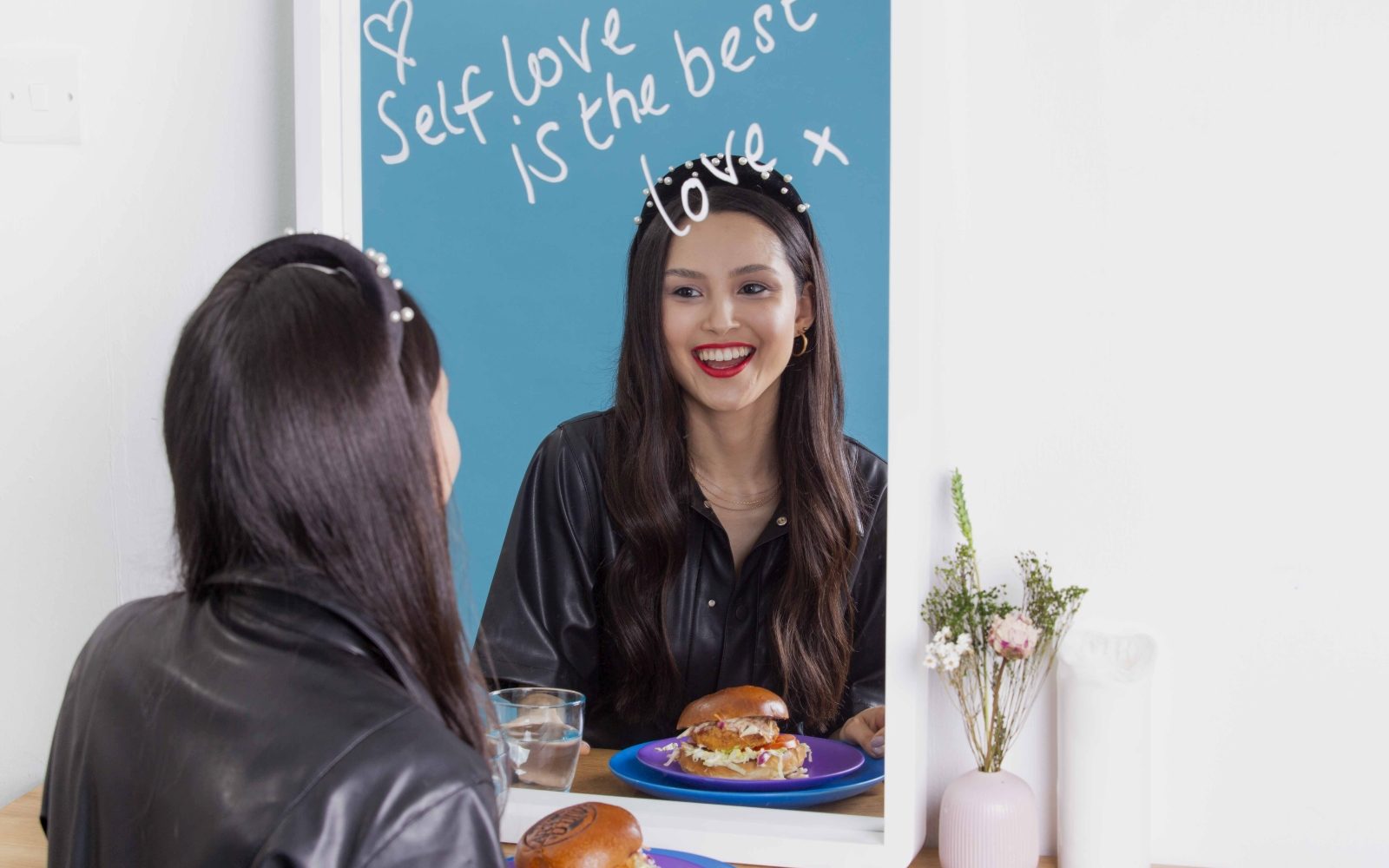 The world's largest diners' club, tastecard, launches its first self-love Valentine's pop-up restaurant. The 'Two4One' restaurant, on Great Eastern St, London, will feature mirrors placed on each table so solo diners can enjoy a romantic Valentine's meal out in a bid to fall in love with their own fabulous selves.
This unique restaurant gives 'two of you for the price of one' twisting its usual 2 for 1 offer to give its diners the best Valentine's deal going.
Self-love is an ever-increasing movement and one in three are regularly eating every meal alone* as the nation becomes more comfortable with their own company. However, dining solo on Valentine's day is still a taboo. As the annual celebration infamously excludes singletons, tastecard is ensuring that they promote self-love over anything else.
Diners will experience mood boosting playlists, feel-good soul food from Absurd Bird and mirrors reflecting motivational quotes, putting guests in the mood to have the best solo time. In time for the last course, waiters will release the mirrors and reveal the diner they've been eating in front of the entire time with an option to split the bill and claim their 2 for 1 experience.
Matt Turner, founder of tastecard, said: "This is a really fun, exciting pop-up that carries a significant message. People need to remember the importance of loving yourself and despite numerous restaurants that are great for solo dining, no restaurant experience has been designed with a function that offers the two of you, for the price of one."
 Absurd Bird, one of tastecard's treasured restaurant partners, is creating a bespoke three course set menu consisting of chicken and vegan tenders, Buffalo Wings, Crispy Fried Chicken and Vegan Burger along with Peanut Butter Cheesecake with Toffee sauce.
Tickets for the 13th and 14th February, 7pm – 9pm, are available through Eventbrite (www.eventbrite.co.uk) for £20 per ticket. All money raised will be going to tastecard's charity, Mary's Meals.