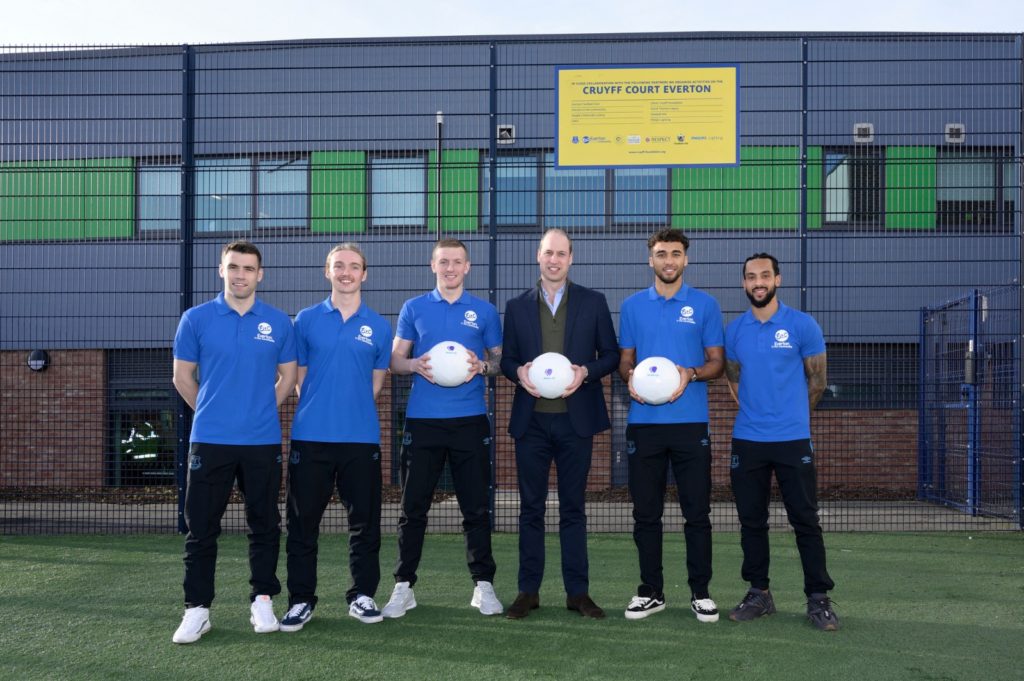 Everton in the Community welcomed The Duke of Cambridge to Liverpool 4 on Thursday as he visited The People's Hub as part of the Heads Up campaign and praised the charity for taking the lead in tackling the stigma around mental health and going above and beyond with its innovative delivery.
His Royal Highness spent the afternoon with the Club's official charity to find out more about its programmes and how it uses its influence to support its fans and community and address key social issues affecting the local community. He also visited three Everton in the Community projects which each provide crucial mental health support to different sectors of society – Stand Together, a programme which tackles social isolation amongst those aged 70+ living in Merseyside; Everton Veterans Hub, a project which uses sport to engage and support ex-service personnel; and Tackling the Blues, a sport and education-based programme targeting children and young people experiencing mental health challenges.
The Duke of Cambridge received a civic reception from the Lord-Lieutenant of Merseyside, Mark Blundell DL; the High Sheriff of Merseyside David Steer QC DL and the Lord Mayor of Liverpool, Councillor Anna Rothery before being introduced to Everton in the Community Chief Executive Officer Richard Kenyon who served as the host to His Royal Highness during his time with the charity.
The Duke of Cambridge was then given an insight into Everton in the Community's ground-breaking and award-winning work in the field of mental health over the last 12 years as well as an update on the charity's plans for The People's Place, a purpose built mental health facility in the shadows of Goodison Park, by Everton Football Club Chief Executive Officer Professor Denise Barrett-Baxendale MBE and Everton in the Community Director of Health and Sport Michael Salla.
His Royal Highness then had the opportunity to witness some of Everton in the Community's mental health programmes in action and meet the participants who benefit from these programmes as well as the staff behind them. He was joined in the Tackling the Blues session by Everton first team stars Jordan Pickford and Theo Walcott, Edge Hill University Professor Andy Smith and observed children from Springwell Park Community Primary School taking part in a game of emoji bingo where they are asked to describe recent emotions using emojis to encourage conversations around feelings and emotions before The Duke sat down with the children and spoke with them about their enjoyment of the programme, their understanding of mental health and encouraged the importance of communication and opening up to friends and family.
Funded by the Premier League and delivered collaboratively with Edge Hill University, Tackling the Blues uses tools such as emoji bingo, peer mentoring and physical activity to help increase self -esteem and reduce anxiety in children while helping them build positive relationships with their peers and external agencies.
His Royal Highness was then introduced to Everton first team stars Seamus Coleman and Tom Davies and Dominic Calvert-Lewin by England international Jordan Pickford and Theo Walcott and spoke with the five footballers at length about the Heads Up campaign and importance of encouraging more people – particularly men – to feel comfortable talking about their mental health, and feel able to support friends or family through difficult times.
After an in-depth discussion about the roles that footballers can play in tackling the stigma around mental health, Club captain Seamus Coleman introduced The Duke to participants from Everton Veterans Hub as they joined them for a relaxed round-table chat about the programme, the impact it has had on their lives and their lives in the forces. Launched in 2015, Everton Veterans Hub supports ex-service personnel with the transition from military life to civilian life and the associated challenges that can arise. The programme offers engagement tools, support mechanisms and evidence-based behavioural change methods to improve the lives of veterans and their families.
For the final part of his visit with Everton in the Community, His Royal Highness met with participants from the charity's Stand Together programme to take part in a football reminiscence session and the memories that old memorabilia can evoke. The Duke was joined in the session by first team duo Tom Davies and Dominic Calvert-Lewin as well as Everton Football Club Players' Life President Graeme Sharp as they joined the elderly participants in sharing memories of old football boots and programmes. Also funded by the Premier League, Stand Together aims to tackle social isolation among the elder members of community and offers its participants bespoke activities such as sessions on the history of city, interactive music and dance performance, home safety advice and most importantly, the opportunity to interact with like-minded people and make new friends.
Heads Up is a season-long campaign spearheaded by The Duke of Cambridge which uses the influence and popularity of football to show the nation that mental health is just as important as physical health. It supports the important work which is already taking place across the UK to end the stigma surrounding mental health, and strives to raise awareness, spark conversation and signpost to support.
Everton in the Community Chief Executive Richard Kenyon said: "It has been a tremendous honour for us to welcome The Duke of Cambridge to Liverpool 4 this afternoon and to provide him with the opportunity to visit some of our mental health programmes. It was fantastic to see him interacting with some of our participants and to see him chatting with our amazing staff about their work and the positive impact it has on people's lives.
"We have been delivering mental health provision for more than 10 years so have a long-standing commitment to supporting positive mental health and wellbeing, together with partners such as Edge Hill University, and are continually evolving our programmes to ensure we are providing the type of support that's needed across our society. It's very pleasing that our work has attracted the attention of His Royal Highness and it is testament to the unwavering dedication, hard-work and commitment of our staff, volunteers and participants. It's been a very proud day for everyone associated with Everton in the Community"
Everton Chief Executive, Professor Denise Barrett-Baxendale said: "It was an immense privilege to welcome His Royal Highness The Duke of Cambridge to Everton. I was delighted to show him the innovative, life-changing, and often life-saving work, Everton in the Community has been delivering in the field of mental health for over ten years.
"Everton in the Community staff work tirelessly and go above and beyond to tackle the stigmas associated with mental health issues to help people in our community every day.
"I was incredibly proud to stand alongside the Everton in the Community Trustees, staff and participants to showcase the wonderful and ground-breaking work they undertake and share best practice in supporting people with mental health problems with His Royal Highness, including our plans for a new purpose-built, drop-in mental health facility, to be called The People's Place, to further assist those living with mental health issues in North Liverpool."
Everton first team star Jordan Pickford added: "As footballers we have a responsibility to do what we can to help tackle the stigma around mental health and Heads Up is a fantastic campaign to encourage football fans – especially men – to talk and let them know that it's ok not to be ok.
"As players we're all strong supporters of Everton in the Community's fantastic work and we love to get involved at any given opportunity. For the charity to have the chance to show His Royal Highness exactly what it does to make a difference to the lives of others is a great honour and everyone involved should be very proud."
Godric Smith, Chair of the Heads Up campaign said, "We have really valued the opportunity to visit Everton and find out more about the important work they're doing to support the support their local community. The programmes they run are a shining example of how a football club can use their power and influence to help change the conversation on mental health, which is what our Heads Up campaign is all about."
And in February, football is coming together to kick off the biggest ever conversation around mental health, in support of the Heads Up campaign.
The Heads Up Weekends, which are taking place on the 8th-9th and 15th-16th February, will see every football team from across the Premier League, English Football League, The Barclays Women's Super League and The FA Women's Championship dedicate their matches to Heads Up. The weekends will highlight the power of talking as a way to support one another and normalise what can often be thought of as a difficult subject, with activity planned at fixtures across the men's and women's football calendar.