A romantic round up doesn't sound altogether romantic does it? Just reading my headline back I find myself thinking it might just make a good Valentine's slogan piece for Monsanto's popular weedkiller Roundup.
If that prospect sounds like a lurch beyond offbeat then that might be down to my own mental process. My Valentine's Day mailbox lacked cards but included stories to cover, ranging from the merely love-antidotal to the fully cynical.  For Field Marketing magazine I have covered tastecard's pop up Valentine's for One restaurant, Pot Noodle's consideration piece to romance your partner with Noods not Nudes, black spray roses and Heartbreaker Cakes from Camden Market and a free bottle of wine for your ex when you buy 6 from LIAR wine (their caps not mine), as well as some more conventional love celebrations.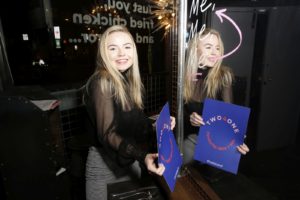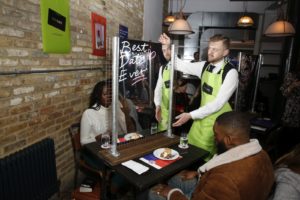 Of these I was strangely looking forward to tastecard's offbeat pop-up restaurant, a chance to enjoy a meal for one with a mirror for company. I'd have loved to see who they paired me up with for the mirror-dropping reveal, the only oldster at the event – but it wasn't to be as my flight back from Manavgat Ultra was rescheduled by 24hrs which I celebrated instead in Kayseri.
This quirkily absurd celebration of self-love – with Absurd Bird catering – had at core, a valuable message. Matt Turner, founder of tastecard, said: "This is a really fun, exciting pop-up that carries a significant message. People need to remember the importance of loving yourself and despite numerous restaurants that are great for solo dining, no restaurant experience has been designed with a function that offers the two of you, for the price of one."
If tastecard was raising the issue for solo diners, Pot Noodle was busy solving a problem I hadn't imagined existed. Its campaign encouraged young romantics not to fall back on the old easy cliché of sending your partner a Valentine's Day nude selfie and instead to send them a heart fluttering dose of hot noodles via Deliveroo.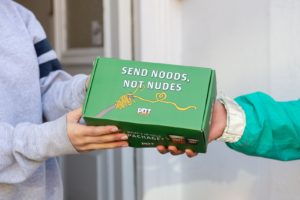 Here's how Pot Noodle set out their stall with the help of agency W Communications:
Shockingly, one-quarter (22.4%) of the social media generation are more likely to consider sending a nude photo to their Valentine, over purchasing gifts, due to a lack of time. Whilst time is more valuable than ever, Pot Noodle is hoping to show noodlers that romance doesn't have to equate to an expensive gift or hours spent slaving away over the stove.
The research revealed nearly three-quarters (73.7%) of Gen Z don't find receiving a nude picture a positive experience. In a bid to stir things up and make receiving 'noods' much more satisfying, Pot Noodle is encouraging them to send noods, not nudes. 
The Valentine's Day service will allow couples and friends to send oodles of noodles to anyone they're crazy about by simply heading to the app and typing in their loved one's name and address. Pot Noodle will do the rest, delivering a pot of cheeky noods direct to their door faster than you can say 'Bombay Bad Boy'.
Lovers and friends can choose from one of four tasty flavours and their noods will come packaged up in a special-edition box alongside a love note for the special 'noodle' in your life.  
The four tempting flavours are:
Chicken & Mushroom – for couples that have mushroom in their heart this Valentine's Day
Bombay Bad Boy – for lovers who like it hot and spicy 
Jerk Chicken – the only Jerk you need in your life on 14th February
Original Curry – for a twosome looking to canoodle over something saucy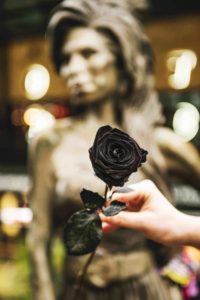 If a Pot Noodle isn't your idea of a romantic gift, then perhaps black roses would be? Camden Market is kind of obliged to provide alternative retail therapy to its clientele and it didn't disappoint. "Better Alone" slogan cakes were perhaps a little sadder than tastecards celebration of self-love though.
For true cynics there was always LIAR wine, a buy-six-send-one-free promotion where they suggest you send the free send should go to your cheating and conniving ex. This was I think, a somewhat shoehorned idea, more plainly charmless than genuinely controversial.
There were of course plenty of conventional romantic promotions going on too, of which Gu's rhyming of Gu and You in Waterloo was the most unabashedly saccharine. Blackjack's lipstick gift wrapping service in Selfridges for Suqqu won this column's 'well done' prize in the small but neatly formed Valentine's promotion category.
I wonder what the same brand's have lined up for Pancake Day?